Tiruppur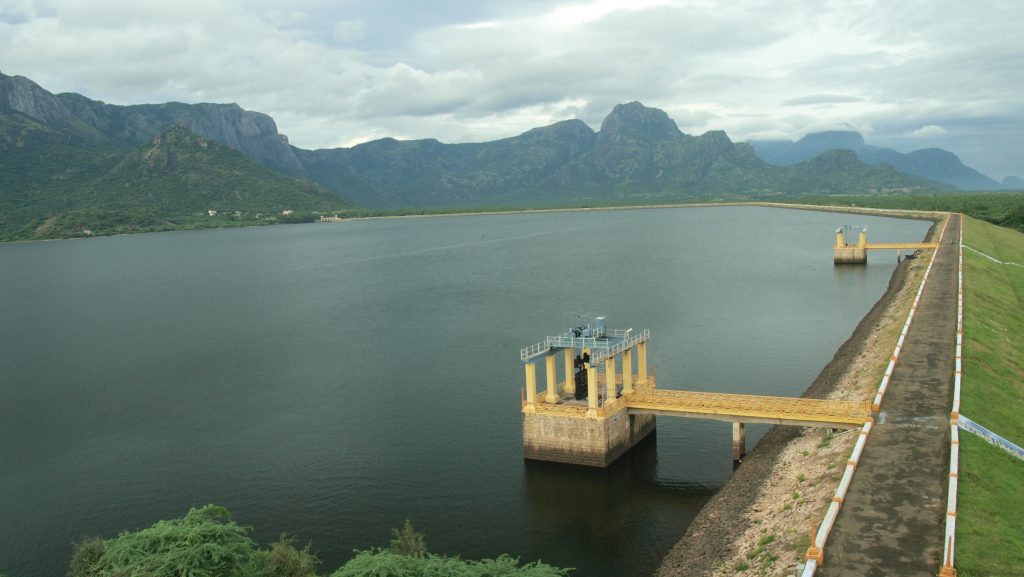 History And Geography
During 1990's, Exports have been increased tremendously in Tiruppur Area and the infrastructure and other basic amenities available is not enough for fast growth city like Tiruppur. Therefore, The people of the region demanded Separate Corporation and District for Tiruppur to fulfill the aspiration of the people in the region. The Hon'ble Chief Minister had accepted the views of the people and industrialist during inauguration of Tiruppur municipal corporation and agreed that very soon the New District will be formed. Subsequently the Hon'ble Finance Minister announced in the floor of assembly that a separate Tiruppur District will be formed. Accordingly the Government have issued G.O.Ms.No.617 and 618, Revenue [R.A.1(1)] Department, Dated 24.10.2008 to bring district administration closer to be people and to fulfill the aspiration of industrialist by reorganizing Coimbatore and Erode Districts into Coimbatore, Erode and Tiruppur Districts. Subsequently, the New District was inaugurated on 22.02.2009 by the Hon'ble Minister for Rural Development.
Agriculture
Tiruppur district though an industrial district plays important role in Agriculture also. The food production required to be enhanced to provide food and nutritional security do the growing district population. The Tiruppur more than 80% of the farmers belongs to small and marginal category and they play a key role in overall development in Agriculture. The total area of cultivation is around 2,28,556 hectare, mainly food and commercial crops. The chief food crops are paddy, millets and pulses. The non food or commercial crops in the district are cotton, oil seeds and coconut
Industry
Tirupur an obsure town in Coimbatore District has been placed in the knitwear map of global apart from catering to the whole India. The success story of Tirupur can be mainly attributed to the entrepreneurial skills of the people coupled with hard work, commitment to the job. Tirupur can take its own pride that within a matter of two decades the export has grownup by leaps and bounds, from less than Rs.10 Crores in 1984 to Rs.11,000 Crores in 2006-07. However, due to appreciation of rupee against dollar in 2007-08 export has declined by 10% and registered Rs.9,950/-. As far as Tirupur exporters are concerned true to their spirit and entrepreneurship, they have taken lot of effort to cut down the cost and sustain in the global market and aiming to reach 4 billion by 2010. During the year 2008-09, due to financial crisis in US and EU market, the exports for half yearly period declined to Rs.5,050 crores compared to Rs.5,350 crores recorded in the corresponding period of 2007-08.
Tourism
Tourism plays a pivotal role in Socio-economic development. Tourism is travel for recreational or leisum purpose. It fosters international understanding as a part of "Global village concept" Tourism become a popular global leisure activity.Tourist wants a holistic expenses and visit to historical movements museum and exposure to different culture. Activities like entertain sports, dance, Music, Festivals, Adventure, Cuisine, Education and Health care enhance these experience. Tiruppur district is no exception for this. It bears eloquent testimony to harmonious co-existence of the religions with its ancient temples, churches and Mosques. There are many places of tourism interest in Tiruppur district.
How to reach Tiruppur
By Road:The major highways connecting Tiruppur are Palladam – Tiruppur – Avinashi ( (SH-19), Tiruppur – Dharapuram(SH-37 ), Tiruppur – Gobichettipalayam (SH-196/SH-81), Tiruppur – Somanur (SH-169 ), Tiruppur – Kangeyam (SH-172 ). Tiruppur is well connected by moffusil bus services to all major towns and cities across Tamil Nadu, Kerala, Karnataka and Andhra Pradesh. The city has two major bus stands Old bus stand and New Bus stand. By Rail: Tiruppur Railway station (Station Code – TUP) comes under Salem Railway Division, connected with Chennai, Bangalore,Coimbatore, Trichy, Madurai, Rameshwaran, Salem, Ernakulam, Mysore, Mangalore, etc. By Air: The nearest local and International airports are Coimbatore Airport (43 Km), Trichy airport (150 Km) and Madurai Airport (180 Km).
Tourist Information
Assistant Tourist officer, Collectorate Tiruppur – 641604
Places of Interest
Thirumoorthi Dam
It is a nice place for a one-day outing from Tiruppur. It has boating, a nice place to have your lunch and the drive there is ultimate. From Tiruppur, you can either go to Udumalpet or go from there to the more interior and scenic route that goes through the villages. The drive is simply great with the whole route surrounded by sunflower gardens, coconut groves, and paddy fields. This Reservoir has been constructed across the River Palar which has its origins at the northern slopes of Anamalai Hills.
Indira Gandhi Wild Life Sanctuary
Indira Gandhi Wild Life Sanctuary is spread over at the altitude of 1400 meters in the Western Ghats area of Pollachi, Valparai and Udumalaipettai. The area of the sanctuary is 958 sq km of which only 387 sq km spreadover in Tiruppur district. Amaravthy Reserve Forest and part of Anaimalai Reserve Forest of Anaimalai wildlife Sanctuary falls within the Tiruppur district. It has various kinds of fauna like elephant, gaur, tiger, panther, sloth bear, deer, wild bear, wild dog, porcupine, flying squirrel, jackal, pangolin, civet cat and birds like rocket-tailed drongo, re-whiskered bulbul, black headed oriole, tree pie, spotted dove, green pigeon, etc. The Amaravathy reservoir in the Anamalais has a large number of crocodiles. There are also many places of scenic beauty such as, Grass hills, waterfalls (Panchalingam), river streams (chinnar, tenar), teak forests, dams and reservoirs (Thirumoorthy & Amaravathy).
Amaravathi Crocodile Farm
The largest wild breeding population of Crocodiles in South India lives in the Amaravathy reservoir and in the Chinnar, Thennar and Pambar rivers that drain into it. These broad-snouted Mugger Crocodiles, also known as Marsh Crocodiles and Persian Crocodiles, are the most common and widespread of the three species of Crocodiles found in India. They eat fish, other reptiles, small and large mammals and are sometimes dangerous to humans also. Crocodiles (The mugger crocodile), once abundant in Amaravathy, Periyar and Chinnar and most of other perennial river, have been threatened to near extinction. Hence the project of captive breeding of this crocodiles came into existing at Amaravathy. The object of captive breeding of crocodile at Amaravathy as in other Crocodile Centre in Tamilnadu is to collect Crocodile eggs from the wild clutch and rear it in captivity and release the young crocodile in the wild to restore its status.
The Amaravathy Sagar Crocodile Farm, established in 1976, the largest Crocodile nursery (captivity) in India is just 90 k from Tiruppur via Palladam and Udumalpet and One km. before the Amaravathy dam site. Many Crocodiles of all sizes can be seen basking in the sun and suddenly making a stride or piled up on one another. Eggs are collected from wild nests along the perimeter of the reservoir to be hatched and reared at the Farm. Many adult crocodiles have been reintroduced from here into the wild. There are now 98 crocodiles (25 male + 73 female) maintained in captivity here. Three Forest Department personnel manage and maintain the Centre
Amaravathi Dam
Amaravathi Dam at Amaravathinagar, 25 km south on NH 17 from Udumalpet, is located in Indira Gandhi Wildlife Sanctuary in Tiruppur district, Tamil Nadu, India. The 9.31 km², 33.53 m deep Amaravathi Reservoir was created by this steep dam. It was built primarily for irrigation and flood control and now also has 4 megawatts of electric generating capacity installed. It is notable for the significant population of Mugger Crocodiles living in its reservoir and catchment's basin. There is a well laid-out park where one may climb steep steps on the dam to have a picturesque view north of the plains below and south to the Anaimalai Hills and Palani Hills above. This place is being developed as a District Excursion Centre for tourism.
Sivanmalai – Arulmigu Subramanyaswamy Temple
Temples and sacred sites have been part of our culture from time immemorial. The favourite deity of the Tamil people is undoubtedly Murugan, the son of Siva. His importance is seen even in ancient literature like the Tamil epic Silappadikaram. He is seen by millions of devotees as the epitome of wisdom, youth, valour, and beauty. Often his shrines are placed on a mountain or on top of a hill. There are many myths to support Murugan's fondness for hills. One of them is his child – like disappointment at not receiving the gift of a ripe mango from his parents. In a playful test, he and his brother Ganesha were asked to compete for the fruit in a race round the universe. He lost the contest, renounced everything and went and stood on a hill, refusing even his mother Parvathi's appeasements. Thus, for the Tamil people Murugan shrines should largely be built on a hill.
Utharavu Porul
The Sivamalai of today is also known as Sivamamalai, Sivachalam, Sivathri, Sivasailam, Sivagiri, and Shakthi Sivamalai. The deity is so powerful because it is supposed to be an integrated embodiment of Siva, Vishnu, Brahama, Murugan, Vinayaka and Indra. In each "yuga" ( the Hindu term to mean eon) Sivamalai has been referred to with special names. Panamalai. Vellimalai, Sembumalai, and now in the Kali yuga as Kamarupa Jothigiri. Such is the antiquity of this sacred mountain.
Arulmigu Uthukuli Murugan Temple
Once the famous saint Agastiyar came to this place for meditation but was not able to find water. He prayed to Lord Muruga to help him. Soon Lord Muruga appeared before him and thrust His lance (Vel) in the sand. Soon water spring came from the spot. That place is called "Uthukuli", later on it came to be called as Uthukuli.
No one knows when the temple was built in Kaithamalai, just they have the history. But only 200 years before some rural kings built the temple and five years before with the help of some donors the temple was rebuilt and now it is the Important spiritual place in Tiruppur District. Daily more than 200 people visit Uthukuli Murugan Temple. The Important things is that only in Kaithamalai that is Uthukuli the temple car is in the hill and devotees pull the temple car in the slopes. No place in the world where a temple car is pulled in the hill. Then the God is called as "Vetri Velayudha Swami" and the Temple is called "Kaithamalai Murugan Temple". Uthukuli Murugan Temple is situated 15 kilometres from Tiruppur city.
Arulmigu Avinashi Lingeswarar Temple, Avinashi
Avinashi is a small town situated near Tirupur in Tamil Nadu. The town is famous for the Shiva temple constructed by Sundarapandiya is closely associated with the great Saiva saint Sundaramoorthy Nayanar.The word Avinashi means that which is indestructible
Geography
: Avinashi is located on the arterial road connecting the major industrial & textile cities of Erode and Coimbatore. Avinashi was a part of Coimbatore district and when Tirupur was carved as a new district from Coimbatore, Avinashi was added to the new district (Feb 2009). It is a major halt place for the vehicles bounding to Chennai and Cochin from the western Tamil Nadu. Avinashi is a Taluk headquarter and the Headquarter for Avinashi Panchayat union.If Palladam is the gateway for Coimbatore from the Southern Tamil Nadu, Avinashi is the gateway for Coimbatore from the Northern parts of Tamil Nadu
History
: This is one of the seven Shivastalams in Kongu Nadu; however this temple is better known as Karunaiyaaththaal temple. Avinashi is also referred to in inscriptions as Dakshina Varanasi, Tiruppukkozhiyur etc. Tirumular's Tirumantiram, Arunagirinathar's Tiruppugazh & Manikkavacakar's Tiruvacakam refer to this shrine. This temple is regarded as the first of the seven Thevara Stalams in the Kongu Region of Tamil Nadu. Inscriptions here reveal that the Cholas, Pandyas and the Hoysalas have made extensive endowments to the temples Sundaramoorthy Nayanar on his way to meet Cheramaan Peruman, Nayanar happened to visit Avinashi. As he was passing through one of the streets, he heard two discordant notes coming from opposite houses, one echoing joy and another sorrow. The puzzled saint understood the cause for the strange phenomenon. Two boys of the same age went to bathe in a tank from which emerged a crocodile and devoured one of them. There was being celebrated the "Upanayanam" (Thread ceremony) of the surviving boy, now 8 years old. Hence there was joy and mirth in the house. While the other people were unable to bear their sorrow. Had their boy been alive, they too would be celebrating his "Upanayanam". Intensely moved by this, Sundaramoorthy Nayanar poured out of soulful song, praying to Lord Shiva to resurrect the dead child. His prayer was answered .The empty tank started surging with water from which emerged the crocodile and ejected the child as a fully grown boy of eight years
Architecture
: Ambal's sanctum is to the right of Avinasiappar's sanctum, unlike that in most temples. The Kasi Gangai Theertham—in the form of a well is considered to be of significance. The Kaalabhairavar shrine in this temple is held in reverence. Kaala Bhairavar is worshiped here with offerings of Vadai Maalai.
Festival
: The car festival is the most exciting of the festivals in this temple. This temple's car is second biggest in South India and is noted for its fine wooden carvings. Since the old car was destroyed by fire in 90's, it has been rebuilt. The annual Bhrammotsavam is celebrated in the month of Chittirai. Apart from Temple car festival, 63(Arubathi moovar Ula) is one of the notable festival in this temple. The festival chariot here is said to be on par with Tiruvarur.
Thirumuruganpoondi Temple
The name of the village is derived from the famous Murugan temple located here. In the last 8 years the development of Tirupur had reached Thirumuruganpoondi and soon this village will be submerged under the broader name of Tirupur.The temple dates back to 9th Century. The origin of the temple is rooted in legendary antiquity. Soorapadma, the scourge of the gods with his retinue of demons, struck terror in the celestial world with his sudden depredations and campaigns. The persecuted gods approached Lord Siva and implored him to save their lives. Lord Siva sent Lord Subramanya with a huge army headed by the valiant Veerabhahu to destroy Soorapadma and his retinue. Lord Muruga accomplished the arduous task. But he was afflicted with the mortal sin of mass killing. In order to absolve himself he installed a Siva Linga in Thirumuruganpoondi and worshipped it. As Muruga himself adored Lord Siva, the latter assumed the appellation "Thirumuruganathaswamy" which means "Master of Muruga".The holy shrine is also associated with Sundaramurthynayanar one of the most celebrated saints of saivism. He did a pilgrimage to the holy shrines of Siva in Kongunadu. Now Siva, The Lord of Thirumuruganpoondi who wanted to hear the saints melodies, compositions way laid Sundaramurthynayanar, in the guise of a hunter and robbed him of all his belongings and disappeared into the temple, Sundaramurthynayanar's sorrow burst out in the form of soul full song expressing his anguish and chiding the Lord of Thirmuruganpoondi that his divine presence in such a notorious place was mere mockery.