Tiruchirappalli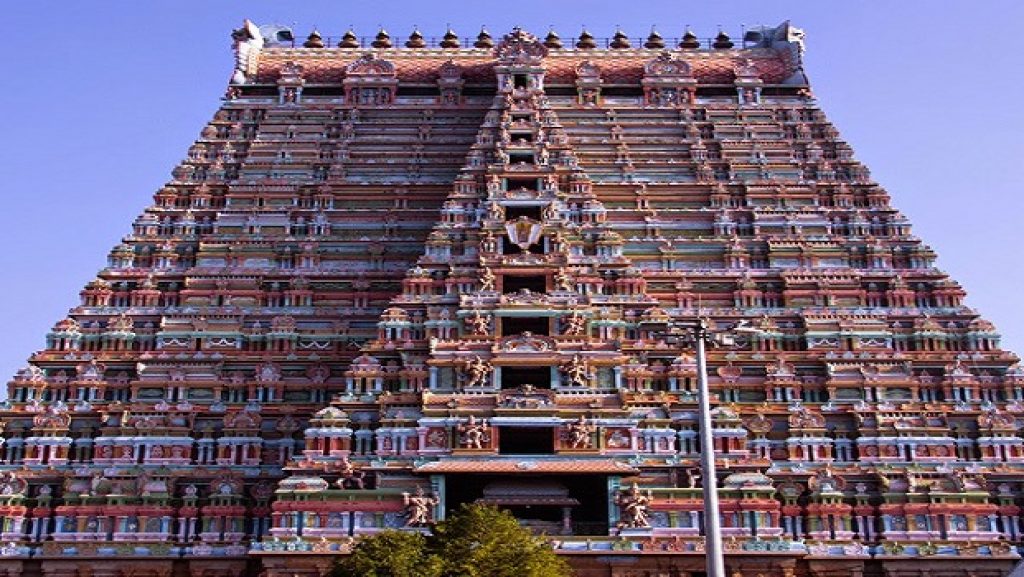 History And Geography
Woraiyur , a part of present day Tiruchirappalli, was the capital city of Cholas from 300 B.C. onwards. This is supported by archaeological evidences and ancient literatures. There are also literary sources which tell that Woraiyur continued to be under the control of Cholas even during the days of Kalabhra interregnum (A.D. 300 - 575). Later, Woraiyur along with the present day Tiruchirappalli and its neighboring areas came under the control of Mahendra Varma Pallava I, who ascended the throne in A.D. 590. Till A.D. 880, according to the inscriptions, this region was under the hegemony of either the Pallvas or the Pandyas. It was in A.D. 880, Aditya Chola brought a downfall to the Pallava dynasty. From that time onwards Tiruchirappalli and its region became a part of Greater Cholas. In A.D. 1225 the area was occupied by the Hoysulas. Afterwards, it came under the rule of later Pandyas till the advent of Mughal Rule. Tiruchirappalli was for some time under the Mughal rule, which was put to an end by the Vijayanagar rulers. The Nayaks, the Governors of Vijayanagar empire, ruled this area till A.D. 1736. It was Viswanatha Nayaka who built the present day Teppakulam and the Fort. The Nayak dynasty came to an end during the days of Meenakshi. The Muslims rules this region again with the aid of either the French or the English armies. For some years, Tiruchirappalli was under the rule of Chanda Sahib and Mohamed Ali. Finally the English brought Tiruchirappalli and other areas under their control. Soon after the area was ceded to East India Company as per the agreement at the eve of the Kanatic war, Tiruchirappalli district was formed under the the Collectorship of Mr. John (Junior) Wallace in 1801. The district was then under the hegemony of British for about 150 years till the independence of India.
Agriculture
Rice, Millets and Other Cereals, Pulses, Sugarcane (Gur), Groundnut , Gingili, Cotton (BL)
Tourism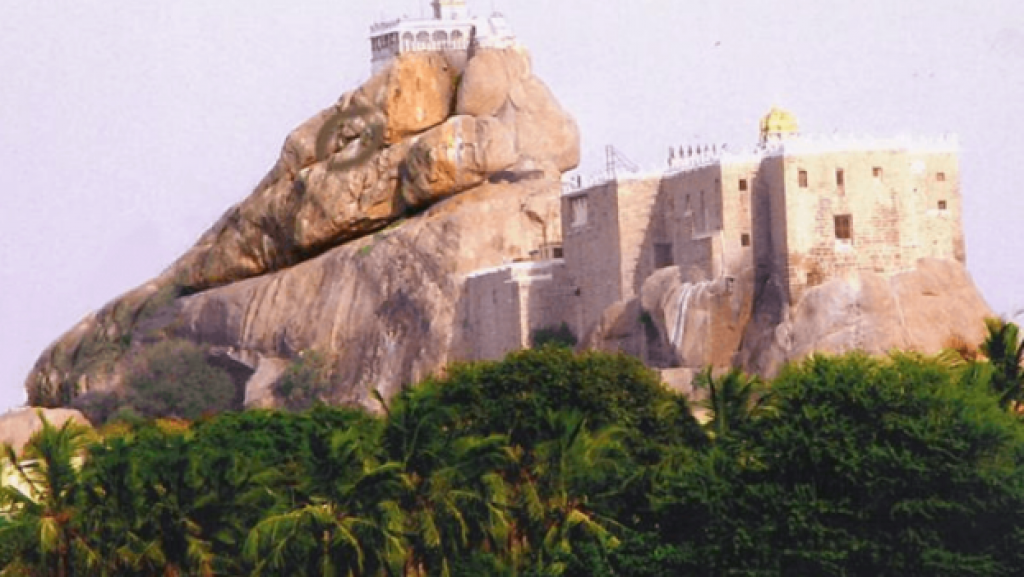 The most famous land mark of this district is Rockfort Temple. This temple crowns a massive outcrop of rock, that soars 83 meters upwards, from the surrounding plains. It is reached by a step flight of 437 steps cut into the rock. Halway up is the Sri Thayumanaswamy Temple, dedicated to Lord Shiva. It has a 100 pillared hall, and a Vimana. From its summit we will get a fantastic view of the town plus its other main landmark, Srirangam, Cavery River, Coleroon River , Thiruvanaika Kovil
How to reach Tiruchirappalli
By Road: Trichy is well connected by roads through a combination of National Highways(NH), State Highways(SH) and Major District Roads(MDR) By Rail: Tiruchirappalli is an important railway junction in Tamil Nadu and is a separate division of the Southern Railway. It is located in the heart of the City. From Trichy Junction we have direct Trains to majore cities like Chennai,Eranakulam,Bangalore,Mumbai,NewDelhi etc. By Air: Tiruchirappalli Airport is an International Airport. It is also having Cargo Terminal. The airport just 5 Kms from the city
Tourist Information
Tourist Officer Tourist Office, 101, Williams Road, Cantonment, Tiruchirappali – 620 001. LandLine :
0431 – 2460136
Places of Interest
Srirangam Temple
Srirangam is the foremost of the eight self-manifested shrines (Swayam Vyakata Kshetras ) of Lord Vishnu. Sri Renganatha Swamy temple, established in a 156 acre land, is a great vaishnavite temple dedicated to Lord Vishnu. It is also considered the first, foremost and the most important of the 108 main Vishnu temples. This temple is also known as Thiruvaranga Tirupati, Periyakoil, Bhoologa Vaikundam and Bhogamandabam. The enclosures are guarded by thick and huge rampart walls. There are 21 magnificent and huge towers. This temple lies on an islet formed by the twin rivers Cauvery and Coleroon. This temple underwent many changes during the rule of Cholas, Cheras, Pandiyas, Hoysalas, Vijayanagar kings and Nayak of Madurai. The temple is located 12 kms From Central Bus Stand and 5 kms from Chathiram Bus Stand. Trichy. Government and private bus services is available to reach Srirangam.
RockFort Temple
The most famous land mark of Tiruchirappalli is Rockfort Temple. It is also called as Ucchi Pillaiyar Kovil. It is in the heart of the city. This is a275 ft. tall rock structure. It is reached by a step flight of 437 steps cut into the rock. Halfway up is the Sri Thayumanaswamy Temple, dedicated to Lord Shiva. It has a 100 pillared hall, and a Vimana. There are inscription in these temple that date back to 3rd century B.C. From its summit tourists can get a fantastic view of the town plus its other main landmark, Srirangam, Cauvery River, Coleroon River, Thiruvanaikal Kovil, etc. The temple is located 5 kms from Central Bus Stand and 1 km from Chathiram Bus Stand. Trichy. Government and private bus services are available to reach Rockfort.
Thiruvanaikaval
It is 7 Kms. From the town and popularly called as Thiruvanaikoil too. This temple is one of the Pancha Bhootha Sthalam (five elements of nature) representing water. Hence this temple is also revered as "Appu Sthalam" and the Shivalingam here is called as "Appu Linga". This Jambukeswarar – Akilandeswari temple is dedicated to Lord Siva. The Siva Lingam in the Sanctum Sanctorum is reported to be submerged in the water that flows from a subterranean spring into the Sanctum Sanctorum. Because an elephant once worshiped Lord Siva under the holy Jambu Tree, the god gets the name Jambukeswarar. Thiruvanaikaval is situated in the middle of Trichy and Thiruvarangam about 320 kms on Chennai & Kanniyakumari national highway. The temple is located 8 kms From Central Bus Stand and 3 kms from Chathiram Bus Stand. Trichy. Government and private bus services is available to reach Thiruvanaikaval.
Samayapuram
Samayapuram is 15 kms from the town and an important pilgrim centre famous for the Mariamman Temple dedicated to Goddess Mariamman. There is a legend that King Vijayaraya Chakkaravarthi built the present day form of the temple. Chithirai Car Festival (April-May) is famous festival of this temple. Persons affected by chickenpox and smallpox come to this place, stay here and pray to Goddess for speedy recovery. Abisheka Theertham (Divine Water) is sprinkled on them after pooja and they are believed to get recovered very quickly. There is a separate rest hall for their stay in the temple. In ancient period this region was ruled by Chola Kings. Samayapuram is also known by the names Kannanur, Kannanpuram, Vikramapuram and Mahalipuram in ancient times. Flower Sprinkling (Poochoridal) Festival is conducted during the month of March and Chithirai Car Festival is conducted during the month of April. Devotees offer prayer by rolling themselves around the temple prakaram (corridor) known as Angapradatchanam. Government and Private Buses are available from Chathiram Bus Stand.
St.Mary's Cathedral Church , Melapudur
St.Mary's Cathedral Church is located near Melaputhur. It is the headquarter church of the Catholic Diocese of Tiruchirappall. It is one of the oldest Dioceses in Tamilnadu and India as well. The new Cathedral has built in 2015 is very magnificent and it stands in the place of the old Cathedral, which was 175 years old (1841 – 2015). It is also the "Mother Church" of five dioceses such as Thoothukudi, Madurai, Palayangkottai, Sivagangai and Dindigal. The Church is kept open from 5.00 a.m to 12.00 noon and 4.00 to 8.00 p.m every day. Holy Mass in Sundays: 5.00 a.m,6.30 a.m, 8.30 a.m and 6.00 p.m and on Week days: 6.00 a.m and 6.00 p.m
Kallanai
Kallanai is an ancient dam built across the river Kaveri in South India. Kallanai is situated in Tamil Nadu in the district of Trichy. This dam was constructed in AD 2nd century by the Chola king Karikalan which is located 15 km away from Tiruchirapalli. Kallanai Dam is the fourth older water rerouting system in the world which is still in existence.
It was an insightful construction to divert the river Kaveri to the delta districts to uplift irrigation thereby avoiding disaster of corps due to floods. The dam has a strong foundation as well as a solid design. Due to its stunning engineering, the dam is still an inspiration to most of the modern dams and Kallanai dam is still used for various irrigation needs in Tamil Nadu. Because of its spectacular architecture, it's one of the prime tourist spots in Tamil Nadu. The nearest airport is the Tiruchirapalli airport which is 15 kms away from the dam site and the nearest railway station to Kallanai dam is Lalgudi railway station which is 4 kms long. The city also offers accommodation ranging from budget to star hotels to suit all pockets. The famous Tamil Nadu Hotels Trichy is one among such which will make your visit even more memorable!
The butterfly park
The butterfly park at Trichy which is considered as one of the biggest butterfly parks in Asia, is being constructed over 35 acres at the cost of approximately 8 Crores.
It is exactly situated near river bank of Cauvery near Melur, Srirangam. This park has beautiful garden, fountain, largest butterfly glass house, fountain and hut to take rest and have food. The Park also had a 1.2 KM walkway for the visitors. The garden is full of nectar flowers and host plants to attract butterflies. A big blue tiger butterfly sculpture can be seen at entrance in the lawn. The garden has fountains, artificial pounds, suspended bridges, butterfly houses, sculptures of caterpillars, butterflies to attract many visitors. The park also includes a 'Nakshatra Vanam', or a collection of trees that corresponds to the Zodiac signs and stars in Indian astrology. This park features 27 tree or plant species corresponding to 27 stars of the Hindu almanac and 12 tree or plant species corresponding to the Zodiac signs. Visitor can plant a tree at free of cost according to their sign.
Mukkombu
It is 18 kms from the city and is called as the Upper Anaicut or Mukkombu Dam. This 685 m long dam, in three sections, was constructed in the 19th century by Sir Arthur Cotton inspired by Kallanai. River kollidam branches off from Kaveri at Mukkombu. This is visited by thousands of people for its lush greenery and scenic beauty.
Vayaloor
It is 8 kms from the town , also called as Kumara Vayalur . Popular Murugan Temple is set amidst green landscape. Skanda Sashti, Thai Poosam, Panguni Utthiram are important festivals of this temple.
Puliancholai
This is a forest area around 72 kms from Tiruchirapalli at the foothill of the Kollimalai. This is a cool, green and beautiful forest area with waterfalls that makes Puliancholai suitable for a one day excursion.
Tiruvellarai
It is 25 kms from the town. The temple is on 50 ft tall hill of white rock, hence this was called as Thiru Vellai Parai [white rock]. Yogi named Pundarikakshan used to offer Tulasi every day from his nandavanam to God and Goddess in the temple Pleased by Yogi's bakthi, Perumal blessed him. Perumal is also called as Pundarikakshan. Tirumangai Azhwar sang hymns on Pundarikakshan here.
Gunaseelam
Another abode of Lord Vishnu, on the northern bank of Cauvery River, just 24 kms from the town. The Lord here is called Prasanna Venkateshwarar. People visit this temple in thousands and offer prayers to Perumal, as they believe that he cures mental illness.
Pachamalai
Pachamalai is a green hill range 80 kms from Tiruchirapalli. It is at an altitude between 500 to 1000 m. It is a haven for the tribal population of this region with unique culture and lifestyle. Thenpara nadu, Kombainadu ,Aathi Nadu and Vannadu are some villages here. Small Streams and falls, trekking are tourist attractions at Pachamalai.
Planetorium
Anna Science Centre/Planetorium is located on Pudukottai Road, Near Airport. Programmes in Tamil and English version are shown daily Ph.0431-2422190
Timings
: TAMIL: 10.30 a.m.,1.00 p.m.,3.30 p.m. ENGLISH: 11.45.a.m.,2.15 p.m.,4.45 p.m.
Government Museum
This is located in Rani Mangammal Mandram, Trichy-2. Bronze and stone sculptures are on display here. Admission is free; the museum is open on all days except Fridays. Time 10.00 a.m to 5.00 p.m.
Lourdes Church
This Church is located near Rock-fort, Teppakulam. Church of our Lady of Lourdes is the replica of World Famous Basilica of Lourdes in Southern France. It is a remarkable feat of Indian Craftsmanship and Glass Paintings.
Nadhirsha Dargha
This is 4 kms from the town, near the Main Guard Gate. This is one more important Islamic holy destination of the town. The big and elegant Dome was built in Indo-Saracenic Architecture. Urs is the famous festival of this Dargah.