Sivaganga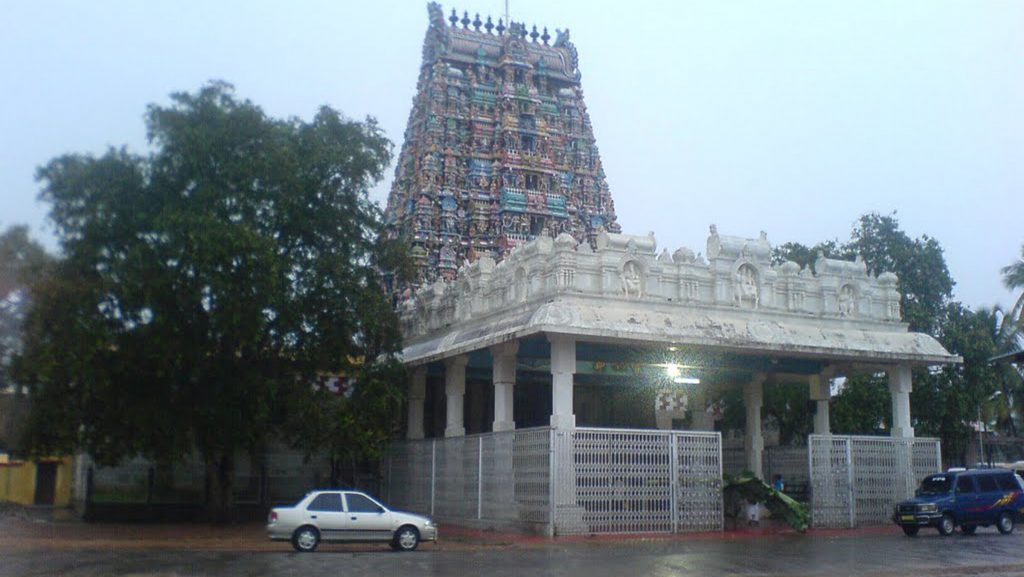 History
The Kingdom of Ramnad originally comprised of the territories of Ramnad, Sivaganga and Pudukottai of today. Regunatha Sethupathy alias Kilavan Sethupathy, the 7th King of Ramnad reigned between 1674 and 1710. Kilavan Sethupathy, came to know of the bravery and valour of Peria Oodaya Thevar of Nalukottai, 4 Kilometres from Sholapuram near Sivaganga. The King assigned to Peria Oodaya Thevar of Nalukottai a portion of land sufficient to maintain 1000 armed men. Vijaya Regunatha Sethupathy became the 8th King of Ramnad in 1710 after the death of Kilavan Sethupathy. The King gave in marriage his daughter AKILANDESWARI NACHIAR, to Sasivarna Thevar, the son of Nalukottai Peria Oodaya Thevar.
The King gave Sasivarna Thevar lands as dowry, free of taxation, sufficient to maintain 1,000 men. He placed him in charge of the fortresses of Piranmalai, Tiruppathur, Sholapuram and Tiruppuvanam as well as the harbour of Thondi. Meanwhile Bhavani Sankaran, the son of Kilavan Sethupathy conquered Ramnad territory and arrested Sundareswara Regunatha Sethupathy, the 9th King of Ramnad. Bhavani Sankaran proclaimed himself as the Rajah of Ramnad. He became the 10th king of Ramnad and he reigned from 1726 to 1729. He quarrelled with Sasivarna Peria Oodaya Thevar of Nalukottai and drove him out of his Nalukottai palayam. Kattaya Thevan, the brother of the late Sundareswara Regunatha Sethupathy fled from Ramnad and sought refuge with the Rajah of Tanjore Tuljaji. While Sasivarna Thevar was passing through the jungles of Kalayarkoi, he met a Gnani (sage) named Sattappiah, who was performing Thapas (meditation) under a jambool tree near a spring called `SIVAGANGA' . The deposed king prostrated himself before him and narrated all the previous incidents of his life. The Gnani whispered a certain mantra in his ears (Mantra Opadesam) and advised him to go to Tanjore and kill a ferocious tiger which was kept by the Rajah especially to test the bravery of men. Sasivarna Thevar went to Tanjore. There he became acquainted with Kattaya Thevan a refugee like himself. Satisfied with the good behaviour of Sasivarma Thevar and Kattaya Thevan, the Rajah of Tanjore wanted to help them to regain the States again, ordered his DALAVOY to go with a large army to invade Bhavani Sankaran. Sasivarna Thevar and Kattaya Thevan at once proceeded to Ramnad with a large army furnished by the king of Tanjore. They defeated Bhavani Sankaran at the battle of Uraiyur and captured Ramnad in 1730. Thus Kattaya Thevan became the 11th King of Ramnad.
Eminent Personalities
QUEEN VELU NACHIAR (3 January 1730 – 25 December 1796) Rani Velu Nachiyar was the first queen to fight against the British colonial power in India. She is known by Tamils as Veeramangai.She was the princess of Ramanathapuram and the only child of Raja Chellamuthu vijayaragunatha Sethupathy and Rani Sakandhimuthal of the Ramnad kingdom. Rani Velu Nachiyar was trained in war match weapons usage, martial arts like Valari, Silambam (fighting using stick), horse riding and archery. She was a scholar in many languages and she had proficiency with languages like French, English and Urdu.She married the king of Sivagangai, with whom she had a daughter. When her husband, Muthuvaduganathaperiya Udaiyathevar, was killed by British soldiers and the son of the Nawab of Arcot, she was drawn into battle. She escaped with her daughter and lived under the protection of Palayakaarar Kopaala Naayakkar at Virupachi near Dindigul for eight years.
Frustrated by the joining of forces against him, the Nawab ordered that Velu Nachiar and Marudhu Brothers were permitted to return to Sivaganga and rule the country subject to payment of Kist to the Nawab. Abiding by this Order, Rani Velu Nachiar accompanied by Marudu brothers and Vellachi Nachiar entered Sivaganga. An agreement was reached where by Rani Velu Nachiar was permitted to govern the Sivaganga Country and Chinna Marudu, the younger was appointed her minister and the elder Vellai Marudu as the Commander-in-chief. Thus the widow Queen Velu Nachiar succeeded her husband in 1780.The Queen Velu Nachiar granted powers to Marudhu Brothers to administer the country in 1780. Rani Velu Nachiyar was the first queen to fight for the freedom from the British in India. She granted powers to the Marudu brothers to administer the country in 1780. Velu Nachiyar died a few years later,on 25 December 1796.
MARUTHU BROTHERS
Marudu brothers are the sons of Udayar Servai alias Mookiah Palaniappan Servai and Anandayer alias Ponnathal. They are native of Kongulu street of Ramnad. They belonged neither to the family of the ancient poligars nor to their division of the caste. Servaikaran was the caste title and Marudu the family name. The Marudu Brothers served under Muthu Vaduganatha Thevar. Later they were elevated to the position of Commanders. Boomerangs are peculiar to India. Two forms of this weapons are used in India. These weapons are commonly made of wood. It is cresent-shaped on end being heavier than the other and the outer edge is sharpened. Their name in Tamil is VALARI stick. It is said that Marudu Brothers were experts in the art of throwing the valari stick. It is said that Marudus used Valari in the POLIGAR wars against the English. The Marudu brothers with 12,000 armed men surrounded Sivaganga and plundered the Nawab's territories.The Nawab on the 10th of March 1789 appealed to the Madras Council for aid. On 29th April 1789, the British forces attacked Kollangudi. It was defeated by a large body of Marudu's troops. Marudu brothers was in close association with Veera Pandiya Kattabomman of Panchalankurichi. Kattabomman held frequent consultations with Marudhus. After the execution of Kattabomman in 17th October 1799 at Kayattar, Chinna Marudhu gave asylum to Kattabomman's brother Oomadurai (dumb brother). He issued an epoch-making Jumboo Deweepa proclamation to the people in the island of Jamboo the peninsular South India to fight against the English whether they were Hindus, Mussalamans or Christians. At last the Marudhu Pandiyars fell a victim to the cause of liberating the motherland from the English supremacy. Marudu Pandiyan the popular leader of the rebels, together with his gallant brother Vellai Marudu were executed on the ruins of fort at Tiruppathur in SIVAGANGA District on 24th October 1801
Keezhadi Excavation
In 2013-14, the Archaeological Survey of India (ASI) carried out explorations in 293 sites along the Vaigai river valley in Theni, Dindigul, Madurai, Sivaganga and Ramanathapuram districts. Keezhadi in Sivaganga district was chosen for excavation and artefacts unearthed by the ASI in the second phase of the excavation at Pallichanthai Thidal of Keezhadi pointed to an ancient civilisation that thrived on the banks of the Vaigai. Carbon dating of charcoal found at the Keezhadi site in February 2017 established that the settlement there belonged to 200 BC. The excavations thus proved that urban civilisation had existed in Tamil Nadu since the Sangam age.
A beautifully crafted earthen pot with leaf decoration was unearthed at Archaeological Survey of India's excavation site at Keezhadi near here on Thursday, adding to a repository of evidence pointing to the existence of an urban habitation closer to the erstwhile capital of Pandya kingdom. The exquisitely crafted pot, measuring 72 cm in width and 42 cm in height, was found by an ASI team led by K. Amarnath Ramakrishna, Superintending Archaeologist. "This is for the first time such a decorative pot has been found in a habitation site in Tamil Nadu during excavation," says Mr. Amarnath. The storage pot contains pure river sand but its actual use could not be fixed immediately. Two similar pots of different shapes have started to emerge in two other pits of the excavation site. The huge red pot, which is among a variety of earthenware discovered in the area, was found embedded alongside a water storage facility. Noted epigraphist V. Vedachalam says that the kind of antiquities found at the site, 'Pallichandai Thidal,' reaffirm the belief that nestled among three ancient places — Konthagai, Keezhadi and Manalur — was an urban settlement that had trade links with North India and the western world during the Sangam Age. References to Manalur are found in Tiruvilayadalpuranam. During a later period, Konthagai and Keezhadi were merged as Kuntidevi Chaturvedimangalam and gifted to Brahmins. The Archaeological Survey of India (ASI) on Tuesday refused to commit a time period within which it would begin the next phase of excavation at Pallichanthai Thidal at Keezhadi in Sivaganga district. The excavations conducted so far on just one out of 100 acres of identified land at the spot had led to discovery of 4,125 artefacts pointing to the existence of an ancient Tamil civilisation that could have thrived on the banks of Vaigai. The State government has also evinced interest in setting up a site museum at Keezhadi to display the 5,300 antiquities that have been unearthed so far and has even offered to allot 72 cents of land for the same.
How to reach Sivaganga
By Road: National Highway 85 Cochin-Munnar-Bodinayakanur-Theni-Madurai City-Sivagangai-Thondi. National Highway 36 Villupuram- Panruti-Kumbakonam – Thanjavur-Pudukottai-Tirupathur-Sivagangai-Manamadurai. National Highway 87 Thiruppuvanam – Manamadurai – Paramakkudi – Ramanathapuram – Rameswaram – Dhanuskodi State Highway SH 34 Ramanathapuram-Ilayankudi-Sivagangai-Melur are the major roads passing via Sivaganga By Rail: There are regular trains from other major cities of the country to Important Towns of District Sivaganga, Karaikudi and Manamadurai. Important Railway Stations: Sivaganga (SVGA), Karaikudi ( KKDI), Manamadurai (MNM) By Air: Sivaganga 43 km away Madurai Airport (IXM), Madurai, Tamil Nadu. Sivaganga 125 km away Civil Airport (TRZ), Tiruchirappalli, Tamil Nadu
Tourist Information
District Tourist officer, Near New Bus Stand Mudiyarasan Salai Karaikudi – 630001 Sivaganga District LandLine :
04565-232348
Mobile :
8939896400
Email :
touristofficekaraikudi@gmail.com
Places of Interest
Pillayarpatti Temple
Karpaga Vinayagar Temple is one of the oldest Cave Temples (Rock Cut) of Tamilnadu and situated at Pillayarpatti, Which is between Pudukkottai and Karaikudi. Pillayarpatti is situated at a distance of 71kms from Madurai and 12 kms from Karaikudi on Thirupathur – Karaikudi State Highway. The village gets its name from the temple. Here Lord Vinayaga appears with 2 hands unlike in other places where he is seen with 4 hands. The six feet presiding deity is called as Karpaga Vinayagar [valampuri posture]. Over 15 inscriptions are found within the temple, that help establish the age of the temple. Vinayagar Chathurthi festival during August-September is the main festival of the temple. It is celebrated for 10 days in a grand manner. Sankata Hara Chathurthy every month is also celebrated with a festival look. Unlike other places the three Lingams Thiruveesar, Marudhesar and Senchadeswarar and the three Goddess Sivagami amman, Vadamalar Mangaiamman and Soundara Nayagiamman all appear together at the same place and bless the devotees. Cottages maintained by the trust are also available which can be booked in advance. Telephone Numbers : 04577 – 264240, 264241, 264182, 264797
Vettangudi Bird Sanctuary
Vettangudi Bird Sanctuary is near Thirupathur and Madurai. The Vettangudi Bird Sanctuary is located at a distance of 51 kms from Madurai on Madurai – Melur-Tiruppathur road, in Savaganga District. It is located in Vettangudipatti and Periya Kollukudipatti village of Tiruppathur Taluk, Sivagnaga District. This sanctuary covers an area of 40 hectares and covers the tanks of Vettangudi, Periyakollukudi and Chinna Kollukkudi villages. The Vettangudi Bird sanctuary is the natural habitat of winter migratory birds. It is a breeding habitat for Grey Herons, Darters, Spoonbills, Wite Ibis, Asian Open Bill Stork and Night Herons. It has also attracted Painted stork, Little Cormorant, Little Egret, Intermediate Egret, Cattle Egret, Common Teal, Spot Bill Ducks and Pintail. This is a safe place for roosting, breeding and feeding. There is a considerable diversity in their nesting and feeding behavior. The best time to visit would be between November and Fbruary when the weather is pleasant and you get to see thousands of migratory birds.
Contact
: Wildlife warder, Gulf of Mannar Bioshere Reserce, Mandapam, Ramanathapuram. Phone Number: 04567 – 230079.
CHETTINADU PALACE
The chettinad houses in Karaikudi, Pallathur, Athangudi and Kothamangalam are the most lavish and expuisite examples of architectural beauty. Located at 10 kms away from Karaikudi, Chettinad Place is a beautiful edifice situated in the Chettinad region, in Sivaganga district. It is one of the most glorious examples of chettinad's widely famed palatial mansions. The Chettinad Palace was designed and constructed by Dr.Annamalai Chettiyar, founder of Indian Bank and the Annamalai University in Chidambaram. An outstanding example of the Chettinad architecture, the Chettinad Palace of Sivaganga dates back to the year 1912. It took about two years to complete this palace. It reflects the traditional style of architecture, which is characteristic of the region.
Most of the construction materials, decorative items and furnishings used to construct Chettinad Palace were imported from East Asian countries and Europe. All the mansions have lovely teak, marble or granite pillars supporting a spacious verandah. The hall leads to the central courtyard, used for weddings and religious ceremonies erstwhile. At the corner of the courtyard is a room for worship where Rani Seethai Achi, wife of Dr.Annamalai Chettiyar, spent most of her time. Many antiques used by the Raja are preserved in the palace now also. The palace stands tall covering about 1900 sq.ft including 9 car sheds and a lift. Visiting Hours: All days of the week: 9.00 am – 5.00 pm Phone: 0423-2533333. Karaikudi is well connected by road to different parts of the state. Nearest Railway Station: Karaikudi.
ATHANGUDI
Athangudi village is located in Sivaganga district of Tamil Nadu and is 24 km from Karaikudi. The village itself comes within the Chettinad area and is very famous all over the country for the hand-made terracotta tiles that are made only here. The tiles are built using cement, sand, synthetic oxides and belly jelly. The terracotta tiles are first shaped and then sun-dried after which they are adorned with artistically made patterns. It is the pattern that gives the tiles their unique texture. The pattern can be decorated with various colours to make the tiles look attractive. People also get customised tiles made for their houses and lawns. The most popular design on tiles for lawns is the one depicting flora and fauna. You can also get the tiles in the colours matching your walls and upholstery. People in the village of Athangudi tend to use these tiles for increasing the appeal of their houses. In fact, the tiles are a common feature in many ancestral houses.
AAYIRAM JANNAL VEEDU
Aayiram Jannal Veedu is a famous landmark in the town of Karaikudi. The literal translation of the name of the place means the house with a thousand windows; a very apt name for a house that has thousand windows! The house is very famous among the tourists who make it a point to visit the place when in Karaikudi. In fact, once in the town, simply ask anyone for directions to the house. Built in 1941 on 20,000 square feet of area, the house is very spacious and costed 1 lakh 25 thousand at the time, a meager sum of money now. The house has 25 huge rooms and five very large halls. There are some 20 doors in the house along with 1000 windows. The first thing that strikes when one enters the house is that although it is in shambles and poorly maintained, the original style of architecture and grandeur still remains intact.
KAVIARASU KANNADASAN MANIMANDAPAM
Kaviarasu Kannadasan Manimandapam is a small structure that has been built in the memory of famous Tamil poet Kavi Arasar Kannadasan who was born in Sirukoodalpatti, a sleepy village near Karaikudi. He was a man who is believed to have changed the face of Tamil literature with his revolutionary writings. He also had great oratorical skills and would mesmerise his audience when he took the stage. He contributed not only to Tamil literature but also to the Tamil film industry by writing songs that became very popular. Many of his writings also found their way into Tamil magazines since he also wrote political satires. His writings have taken on an iconic stature in the state of Tamil Nadu because he gave the Tamilians the voice they were lacking. In his work, he spoke about the problems of the common people; their fears as well as their joys. The Nagarathars built a mandapam for him to honour the man who made their community known all over the country.
PIRANMALAI SEIK OLIYULLAH DARGAH
Piranmalai Seik Oliyullah Dargah holds religious significance for the Muslims. The dargah is located about 40 km from the town of Karaikudi. Many tourists, regardless of their religion, visit the dargah every year because it is believed that those who worship and pray at the dargah get their wishes fulfilled. Many people also come to the dargah after their wishes have been granted. The dargah is open to all and the local population of Karaikudi and the surrounding areas visit the dargah in large numbers everyday. According to local beliefs, if you pray at the dargah diligently then you can have any wish fulfilled including being blessed with children, getting a job, finding a suitable bride/groom or even for getting rid of the negative energy in your life. Many people suffering from various diseases and ill health also pray at the dargah for faster recovery. There are many testimonies to this and locals will tell you real stories of real people who have been blessed with good fortune and good health after visiting the dargah.
IDAIKATTUR CHRUCH
Idaikattur is a village in Sivaganga. It is at a distance of 37 kms towards the Madurai on the Madurai – Rameswaram national highway. This unique Church of the Sacred Heart of Jesus was built in Gothic Architectural Style in the year 1894 AD by a French missionary Fr. Ferdinand Cells SJ. This is a replica of the Rheims Cathedral in France. Since the church was said to be built by angels, Fr.Ferdinand Celle SJ has placed 153 depictions of angels in and around the church Another powerful source we have in this church to get the great divine help is the relics of 40 saints kept on the altar. It is constructed with 200 different types of moulded bricks and tiles in lime marty. They are used for its decoration. The inner gothic arches rest over the columns embedded with ribs, its corner rising up to the vaulted roof. The widows are decorated with small brick pillars adjoined with hollow flower bricks and stained glass works which depicts the events of the journey of the cross colorfully and beautifully. Since South India is a tropical country, utilization of the hollow bricks in the construction, reduces the heat and also the vacuum gap between inner vaulted roof makes and air-conditioned system below the shelter of the wall. The stucco figures and the statues of Saint, Angels and the sacred Heart of Jesus, his foster father St.Joseph and the Holy Family Statue with golden gilt and the Mother of Sorrows are of great beauty and symbol of ancient French art work.
KUNDRAKUDI TEMPLE
Kundram means hillock and Kudi means village. Hence this village is called Kundrakudi. This Shanmuganathar Temple is an abode of Lord Murugan called "Shanmuga" with six faces and 12 hands. Kundrakudi is 10 km from Karaikudi and 12 km form Tirupathur. On the western side of the hill are three excavated shrines at the ground level. Later structures have been added to these shrines. All these caves are dedicated to lord Shiva. There are a number of old inscriptions in this region which attracts research minded historians.
THIRUKKOSHTIYUR TEMPLE
Thirukoshtiyur Sowmya Narayana Perumal Temple is an ancient shrine located about 10 kms from Tiruppathur in Tirupathur in Tirupathur – Sivaganga Road. It is a popular Vaishnavita Temple. It is considered as Badrinath of South India. It is one of the 108 Divya Desams of Lord Vishnu, revered by the tamil hymns of Alwars. Preiazhwar in his work "Periazhwar Thirumozhi" visualizes Thirukoshtiyur as the birth place of Sri Krishna. The vimana in this temple is Ashtanga and it rises to a height of 96 ft. Most noteworthy feature of the shrine is that the deity can be found in all three postures – standing, sitting and sleeping. Since Lord Brahma, Lord Vishnu and Lord Shiva came together as a "Koshti" means group in tamil to decide about Narasimha Avatharam of Lord Vishnu, the place came to be known as "Thirukoshtiyur" wherein "Thiru" means three, "Koshti" means group and "yur" means place. The temple tower is 85 ft tall. The Golden Kalasam is 5ft tall.
Venkatamudayan Perumal Temple (Then Tirupati)
Venkatamudayan Perumal Temple (Also called as Then Tirupati) is dedicated to Hindu God Vishnu located at Ariyakudi near Karaikudi in Sivaganga District of Tamilnadu. Then Tirupati is 500 years old and is considered to be a distinct change from traditional temples. Garuda, the eagle vehicle of Lord Vishnu, is shown with two lions on each side. This temple is especially associated with Garuda. The day in the month of Aadi (July-August) called Maha Swathi is considered the birthday of Garuda.A special pooja is performed on this day. Processional icons of deities used to be supplied by Srirangam temple in Sri Ramanuja's time. Sevugan Chettiar took special efforts to get Thiruvenkamudayan worshipped by the Ramanuja Acharya for this temple.
This temple is an important abode of Lord Balaji. The Sadari (Padukas or feet of the Lord) were brought from Tirupati and Agni (fire) from Thirumayam to commence the temple work. Since then this place came to be known as Ariyakudi (rare land) and Then Tirupathi (Tirupathi of the south).Then Tirupathi temple is considered important next to Srirangam. People who are unable to go to Tirupathi to fulfill vows can alternatively visit this shrine or Uppiliappan in Kumbakonam. The 17th Century AD temple has a connection with Three Divya Desams – The idol of Srinivasa Perumal was the Abhisheka idol of Ramanuja at Srirangam, Shataari is from Tirupathi and Sacred fire (Agni) from Thirukoshtiyur. This is the biggest Vishnu Temple in the Chettinad Region with the 7 Tier Raja Gopuram measuring 80ft. It is located about 4 kms South East of Karaikudi Railway Station on a huge 3 ½ acre land.
KALAIYARKOVIL TEMPLE
Kalayarkovil was called as Kaanapair during sangam period. This temple is called as Sorna Kaleeswara Temple. There are three shrines in this temple associated with the threefunctions of creation, preservation and completion. The shrine is regarded as the 10th of the Tevara Stalams in the Pandya region of Tamilnadu. Kalayarkovil was the strong hold of Sivaganga rulers with a well built extensive fort. It is 15kms from Sivaganga on the Devakottai-Manamadurai road. The village derived its name from Kaleeswaran Temple here. A lofty 150ft Rajagopuram and a grand tank (Teppakkulam) named Aanai Madu are two special features of this temple. Airavatam the elephant of Indra is said to have created this tank. The statues of three Maruthu Brothers are also found in this temple. Saint Gnana Sambhandar, Simdarar, Appar and Arunagirinathar have visited this temple and have sung hymns in praise of the Lord.
Vaikasi Visakam (May-June) and Thaipoosam (Jan-Feb) are the important festivals of this temple. During these festivals, pilgrims in and around converge in thousands to enjoy the festivities. Samadhi of Marudhu brothers is opposite to the old entrance on the eastern side. Phone number: +91-4575-232 516, 94862 12371. Timings: Morning 6.00 a.m. to 12.00 noon. Evening 4.00 p.m. to 9.00 p.m. Kalaiyarkovil is well connected by road to major cities. Nearest Railway Station: Sivaganga Railway Station.
DAKSHINAMURTHY GURUSTHALAM,PATTAMANGALAM
Lord was telling Shiva stories to stage Brungi and Nandi Deva.Kruthika maidens-Nidardani,Aparakendi,Dekanthi,Varthayendhi,Amba and Thula came there and begged Lord that they too may be gifted with the Ashtama Siddhi art. Lord Shiva was Reluctant.Mother Umadevi recommended favouring the Kruthika maidens.But the Maidens did not listen to the teaching,their attention elsewhere,thus lost a golden opportunity of learning this rate art.Angry Shiva cursed them to become rocks in Pattamangalm.The maidens fell at his feet and sought a relief from the curse.Lord said that they would be rocks for 1000 years and He wouls come there from Madurai and grant the relief.The relief came in time at pattamangal.Now the place is known as mattamangalam.While cursing the Maidens,Lord also cursed Mother Uma for Her recommendation then to the undeserved.she is gracing in the temple as Navayadi Kali.
After a severe penance,Mother too was relieved of Her curse.she appears now with all smiles.Inthe inner space behind Lord Shiva in the sanctorum,Lord muruga as shanmuganatha with five heads accompanied His consorts Valli and Deivanai blesses the devotees.
SWARNA MOORTHEESWARAR TEMPLE, KANDADEVI
The Village Kandadevi is situated 3 kms away from Devakottai Town. Here the temple is dedicated to Lord Shiva and called as Arulmigu Swarna Moortheeswarar alias Siragilinathar. The Amman is called as Periya Nayaki Amman. This is a 350 years old temple. The temple is maintained by Sivaganga Raja. This temple is associated with Ramayana-the kidnapping of Sita by Ravana. Jatayu died in the hands of Rama after narrating the kidnapping of Seethe by Ravana. Lord Rama installed a sivalinga and named "Siragilinathar" meaning the lord without feathers. It is here that Hanuman said "Kanden Deviyai" to Rama, after finding Seetha at Lanka and hence this place is called as Kandadevi. Bihnd the temple, there is a big tank called the Jatayu Theertham. The tank is so huge and covers a large area. It is said that the temple tank has never dried up even during drought or intense summer seasons. The Aani Urchavam is very famous festival for this temple, which is celebrated every year, during the month of June by the people of 75 Villages. Phone numbers: +9194439 56357. Buses are available from Devakottai Bus stand. Nearest Railway Station: Devakottai located at a distance of 10 kms and Karaikudi Railway Station is located at a distance of 12 kms.
VETTUDAIYAR KALIAMMAN TEMPLE, KOLLANGUDI
Kollangudi is a small village 10 kms east of Sivagangaon Madurai-Thondi Road. Kollan in tamil means blacksmith, Kudi means village. This is the village where arms, warfare equipments were made for Marudhu, hance derived its name Kollan Kudi. This village is famous for Vettudaiyar Kaliamman Temple. This Vettudaiyar Kali dwells in a small village, amidst paddy fields 13 kms east of Sivaganga, called Ariyakurichi, on the way to the coastal town Thoni. Ariyakurichi is 2 kms south from the village Kollangudi. The God, who can be seen through the main tower entrance, is Lord Vettudaya Ayyanar. Diagonally apposite to Ayyanar has the Sanctum sanctorum of Goddess 'Vettudayar Kali'. The corridor next to sanctum sanctorum features the paintings of Goddess blissful advantures. The temple has the idols of Lord Anjaneya, Solamalaisamy, Lord Meenkshi Sundareshwarar and Lord Thirumal.
The annual festival of this temple falls in the month of Apr-May. Panguni Swathi Festival in March-April; Vinayaka Chaturthi in August – September; Aadi Perukku in July – August, Navarathri in September – October; Margazhi poojas in December – January and full moon day Poornima Poojas are the festivals celebrated in the temple. The temple remains open between 6.00 am and 6.00 pm. Phone numbers: 04575-232236, +91-90479 28314, 93633 34311 Nearest Railway Station: Sivagangai – 13kms.
KANNUDAYA NAYAKI AMMAN TEMPLE, NATTARASAN KOTTAI
Kannudaya Nayaki Amman temple is situated in Naatarasankottai at about 9 kms from Sivaganga on the Madurai Thondi Road. The temple was constructed in the 18th century by nagarathars. The temple is also efficiently managed by them. The deity, Kannathal alias Kannudaya Nayaki Amman is famous for her powers in giving the boon of eye sight to the devotees with eye defects and other ailments. There is a big pond at the front of the temple. Goddess Kannathal at this temple is a Swayambumurthi (self-emerged). The Amman is seen in a standing posture with 8hands and has an "udukkai" and "muvizhai soolam" in her hands. Her left leg stamps the Asura by name Mahishan. The Temple is famous for its architectural beauty and golden kumbhams over the temple tower. Vaikasi visakam festival is celebrated for 10 days in this temple. The other festivals include "Muzha Kalliatta Thiruvizha", during Tamil month of Aadi, "Navarathri" during Tamil month of Purattasi and "Thailakappu Utsavam" during Tamil month of Thai.
The famous poet Kamber, who wrote Ramayanam in tamil, spent his last days in Nattarasankottai and his tomb is located here. Timings: The temple is open from 6.00 a.m. to 1.00 p.m. and 4.00 p.m. to 8.30 p.m. Phone Number: +91 4575 234220. Bus services are available from Sivaganga to Nattarasankottai. Nearest Railway Station: Sivaganga Railway Station.
BATHIRAKALIAMMAN TEMPLE, MADAPURAM
Madapuram is a small village in Sivaganga District. Madapuram Bathra Kaliamman temple is located at a distance of 25 kms from Madurai. The main deity here is Bathra Kali Amman. This temple is 500 to 1000 years old. The Rajagopuram (the tower) fo Bathirakaliamman temple is of five tiers. The Bathirakaliamman here is considered to be the Goddess of Justice. The Goddess Bathirakaliamman appears as if she is in a procession to protect the world wearing fire an her head as crown. The goddess stands in an open space on a stone pedestal, under the shelter of a magnificient horse. The main deity Bathirkaliamman idol is thirteen feet and is guarded on both sides by two Boothas (demons). Bathirakaliamman holds a trident and has a crown of fire. She is believed to be fond of lime fruit, so the devotees offer her a lime fruit garland made of 100 limes and it is a garland of 1000 limes for the horse.
Ayyanar is the custodian deity of the temple. He is called as Adaikalam katha Ayyanar, since he is the one who gave shelter to kali and even gave one of his horses to shield her from rough weather. Neem is the Sthala Viruksham or the tree of the land here. Every Friday is a festival in this temple. On the First Tuesday of every month there will be 1008 lamp lighting festival, milk abisheka and lime lamp lighting. The temple is kept open from 6 am to 11 am and 4 pm till 8 pm. Phone Number: 04574 – 265 305. The templeis situated 18 kms away from Madurai on the way to Rameswaram. Daily buses are available from Madurai Periyar Bus Stand to this temple. Nearest Railway Station: Sivaganga and Thirubuvanam Railway Station.
MUTHUMARIAMMAN TEMPLE, THAYAMANGALAM
Thayamangalam Kovil is a powerful temple and the primary God Muthumari Amman resolves all the problems of people who pray to her. The black stone statue of the Goddess and the temple was built in the year 1914. A big theppakulam is located near the temple. It is believed that the goddess appeared to a childless man named Muthu Chettiyar and instructed him to make a deity and worship her. The successors of Muthu Chettiyar are maintaining the temple for the past seven generations.
Kappu Kattudhal is tying a sacred rope around one's wrist, which may be called an announcing or inauguration of the Temple Festival. Till the conclusion of the festival, the residents should not leave the village. Procession with milk pots, Theerthvari, Pookuzhi or Fire Pit Festival are the rituals during "Thiruvizha" Navarathri is celebrated in September-October, Abishekam with 108 pots of milk and special pujas in the tamil month of Aadi (July-August) and Thai (January-February) are celebrated in the temple. Panguni Pongal Festival is being celebrated on the 7th day (22nd day of the Tamil Month Panguni), Milk pot festival and Flower Pallakku is celebrated on the 23rd day of the Tamil Month. The festival will be completed on 25th day of Panguni after celebrating "Theertha vari" function. Timings: From 7.00 am to 7.00 pm. Phone Number: +91 4564 206 614. Thayamangalam tmple is 25 kms from Sivaganga and 22 kms from Manamadurai and 27 kms from Pramakudi. During festival time Tamilnadu Transport Corporation, Karaikudi operates special buses from various places to Thayamangalam every year. Nearby railway Stations: Paramakudi, Manamadurai and Sivaganga.