Kolli Hills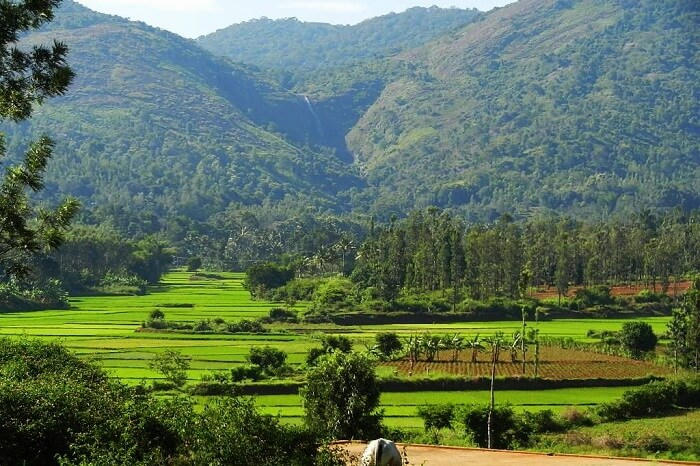 Offbeat Paradise
A serene and pristine mountain range, sited in the central Tamilnadu on the eastern ghats, 55 Kms from Namakkal district located at an ever-so-pleasant altitude ranging from 1000 to 1300 meters above mean sea level, Kolli hills enjoys a salubrious climate throughout the year. This fertile pocket in Namakkal district is where exotic tropical fruits and medicinal plants grow in plenty. The land is still relatively untouched by time, with 16 quaint little tribal villages that once constituted the historical hill Kingdom of Ori. Much of the charm of this hill country still remains mystical to probe.
This is one hill station where one does not feel the glacial cold of season, with a pleasing cool climate (temperature never rises above 30ºC or falls below 13ºC), hence can be visited any time of the year. For if you can't stand the milling crowds of Ooty and Kodai, this surely is one place where you can head to for a quiet holiday.
Tourist Attractions
Perhaps the biggest attraction in Kolli Hills from a tourist's point of view is the spectacular Agasagangai waterfalls and the nearby Arapaleeswarar temple, Ettukai Amman Temple at Valapoor Nadu.
Besides, other spectacular places that you should never miss out, while at kolli hills are *Belukurichi tract, *Hairpin Bend view points at 34, 35, 37, *Masilla falls, *Namma Falls, *Boat House and *State Botanical Garden. Get clear views of valley side at *Sirumalai View Point, *Selur Wireless view point, *Seekuparai viewpoint and *Binnam View Point. Enjoy glimpses of ancient ruins of *Britisher Bungalow, Wood House & Jain statue. *Puranikadu Sat Dharma sangam ashram are the other favorite destinations to spend quality time with.
Adventure Activities
For adventurous gangs, who would like to do something different at kolli hills can do *Trekking to siddhar caves and *Masi Periyasamy Temple, *Nature Walk, *Rock Climbing, *Rappelling, *Bird watching, *Cave exploration, *Star gazing, *Camp fire, *Watching local folklore/Folk dance with campfire
Shopping
Some of the most sought after items in Kolli Hills are traditional varieties of Rice, Pepper, Honey, coffee and fruits. Most of the shops are open from 9 am to till 6 pm. The bi-weekly shandy (dawn market) on Wednesdays and Saturdays attracts fruit vendors and wholesale dealers from the plains. The shandy begins on the previous evening as tribals trickle in with their produce.
How to reach Kolli Hills
By Road: Kolli Hills,well connected by good motorable,traffic-free road from Attur , Salem, Rasipuram and Namakkal enroute to Chennai, Bangalore, Trichy, Madurai, Coimbatore and Cochin. There are regular bus services too. By Rail: Nearest Railway Station is Salem (90 Km) centrally connected across South India, Attur (75 Km) and Trichy (123 Km). Vaniyambadi Railway Station (24 Kms) Tirupattur Railway Station (30 kms) By Air: Trichy at a distance of 133 Km is the nearest airport which is connected to Chennai, Mumbai and Bangalore.
Tourist Information
Tourist Office Kolli Hills. Mobile :
94477-84477
Email :
info@tamilnadutours.net
Places of Interest
Agasagangai
One has to climb down the 1000 and odd steps along the mountain edge leading to the waterfalls. The waterfall of the river Aiyaru situated close to Arapaleeswarar temple presents a truly spectacular sight, as the water cascades down 300 feet, covering all around. Note: *The climb up the steps can be pretty strenuous, and it is therefore wise to visit the falls only if one is capable of climbing back.
Arapaleeswarar temple
The Mountain is a site of pilgrimage, because of the Arapaleeswarar temple, which is believed to have a secret path to the Shiva temple in Rasipuram. This Shiva temple is said to have been built by Valvil Ori in the 1st or 2nd century when he ruled this area.
Kolli Pavai (Ettukkai Amman) Temple
The Mountain is named Kolli Malai behind the name of Goddess Ettukkai Amman (Kolli Paavai), the local deity. The mountains have several mythological legends associated with them, and often come across as an eerie place in contemporary tales due to the unexplored and less travelled terrain. Even at some places one can hear the presence of saptha kannigal.
Siddha Caves
Since ancient times, Kolli Hills has always been famous for its medicinal plants. It is believed that the Siddha's (ancient medicine men) lived, researched and meditated here in the caves inside the sacred groves. Many adventurous men go on trekking expeditions, to the caves where the Siddha's lived. The caves of Bogar and Agastya are situated near the Agaya Gangai waterfalls, while Korakka Siddha and Kalaanginatha Siddhais deep inside the forest area after 2-3 hrs of steep down trekking along the forest stream.
Semmedu
Semmedu also has a statue-memorial to the King Valvil Ori, and is the venue of the Valvil Ori Tourism Festival in August. The festival is primarily a cultural event, which had its origin in the traditional Adi festival when people from all the 16 villages in Ori's kingdom came together and danced, sang and feasted in praise of their deities and king.
Vaasaloorpatti
Another village on the way is Vaasaloorpatti, where the Government Fruit Farm is located. It is a beautiful place where paddy (the traditional quick-yielding dwarf variety indigenous to this region) is cultivated in the valley and a variety of hybrid and native fruits such as banana, jackfruit, oranges, coffee, pepper and spices are grown on the slopes here.
Not to be missed on the way to Vaasaloorpatti from Semmedu is the TAMPCOL Medicinal Farm at Vaalavandi Nadu, run by the Tamil Nadu government. The farm is surely worth visiting, as Kolli Hills is perhaps better known for its medicinal plants than anything else. A wide variety of medicinal plants and herbs used in Ayurveda, Siddha and Unani medicine are nurtured, cultivated, gathered and sent from here.
Selur Viewpoint
One of the highest points in the hills is Selur Nadu, which is believed to be the place where King Pari, another generous Tamil King, gave away his chariot as support to the helpless jasmine creeper. An ancient culvert can also be seen here.
The long and winding road from Semmedu to Selur Nadu is dotted with beautiful scenery. Banana and coffee plantations with their red and green coffee berries glistening in the sun, tall silver oak trees with glossy pepper leaves wrapped around, guava and orange trees laden with fruit and a host of other tropical plants typical of this region, are a feast to the eye.
Solakkadu
The drive up the hill will take you to Solakkadu, the main town here, which is also one of the highest points in the hills. The viewpoint inside the Highways Bungalow compound is worth visiting, as one can have a spectacular view of the surrounding hills and plains from here.
Under the foot hills of the Kolli Hills many small and big towns exist. From these places the Kolli Hills is visible in a panoramic view and the climatic conditions of these places are influenced by the climatic conditions of the Kolli Hills.