Dakshinachitra Museum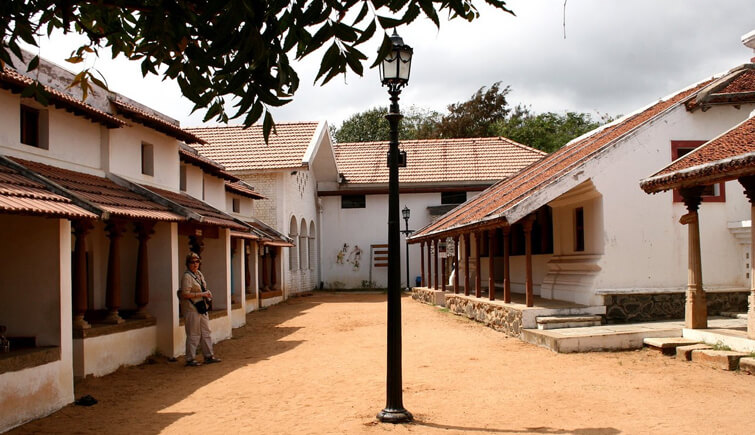 About Dakshinachitra
DakshinaChitra is an exciting cross cultural living museum of art, architecture, lifestyles, crafts and performing arts of South India. The mission of the Museum is to exhibit, promote and preserve aspects of the broader, more inclusive cultures of the states and to bring these arts to the public in a participative, enjoyable and engaging way. DakshinaChitra Heritage Museum, a project of Madras Craft Foundation an NGO was opened to the public on December 14th 1996. The Museum is located overlooking the Bay of Bengal, at Muttukadu, twenty five kilometres south of Central Chennai, on the East Coast Road to Mamallapuram, Tamil Nadu, India.
DakshinaChitra has a collection of 18 authentic historical houses with contextual exhibitions in each house. The authentic homes in a regional vernacular style are purchased, taken down, transported and reconstructed by artisans (Stapathis) of the regions from where the houses came. We aim to inculcate in youngsters a curiosity and better understanding of their past and generate a newer level of appreciation among the public for our rich cultural heritage. Our festivals also work as a centre stage for folk artists and crafts people from different parts of the country belonging to various communities, to showcase their skills and talent, by exposing them to large and varied audiences from all over the world. DakshinaChitra works closely with craftspeople and folk performing artists, as they, along with school children are the main stakeholders of the Museum. Our programs are geared to encourage craftspeople and folk performing artists to look more innovatively at their work and to encourage them to continue and to train younger people in their craft and performance Globally DakshinaChitra has become a renowned centre for showcasing South Indian culture and traditional architecture and a visit to the centre serves to orient the foreign visitor before they embark on a tour of South India. DakshinaChitra highlights national and international culture through special festivals, exhibitions, symposia and workshops
Heritage homes
At DakshinaChitra, 18th, 19th and early 20th century buildings, representative of generic styles popular in a region and common for many villages and often for several communities, have been identified, purchased, dismantled and reconstructed with in the center.
Tamilnadu house:
The Tamilnadu traditional homes at DakshinaChitra leads you from the empty mansions of the earlier merchants of Chettinad to the changing street facades of villages. It includes 7 traditional houses with collections in context, 3 separate galleries, and one Ayyanar shrine.
Kerala:
The traditional domestic architecture of Kerala houses were distinguished based on the three religious communities: Hindus, Christians and Muslims. The tour includes 4 traditional houses, 2 separate galleries, (one for folk art and one for Ravi Verma's Oleograph), padipura gateway and one cow shed.
Karnataka:
DakshinaChitra's Karnataka section represents the cluster of weavers houses form Ilkal, Bagalkote district, in Northern Karnataka. This includes Ilkal gateway, Lambani house, Weavers settlement with courtyard and shrine, gallery, Muslim house from Chikmagalur.
Andhra:
The Andhra traditional homes consists of Weavers house from Nalgonda district representing Ikkat weaving and Chuttillu house from Coastal Andhra. This includes 2 traditional houses and a cow shed.
Art gallery
The DakshinaChitra Art Gallery continuously showcases contemporary art of eminent and upcoming artists, alongside exhibiting traditional and tribal art from time to time.
Library / Archives/ Collections
DakshinaChitra has setup a specialized library on the arts of South India. The centre has a special archiving section with catalogued photographs, CD's and DVD's, videos and editing facilities .Combined with our Museum collections of textiles and objects, these facilities underline our goals in research and presentation.
Visitors Facilities
DakshinaChitra offers visitors facilities like a reception center with a seminar/conference hall, craft shop and craft bazaar, art gallery, restaurant, guest house accommodation, an activity center, wedding mandapam and lawn area, children play area, an amphitheatre, a snack bar & a picnic area.
The Craft shop
The Craft shop at DakshinaChitra features folk paintings, traditional toys, jewellery, home furnishings and décor, books, stoles, CDs, saris, duppattas and garments.
Address
DakshinaChitra, East Coast Road, Muttukadu, Chengalpet District – 600 118. Phone : 044 27472603