Ramanathapuram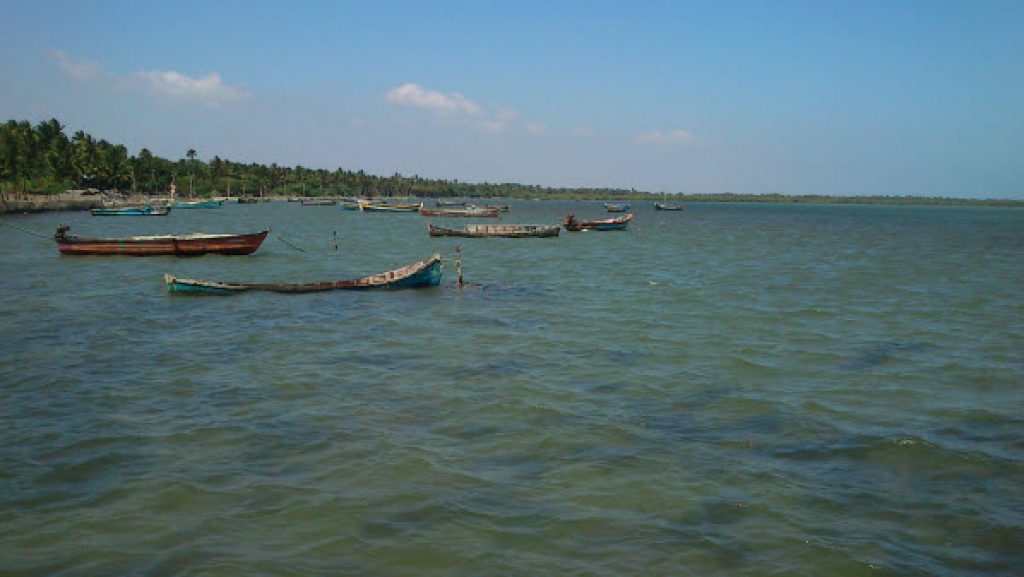 History And Geography
In the earlier parts of the fifteenth century, the present area of the Ramanathapuram district having the taluks Tiruvadanai, Paramakudi, Kamuthi, Mudukulathur, Ramanathapuram and Rameswaram were under the rule of the Pandyas. For a very small period, this area was also under the rule of the Chola Kings when Rajendra Chola brought it under his territory in A.D. 1063. In A.D. 1520, the Nayaks of Vijayanagar Empire took over this area under their control from the Pandiyan dynasty for about two centuries. Marava chieftains-Sethupathis who were Lords under the Kings of the Pandiyan dynasty reigned over this part. In the early eighteenth century, family disputes over succession led to the division of Ramanathapuram. With assistance from the King of Thanjavur in A.D. 1730, one of the chieftains deposed Sethupathy and became the Raja of Sivaganga. Acting upon the drawbacks of the Nayak rules, the local chieftains became independent. Chand Sahib captured Ramanathapuram and in 1741, the area came under the control of the Marathas and then under the Nizam in A.D. 1744. The rule of the Nawabs made displeasure in the mind of those chieftains and they declared the last Nayak as ruler of Pandiya Mandalam against the Nawab in A.D. 1752. By that time, throne of Carnatic had two rivals, Shanda Sahib and Mohamed Ali, and this district formed a part of Carnatic. The British and French supported Chanda Sahib and Mohamed Ali respectively which resulted in a series of conflicts in the southern part of the continent.
Tourism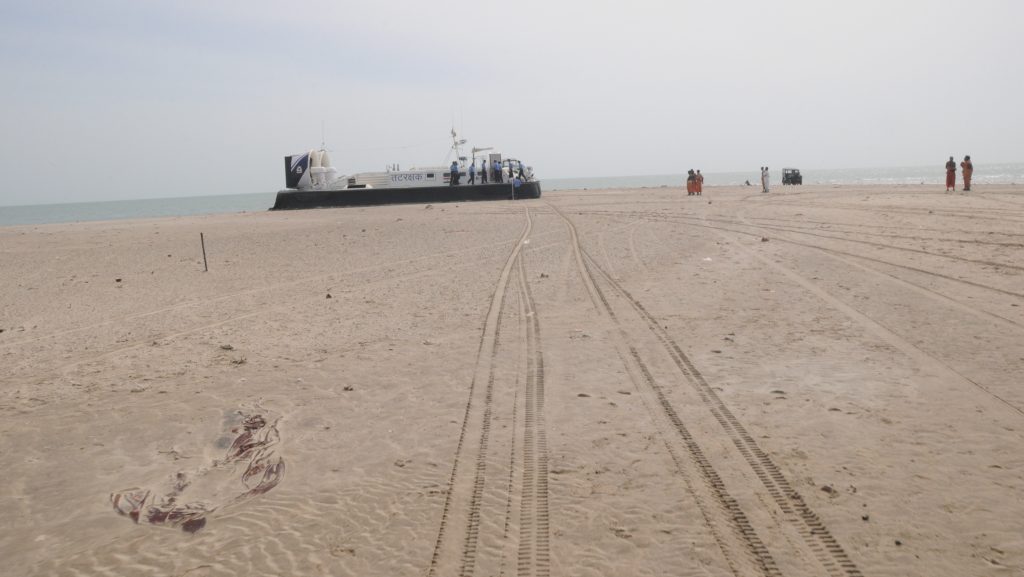 The temples of the district of Ramanathapuram are famous centres of religious importance. The temples in this district are visited by a large number of devotees from different parts of Tamil Nadu and various other parts of Indian throughout the year. Some of the most prominent temples in this district are Ramanathaswamy temple, Badrakali Amman temple, Kothandaramasamy temple, etc. The Vishnu temple at Thiruppullani is dedicated to Lord Adi Jaganathaperumal and the temple is situated at a distance of sixty four kilometers from Rameswaram. Situated at a distance of seventy two kilometres from Rameswaram is Uthirakosamangai. At this place an ancient Shiva temple is located, where the presiding deity is carved in Emerald. The annual festival celebrated here is known as `Arudhra` in the month of December. This festival attracts a large number of devotees. Satchi Hanuman temple is another well-known religious place where Lord Hanuman was said to have delivered the good news of the well being of Sita to Lord Rama with an evidance choodamanai (jewel) of Sita. Another temple in this district called the Five-Faced Hanuman temple where Lord Hanuman is adorned with senthooram. The Patham Priya Koil is located in Thiruvetriyur in R.S. Mangalam block of the district. This temple is located over a large area and possesses a big tank. Another major temple of this district is located at a distance of eighty five kilometres from Rameswaram. It is the Veyulugantha Vinayagar Alayam and there is a belief that Lord Ram worshipped Lord Vinayagar in this temple on his journey to Sri Lanka. Apart from the temples there are various other places of religious importance in the district of Ramanathapuram in the Tamil Nadu state. One of the most notable centers of pilgrimage for the believers of Christianity all over the world is Oriyur. It is home to the martyrdom of St. John De Britto, a Portuguese Jesuit famously called `Arul Anandar`. Another place of religious importance in this district is Erwadi which holds the tomb of Sultan Ibrahim Syed Aulia, who came from Arabia through Cannanore, is about eight hundred years old. Pilgrims from countries like Malaysia, Sri Lanka and Singapore visit this tomb. The Santhanakoodu festival is celebrated in February-March at Erwadi attracts thousands of pilgrims every year.
Events and Festivals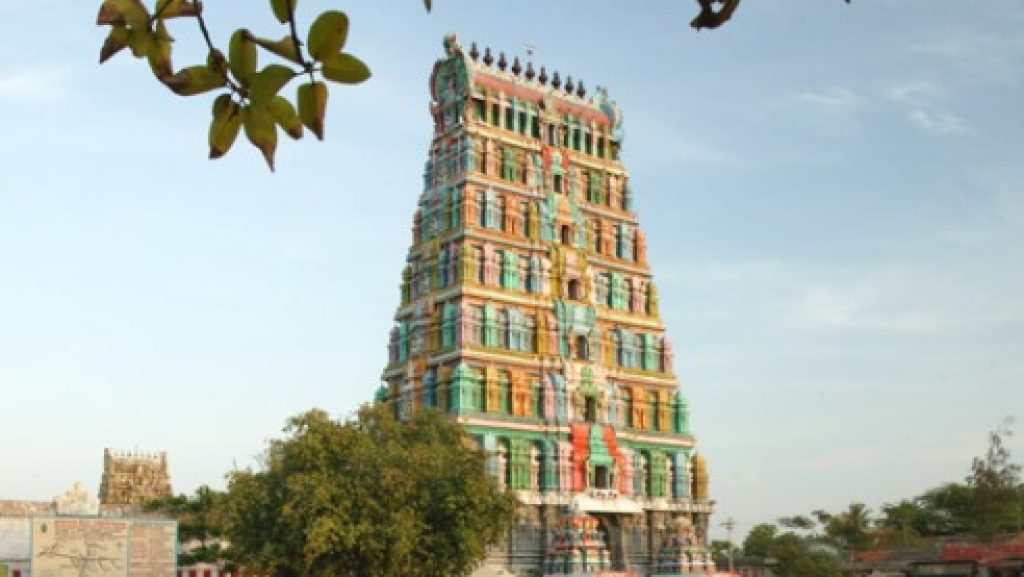 Arudhra darshan There is an ancient Siva temple which is also called Mangalanadha Swamy temple is in Uthirakosamangai. This is the only Shiva temple where you could see a 6 feet Idol for Lord Nataraja carved in Emerald (Maragatham). This idol kept inside the temple is smeared with sandal paste. Arudhra darshan which is held on Thiruvathirai day in the Tamil month of Margazhi every year. During this festival the sandal paste will be removed and the devotees could worship the Maragatha Nataraja idol after performing abishekams. This festival attracts a large number of devotees from Ramanathapuram district and other districts of the State.
Ervadi Santhanakoodu Festival
The Ervadi Santhanakoodu Festival is a festival held in Ervadi Dargah, to observe the anniversary of Sulthan Syed Ibrahim Shaheed Badhusha Oliyullah whose grave is in Ervadi Dargah which always remains as a symbol of religious harmony. It is a month long festival and celebrated in the Islamic month of Dhu al-Qi'dah. Every year a huge gathering of people from all community within Tamil Nadu and elsewhere throng Ervadi on this day to witness the festival. District administration usually announces local Holiday on this day and the State government along with TNSTC runs thousands of special buses to Ervadi from various locations of Tamilnadu.
How to reach Ramanathapuram
By Road: Ramanathapuram has a bus terminus. Mofussil buses, intra-city buses, Private Omni buses are available from major cities of Tamil Nadu. Ramanathapuram is around 518 KM away from Chennai, capital of Tamil Nadu. By Rail: Ramanathapuram has a railway station and is well connected to the major cities of the Country via Express / Passenger Trains. By Air: Madurai Airport around 120 KM away from Ramanathapuram. Tuticorin airport (TCR), Thoothukudi, around 125 KM away from Ramanathapuram
Tourist Information
District Tourist officer, Tourist office, Bus Stand Terminal, Rameswaram – 623526 LandLine :
04573 – 221371
Places of Interest
Dhanushkodi
The southernmost tip of the rameswaram island is called Dhanushkodi. It was completely washed away by a cyclone in 1964. But the Kothandaramasamy Temple here remains intact. It is 18 KMs way from Rameswaram can be reached by road. A popular belief is that, it is where Vibishana a brother of Ravana surrendered before Rama. Dhanushkodi has a fine beach, where Sea surfing is possible.
Devipattinam (Nava Bashanam)
A coastal village is also known as Navashabashanam. It is believed that Lord Rama worshiped Navagraha here. The temple near by here, is dedicated to Devi, who is said to have killed the demon Mahishasura at this spot. Hindus perform religious rites for their forefathers here.
Pamban Bridge
The 2.2 km. length bridge connecting the Rameswaram Island and the mainland is the longest bridge in India constructed over a bay. It is also called as Pamban Bridge. Similarly the railway SCISSORS bridge connecting the island is noted for its unique opening to pass the ships through the sea.
Thiru Uthirakosamangai
18 KMs from Ramanathapuram is Uthirakosamangai. There is an ancient Siva temple, where the presiding deity is carved in Emerald. Annual Arudhra festival in December attracts a large number of devotees.
Ramanathaswamy Temple
The Holy abode of the Hindu God, Shri Ram (addressed so with all respect & humility) is a virtual paradise for the devout. No Hindu's journey is complete without a pilgrimage to both Varanasi and Rameswaram for the culmination of his quest for salvation and is hallowed by the epic 'Ramayana'. Folklore mentions about God Ram's presence in this land, after his 14-year exile. Local legend has it that Shri Ram was helped back into Rameswaram and into India by his brother Lakshman and Hanuman along with his band of thousands of monkeys, after finally emerging victorious against the demon – Ravana. They helped build a bridge with rocks from the sea and shores to cross the 'Sethu canal' and reach Lanka. Lord Rama is also believed to have sanctified this place by worshipping and glorifying Lord Shiva and hence marks the confluence of Shaivism and Vaishnavism and is thus revered by both Shaivites and Vaishnavites alike and thus there is a strong belief that bathing in the 22 'Theerthams' or natural springs is a step forward in enlightenment. Therefore, Rameswaram has rightly been declared as one of the National Pilgrim Centres in the count.
The Ramanathaswamy temple by itself is a delight for every tourist. With its magnificent, imposing structure, long corridors, aesthetically carved pillars, the temple is adorned with a towering 38-metre 'Gopuram'. The temple itself was built by rulers since the 12th century with Sethupathy Maravar beginning the construction of the grand Ramanathaswamy temple that boasts of the 'Third Corridor', completed by his successor, Maravar – the longest one in Asia with a 197-metre span from East to West and a 133-metre span from South to North, the third largest in the world! It is said that Swamy Vivekananda offered prayers at this temple in 1897. It is also one of the twelve Jyothirlinga temples, where Shiva is worshipped in the form of a Jyotirlingam.
Dr. APJ Abdul Kalam's Memorial
Avul Pakir Jainulabdeen Abdul Kalam, better known as A. P. J. Abdul Kalam who was the 11th president of India. Kalam was born and brought up in Rameswaram and became a scientist and worked for DRDO and ISRO. After his sudden demise at Shillong on 27th July 2015, he was laid to rest at Pei Karumbu, Rameswaram on 30th July 2015. A memorial has been built at the burial site. Inside, the memorial, one can see the selected photos, paintings and miniature models of misssiles etc.,. The memorial is less than 1 km from Rameswaram.
Thiruppullani
Thiruppullani: Also called Dharbasayanam, the Vishnu Temple here, is dedicated to Lord Adi Jaganathaperumal. It is 10.2 KM from Ramanathapuram. Lord Rama prayed to the Samudraraja (God of Ocean) to seek way to reach Lanka. He did a penance (thavam) lying in Kusa grass (tharuppai), and this act is described Dharbasayanam in Sanskrit.
Erwadi Darha
The tomb of Sultan Ibrahim Syed Aulia, who came from Arabia via Cannanore about 800 years ago. Pilgrims from far off countries like Srilanka, Malaysia and Singapore are visiting this tomb. Santhanakoodu Festival is celebrated in February-March attracts thousands of pilgrims.