Karur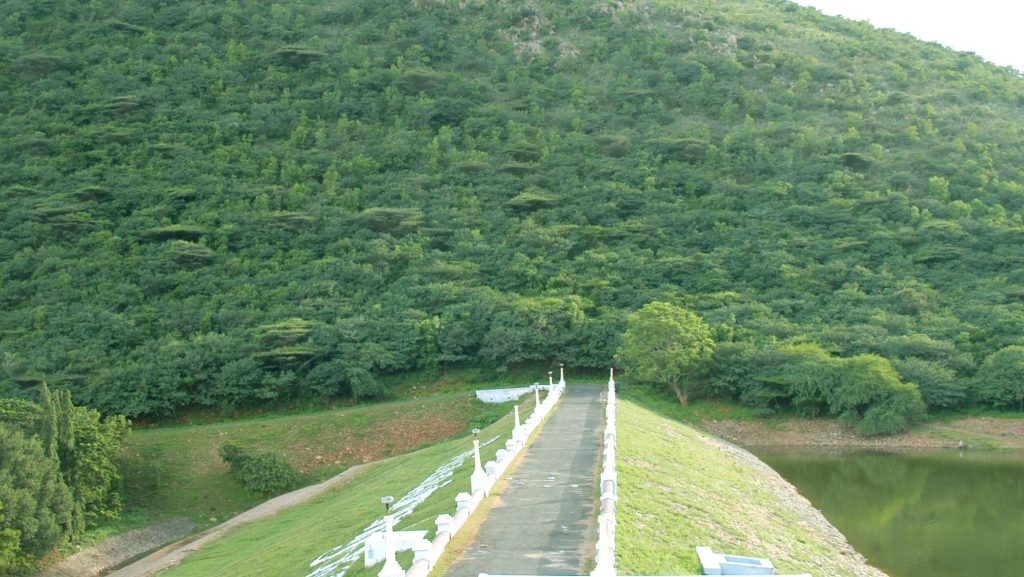 History And Geography
Karur was ruled by the Chola dynasty, the Chera dynasty, the Naickers, and the British successively. There is proof that Karur may have been the centre for old jewellery-making and gem setting (gold imported mainly from Rome), as seen from several excavations. As per the Hindu mythology, Lord Brahma started the work of creation here, which is referred to as the `place of the sacred cow`. The district of Karur has a very long history and has been sung by a number of Sangam poets. In history, it has been the battleground of several Tamil Kings of different dynasties like the Cheras, the Pandyas, the Cholas and the Pallavas because of strategic location. The district has a very rich and varied cultural heritage. It is also a part of Kongunadu. The history of Kongunadu dates back to the eighth century. The name Kongunadu draws its origin from the term `Kongu`, meaning nectar or honey. Kongu was later called as Kongunadu with the growth of civilization. The ancient Kongunadu country was made up of a number of districts and taluks which are currently known as Palani, Karur, Dharapuram, Thiruchengodu, Erode, Pollachi, Nammakkal, Salem, Dharmapuri, Nilgiris, Avinashi, Satyamangalam, Coimbatore and Udumalpet. Kongunadu was blessed with huge wealth, a pleasant climate and distinct features. Kongunadu was ruled over by the Chera, Pandya, Chola, Hoysala, Muslim rulers and finally the British.
Tourism
There are several places of interest for both nature lovers as well as pilgrims in the district of Karur. Karur district in the Tamil Nadu state of India is the most-centrally located districts of the state with its headquarters at Karur. The district is about three hundred and seventy one kilometers south-west of Chennai (Madras), the capital of Tamil Nadu state. It is bounded by Namakkal district in the north, Dindigul district in the south, Tiruchirapalli district on the east and the district of Erode on the west. The district of Karur has many big and old temples. There are several parks, river side parks, etc in the district which form some of the best tourist attractions in the state. The temples of Karur District are among the best pilgrimage centers in the district with magnificent set of sculptures and architecture that not only reflect the religious domain of the district, but its artistic skills as well. Since Karur was an ancient battleground, the temples of Karur District reflect the sculptures of brave warriors. Some of the temples in this district are Shree Kalyana Pasupatheeswarar Temple, Shree Karuvur Mariyamman Temple, Vennaimalai Shree Balathandayuthapani Temple, Attur Sholiyamman Temple, Nerur Shree Sadhasiva Bhrameendhraal Temple, Mahadhanapuram Mahalaksmiamman Temple, Krishnarayapuram Tirukkanmalleswarar Temple, Kulithalai Kadambar Temple, Iyermalai Siva Temple, Lalapet Iyyapan Temple, Togamalai Murugan Temple, Vyakarapuriswarar temple, , Shree Abayapradhana Ranganathar Temple, Thanthondrimalai Shree Kalyana Venkataramanaswamy Temple, Pugazhimalai Shree Arupadai Murugan Temple, Vangal Shree Pudhu Vangalamman Temple, Madhukkarai Sellandiyamman Temple, Manmangalam Puthu Kaliyamman Temple, Kadavur Vasantha Perumal Temple, Kulithalai Neelameegha Perumal Temple, Shivayam Siva Temple, Lalapet Sri Jaya Anjaneya, Rangamalai Malleeshwarar Temple, etc..
How to reach Karur
By Road: There are 2 national highways namely the NH 44 NS (Varanasi – Kanyakumari road) and NH 81 Coimbatore – Chidambaram road that pass via Karur. The other major state highways connect Karur to Erode, Dharapuram. Karur bus stand located in the center of the town. The State Express Transport Corporation operates long distance buses connecting the city to important cities like Chennai, Bangalore, Thirupathi, Thiruchendur and Rameshwaram. By Rail: Karur Railway station (Station Code – KRR) comes under Salem Railway Division, connected with Chennai, Coimbatore, Trichy, Madurai, Rameshwaram, Salem, Ernakulam, Mysore, Mangalore, etc. By Air: The nearest local and International airports are Trichy Airport (78 Km), Coimbatore airport (128 Km) and Madurai Airport (158 Km).
Tourist Information
Assistant Tourist officer, Tourist office, No.46 First floor, Collectorate Annexure Building, Karur – 639007. LandLine :
04324-256257
Email :
karurtourism2015@gmail.com
Places of Interest
Ponnaniyar Dam
A picnic spot located near Pooncholai village of Kadavoor hill region in Karur district is known as Ponnaniar Dam. A dam has been constructed at the foot of the Semmalai. This Dam has provided irrigation facilities to the surrounding fertilesoil. The public works department preserves the dam site.
Arulmigu Sadasiva Brahmendral Adhistanam, Nerur
Arulmigu Sadasiva Brahmendra Adhishtanam and Arulmigu Kashi Vishwanatha temple are located at Nerur Village (13 KM from Karur-Thirumukkudalur Road), Karur district. This Jeeva Samadhi is located in a Oasis of cauvery river bank. Here Cauvery river running towards south is a very special feature. It is a wonderful place where not only people from Tamil Nadu pay a visit but devotees from various other states are also visiting.
Arulmigu Kalyana Pasupatheswarar Temple
Karur town is a well known industrial centre and was a capital of early Chera Kings of Sangam age as said before. This city is famous for to cottage and handloom textiles too. Pasupatheeswarar Temple is the land mark of the Karur City. Group of sculptures representing Pasupatheeswarar Lingam, milk oozing cow and a Rangamatha are adding more attraction to the temple.
Arulmigu Mariamman Temple
A temple dedicated to Sri Mariamman is located in the heart of the city of Karur is famous one. All groups of people irrespective of caste, creed participated in Kumbum Festival celebrated during the month of the May every year. The sacred water is brought by every devotees from the river Amaravathi to this famous temple to worship is one of the glorious event.
Arulmigu Kalyana Venkataramana Swamy Temple, Thanthonimalai (5 km)
This is located 5 km away from Karur and have a temple dedicated to Lord Kalyana Venkataramana samy as a raised portion of a hillock. This temple is also known as Then Thirupathi (South Thirupathi).
Vennamalai (5 km)
This place is famous for the temple dedicated to Lord Murugan located on the Karur – Salem road with a distance of 5 km from the Karur. The Hindu exponents like Arunagirinathar and Avaiyar Sang their Hymns to praise this Lord.
Nerur (12 km)
Nerur Arulmigu Sadhasiva Brahmendra Temple, is situated 12 km away from Karur. This Temple is One of the notable place in Karur
Govt. Museum (1.5 km)
It is located at Old Dindigul Road, Jawahar Bajar, Karur. The museum was opened to the public in 2000. The specimen include bronze items, metal-ware objects, musical instruments, coins, rocks and minerals, fossils, botanical specimens, molluscan shells and other marine specimens. The educational activities of the Museum includes Guide services, popular lectures, etc.
Puhazhimalai (17 km)
A temple dedicated to Lord Subramania on a small hill at Velayuthampalayam near Pugalur is famous for its sculptures. This is situated in the North West of Karur on the banks of river Cauvery.
Arulmigu Kadambaneswarar Temple (45 km)
This temple is situated in the Kulithalai town, dedicated to Lord Kadambaneswarar. Thaipoosam is a Festival celebrated every year in a grand manner during the Tamil Month of Thai (January) here.
Ayyermalai (57 km)
Ayyermalai is situated 8 km from Kulithalai in Karur District. There is a temple dedicated to ArulmiguRathinagreeswarar . Every year Bramotchavam Festival of 15 days Chithirai Festival, Thaipoosam Festival, Karthigai Festival, Panguni Uthiram Festival and Teppam Festival are celebrated here in grand manner.
Thirumukkoodalur (15 km)
Arulmigu Agatheeswarar temple is situated and being here under the control of HR&CE department. The river Cauvery, Amaravathi and Manimuthharu are confluence in this place. Thus, the place is named after Thirumukoodal. This temple was built by Rajendra Chola-I of Chola Dynasty. People believed that Agathiya Munivar worshipped the Lord Shiva in this temple.
Mayanur Barrage (23 km)
This is a picnic spot of Karur. Mayanur Barrage is one of the famous tourist attractions in Karur District, It is 23 Km from Karur District and 21 Km from Kulithalai which is situated in the bank of the River Cauvery.
Thirukkampuliyur Sellandiamman Temple (23km)
Sellandiyamman Temple is one of the main attractions of this village and a most sacred pilgrimage site for Hindus of its surrounded villages. The goddess in this temple is called as Sellandiamman. It is 23 Km from Karur District and 21 Km from Kulithalai which is situated in the bank of the River Cauvery.
Thirukkampuliyur Amma Park (23km)
Thirukkampuliyur Amma Park is one of the people likes tourist attractions in Karur District, It is 23 Km from Karur District and 21 Km from Kulithalai which is situated near the bank of the River Cauvery.