Tamilnadu Cuisine
Tamil Nadu Cusine comprises of pre-dominantly Rice Oriented Dishes. Locally available Grains, Lentils, Vegetables and variety of aromatic Spices add Flavor, Taste and Aroma to the recipes of the land . The food pattern of the Tamil Nadu is segmented as Tiffin/Breakfast, Lunch and Dinner. The Break Fast includes Steamed Idlies, Rice Pan Cakes, Vada [lintel batter dough], Pongal, Semolina Upma with Sambar, varieties of Chutneys and Chilli Powder as popular side dishes.
The lunch preferably spread on Long Banana Leaf with Steamed Rice, additives such as Sambar [with Vegetables], Rasam [Soup like] along with different vegetable dishes. The Non Vegetarian delicacies include Gravy or Dry dishes of either or all of Chicken, Mutton and Fish to choose from. The Meal is not complete without crispy Papad and varieties of Pickles. Madurai, Tirunelveli, and other Southern Districts are popular destinations for Tasty and mouth watering non-vegetarian food varities of Mutton, Chicken and Fist with Parota [bread like item made out of maida]. Madurai is famous for its Jigirthanda, Muttai parotta, Paruthipal [cotton seeds Milk], Kari Dosai [Dosa with mutton stuffing]. Appam served with Coconut Milk / mutton Paya and Veg/Non-Veg Kothu Parotta. This combination is available in many parts of Tamil Nadu. Kanniyakumari District [ called as Nanjil Nadu] and similar Seashore Districts are famous for its varieties of Fish Recipes from Deep Fry to Gravy Dishes, since the region is surrounded by water bodies. All preparations in Kanniyakumari district, due to its proximity to Kerala does not miss Coconut Oil. Sandhakai/Sandhavai, commonly called as Nool Puttu, Sevai or Idiappam are the specialty of the Kongu Nadu. Kongu Nadu List also includes Ulundu Kali [ Black Gram – Jaggery Sweet], Kachayam [type of sweet], Vazhaipoo Poriyal, Kambu Paniyaram, Kadalai Urundai, Ellu Urundai, Pori Urundai made out of ingredients of this land itself.
CHETTINAD CUISINE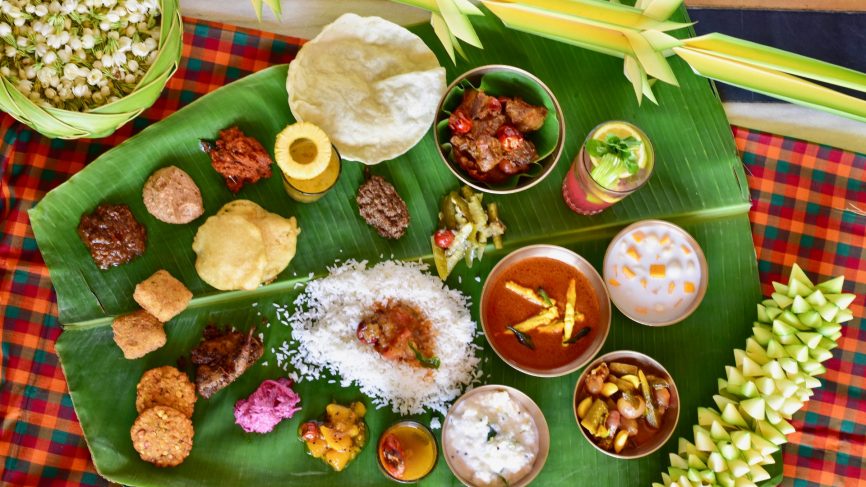 Chettinad is the region popularly called as land of the Nagaraththar or the successful Tradi ng Community of Chettiars. CHETTINAD cuisine is very aromatic, Spicy and Rich in strength. Non-Vegetarian food tops their Menu that includes Chicken, Fish, Prawn, Lobster, Crab and Lamb, but they are cautious enough to avoid Beef and Pork. Varieties of naturally dried Meat and Salted Vegetables that suits their dry climate largely finds its place in their daily Menu. Their food will find variety of Spices in the form of fresh ground Masalas necessarily wth a boiled egg. They have many Vegetarian Delicacies too in their cuisine. Chettinad Chicken and Lamb is the most favoured dishes from the Chettinad Kitchen. All spicy accompaniment dishes are taken almost taken along with rice based dishes. Idiyappam, Paniyaram, Vellai Paniyaram, Karupatti Paniyaram, Paal Paniyaram, Kuzhi Paniyaram and Masala Paniyaram, Kozhukattai, Khandarappam, Sweet and Masala Seeyam [sooyan], Kavuni Arisi and Athirasam are some of the long list of Vegetarian delicacies of the Chettinad Region.
DOSA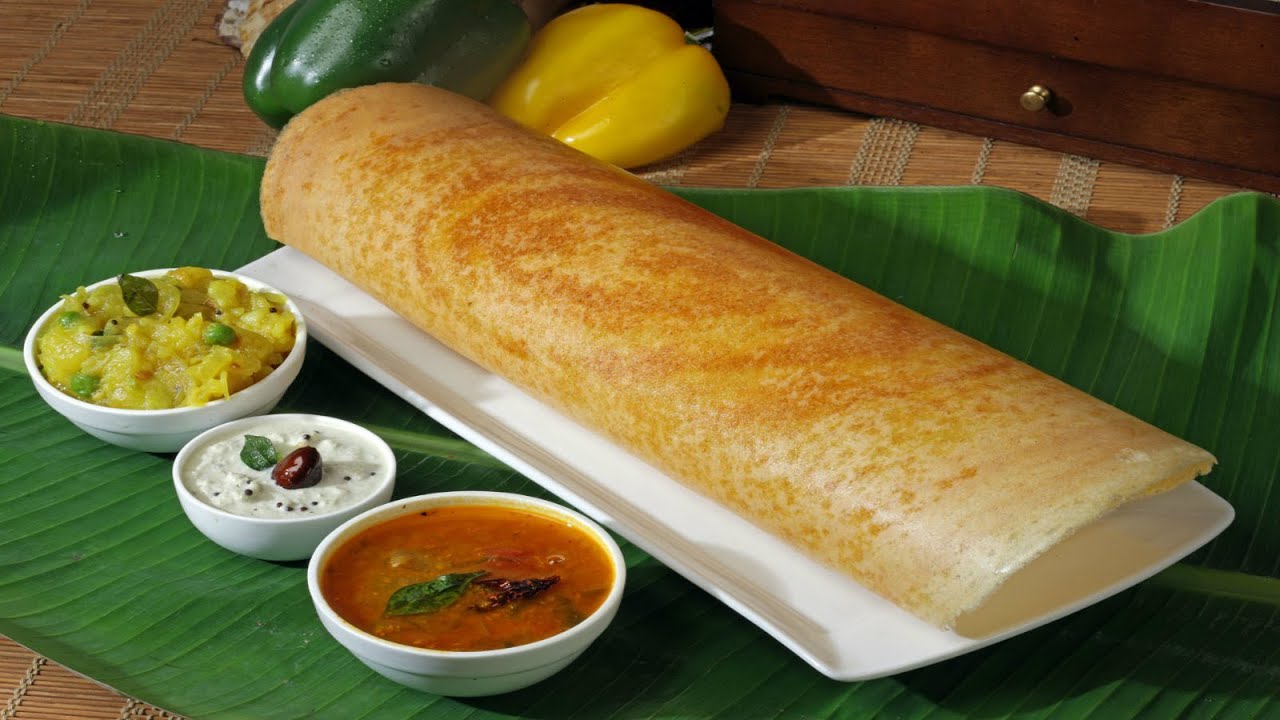 Dosa - is again a rice oriented, very thin and generally round shaped Dish that belongs to the entire South India Including Tamil Nadu. The base is made out of fermented Rice and Lintel batter, at times with other combinations as well. It has variations in taste, size and content, widely liked by one and all from around the globe as well. It is believed this dosa is connected with UDIPI and thinner varieties were promoted by the eating outlets of Udupian's of Karnataka State. Traditional Dosa was a little bit thick, done on a iron Tawa [round and flat pan] this was and is still called as Kal Dosa. Ultra thin, Crispier, Lengthy and Tasty with loads of fillings and ingredient Dosas are available through out India. Variations with diet conscious Wheat flour, Ragi Flour and Methi Dosa; stomach filling Masala Dosa and Stuffed Dosas; delicious Varietes like Rava Dosa [semolina and Curd], Paneer Dosa, Onion Dosa, Oats Dosa and many more with a slice of Butter or Ghee are few types Dosa's worth mentioing. Varieties of Oothappams are some popular Dosa Dishes from over 100s of varieties available on the menu cards of the restaurants and also tried at home.
FILTER COFFEE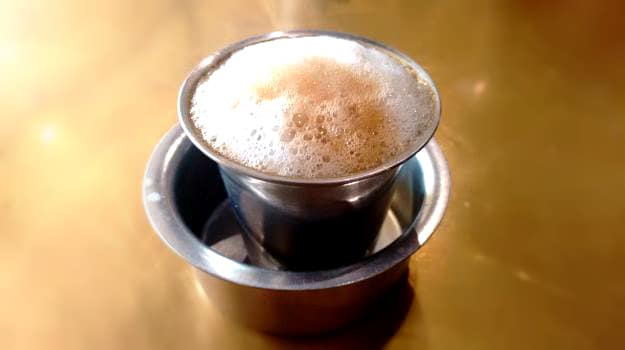 Filter Coffee is considered as a cultural icon of every South Indian Family. It is also called 'degree Coffee' or 'Kumbakonam Degree Coffee' by many. Newspaper and a Cup of Filter coffee are two inseparable twins and they have always been the order of the Morning for most of the South Indian. It is also a cultural courtesy to offer coffee to any one who visits Home or Office. As per legend it is believed, Baba Budan, who lived in what is called as Chikmagalur today, introduced Coffee to the south in the 17th century. He bought a handful of Coffee Seed from Yemen after his Haj Yatra and planted it in his place. The British made it more popular during their rule. Coffee Beans used for Filter Coffee are Arabica and Robusta and it is grown in the ghat areas of Karnataka [Coorg and Hassan], Tamil Nadu [Nilgiris] and Malabar Region of Kerala. Traditionally Plantation A and Peaberry are used to make Filter Coffee. The Beans are medium roasted and fine ground and mixed with 25% Chicory to give it the Ultimate taste. In villages, apart from sugar, many use Karupatti /Palm jiggery/sugar as sweetening agent. Even though exclusive Coffee shops have opened their shutters to impress upon their clients to try out variations in taste and combinations and Younger generations do fill up the seats there, the craze for Filter Coffee still exists and it will be the same in the future too.