Krishnagiri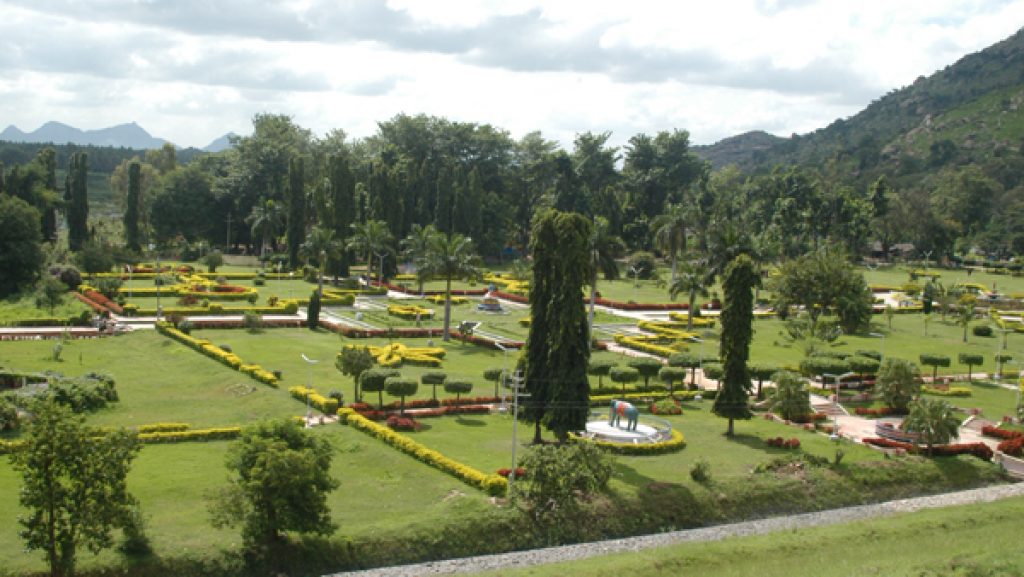 District at a glance
The holy land of wise scholars, men of valour and courage, blessed with the green valleys, hills and hillocks and inhabited by people known for innovative farming was divided, for the formation of Krishnagiri district, carved out of Dharmapuri district as 30th district of Tamil Nadu. 'Krishna' refers to 'black' and 'giri' refers to 'hill'. This district is gifted with black granite hillocks and named as "krishnagiri". The region came under the rule of Krishna Deva Raya and hence it might have been named after this king. Krishnagiri district is bounded by Vellore and Thiruvannamalai districts in the East, Karnataka state in the west, State of Andhra Pradesh in the North Dharmapuri District in the south. Its area is 5143 Sq. Kms. This district is elevated from 300m to 1400m above the mean sea level. It is located between 11º 12'N to 12º 49'N Latitude,77º 27'E to 78º 38'E Longitude. Eastern part of the district experiences hot climate and Western part has a contrasting cold climate. The average rainfall is 830 mm per annum. March – June is summer season. July – November is Rainy Season and between December – February winter prevails. Three languages namely Tamil, Telugu and Kannada are predominantly spoken in this district. Major religions are Hindu, Islam and Christianity. This district stands as an ideal exhibit of National integration and religious harmony. The society exhibit the confluence of different languages and religions.
Agriculture
The important crops of Krishnagiri District are Paddy, Maize, Ragi, Banana, Sugarcane, Cotton, Tamarind, Coconut, Mango, Groundnut, Vegetables and Flowers. The district has an excellent scope for agri business. Regional Agricultural Research Center of Tamil Nadu Agricultural University is functioning efficiently at Paiyur in Kaveripattinam union since 1973 AD. This center is functioning in 18.5 hec. of land. It helps the peasants to develop and adopt the modern technique of cultivation. It has developed hybrid seeds by research which yields more tonnage and good quality.
Horticulture
Krishnagiri District is more suitable for cultivation of Horticulture crops. Other Plantation crops, medicinal plants, Fruits, Vegetables, Spices, and flowers are grown well by way of its moderate climate, high altitude and fertility of the soil.
Sericulture
5069 acres of land is under mulberry cultivation in Krishnagiri District. This has the employment opportunity for about 24,345 persons at the rate of 5 per acre. Training in Mulberry farming, Rearing Silk Worms is done through a large network of Govt. Departmental Institutions of Sericulture such as Silk quality development farms 75, Govt. Sericulture training center 1, Govt. Sericulture Farm 1 Base seedlings (grain age) development farms 9, Govt. Bi-voltine grain age centers 5, Govt. Cocoon markets 5, Silk Reeling Unit 1, Silk Twisting unit 1, Technical support and service center for rearing silk worm 17, with the above maintained facilities sericulture industry has good scope in this district.
Flora & Fauna
The major wild animals include Elephants, Sambar, Spotted Deer, Gaur, Wild boar, Panther etc. The forest area of Denkanikottai Taluk forms the prime elephant habitat with lot of bamboos and this area constitutes the Cauvery elephant reserve, which is constituted over and area of about 450 Sq. Kms. The bird population is also attractive with beautiful bird like Paradise flycatcher. Big lakes in Anchetti and Hosur areas also attract large number of migratory birds like Painted storks, Teals etc. Apart from these birds and mammals, there are variety of butterflies, giant spiders etc. that are coming under endangered list. Kodakkarai shoal forest in Denkanikottai Taluk is known for large scale migratory butterflies during a particular season then one can observe thousands of migratory butterflies passing through this forest like a passing cloud.
The district is a paradise for natural lovers. The flora include variety of timber trees like Rose wood, Teak, Sandal etc. Hundereds of medicinal herbs, minor forest plants like nelli, kadukkai, cheekai, pungam etc. The following trees like 'Charakkonnai' ('Cassia histula'). Since pungam trees are found in abundance in this forest pungam oil is extracted from this seeds of this tress which is a non pollutant Bio-fuel.
How to reach Krishnagiri
By Road: National Highways (NH-7) connecting Kanniayakumari to Kashmir, (NH-46) Chennai to Bangalore and (NH-66) Pondichery to Bangalore passes through the District. By Rail: The nearest railway stations are Hosur (45 KM), Dharmapuri(50 KM) and Jolarpet(40 KM). By Air: The nearest airport is Salem Airport (100 Km) and International Airport is Bangalore airport (90 KM).
Tourist Information
The District Tourism officer Tourism office Krishnagiri – 635001 LandLine :
04343-235545
Places of Interest
KRISHNAGIRI DAM PARK
Krishnagiri dam is located in between Dharmapuri and Krishnagiri 10 kms away from Krishnagiri and river thenpennai is supplying water sources to the dam, this dam is constructed in 1955 – 1957 by former chief minister of Tamilnadu thiru. Kamaraj benefited thousands of acres of land around Krishnagiri irrigated with the help of this dam. This dam have park around 50 Acre land area either side being decked with beautiful flower gardens children playing equipments.
AVATHANAPATTI LAKE AND CHILDREN PARK
Avathanapatti lake is located 5 km away from Krishnagiri town its found salem Bangalore national highways NH7. Excess water sources supplied regularly from Krishnagiri dam throughout the year (perennial water).
KELLAVARAPALLI DAM PARK
Kellavarapalli dam is located 10 kms from Hosur, 60 kms from Krishnagiri it is constructed in the year 1995 it is only 8 kms from Karnataka state this dam park become a picnic spot from citizen of hosur area.
CHANDRA CHOODASWARAR TEMPLE
Chandra choodeswarar temple (lord siva temple) is famous for its hill temple where presiding deity lord Siva is Arul migu maragathambal samadha (Sreee Chandra Choodeswarar) it is located 40kms from Bangalore 52 kms from Krishnagiri in National High ways NH-7 Daily 500-1000 Devotees are visiting this temple most of them from hosur, Bangalore, Krishnagri, and neibouring states like Karnataka, and Anthrapradesh. it is very famous temple like Mysore Samundeeswari temple. stone inscription is witnessed 11th century AD Chola period temple the Glory of Raja Raja cholan and Gulothunga cholan also found in this temple stone documents.
Chandra Choodeswarar temple car festivals is very famous festivals in city most of the people from hosur, mangaluru part of Karnataka are participated in this festivals every year in the month of Mar-April. Temple maintained by HR&CE, Garden, telescope house maintained by Municipal Corporation, Hosur.
KRISHNAGIRI MUSEUM
Krishnagiri Museum is located near Apsara Theatre on Gandhi Road. It was opened as 12th District Museum in the year 1993. This Museum exhibits objects of Art and Archaeology, Anthropology, Geology, Botany and Zoology disciplines. Most important exhibits of this Museum are the Hero Stones, which were collected from different parts of this district.
Visitors can have the Knowledge of history of Krishnagiri district from as early as Paleolithic period through Neolithic and Megalithic to modern period by the exhibits displayed here. Paleolithic tools collected from Varattanappalli and Kappalvadi, Neolithic tools collected from Katheri, Gangaleri, Thogarapplli, Paiyur, Kokkikalpodu, Modhur, Gollahalli and Vellolai are displayed. Krishnagiri district was inhabited by Megalithic people after the Neolithic culture. Megalithic culture in this district was understood by its different types of burial systems, paintings both on rock and dolmens and the presence of iron objects with black and red ware potteries. In this Museum different types of megalithic potteries from Beemandapalli and photographs of rock paintings of Periyakottappalli and Krishnagiri hill and dolmens of Mallasandram are displayed. Megalithic period was followed by Sangam age. Sangam literatures describe the erection of hero stones elaborately. To commemorate the heroic deeds of the warrior who died in the battlefield Hero stones were erected. Such hero stones are abundant in Krishnagiri district. Hero stones brought from Beemandapalli, Sulagiri, Kathadikuppam, Chinnakothur, Emakkalnattham, Kodiyalam, Londenpet and Pennesvaramadam are displayed here. The hero stone from Chinnakothur carved with inscription marks that the person died after killing a horse in a battle at Karuvayanpalli. Stone inscription from Beemandapalli of Rajamahendra Chola (1062) displayed adjacent to the Hero Stone informs that Seramakkan wife of a warrior who died in the battle at Koodumukki committed Sati (Theeppanjaal). Another inscription brought from Karakkuppam of Vijayanagar period refers to the gift of akaram (agraharam). The inscription from Pochampalli refers to a gift made by Thavana Dandanayaka to Thiruvanatheesvarar temple for the wellbeing of Hoysala King Someesvara Deva on his 13th regnal year. Stone sculptures from BeruHalli, Nadusal, Kaveripattanam and Bimandappalli are also displayed in this Museum. Wood carvings displayed here include Gangathara and Bhairava have been brought from temple cars of different places of Tamil Nadu. Some paintings of contemporary art displayed here records the trend of modern art. Two Cannons of about 18th century from Bujjagoundanpudur and Hosur are displayed here. Swords, Dagger, Knife with cover, Cannon balls made of stone, Gun powder Gun are other weapons displayed In this Museum. Photographs of Krishnagiri, Thattakkal, Jegadevi and Maharajakadai forts tell the story of militancy of this area during 16th to 19th centuries. One can also see Centuries old Terracotta figurines, Tiles of roofs and Palm leaf Manuscripts displayed here. Street Play art objects, Lambadi dress and ornaments, musical instruments, objects of Irulas and Kurumbas portray the life style of different kinds of people living in Krishnagiri District. Separate showcases for Human Physiology, Pre historic animals, jungle animals and solar system have models to demonstrate their nature to the school children. Working models of groups of animals, life through ages, volcano, magic fish and model of our earth entertain the students. Specimens of Rocks, Minerals and fossils of Geology, Medicinal plants of Botany, Coral reef, scrub jungle, reptiles, skulls of some animals and birds and Birds sanctuary of Zoology are other sections attract both common people and students. So Krishnagiri Museum exhibits the history, art and cultural wealth of this District in particular and science in general.
AIYUR (ECO TOURISM PARK)
Aiyur reserve forest is located 20 kms from Denkanikottai thaluk, Krishnagiri District. Eco tourism park is located 1060 mts above the sea level in western Ghats region. Forest department has created. 1. Eco Tourism park in Aiyur – here we can find out bamboo cottages, heritage cottage, modern cottages and dormitory, modern watch tower, tree top watch tower. Childern playgrounds, gardens artificial water falls are the main attraction of the park. 2. Sathankal – Watch tower is located 16 kms from Denkannikotai 3. Green valley views are sunai parai, and kodikarai 4. Evergreen cool forest (shola forest) name we call it as "Allal Thoppu". trees like Allal and naki companied together and spread shield like shelter sun light unable to penetrate in to this shelter this forest region always cool and chill through out the year.
THALLY GARDEN AND LAKE (LITTLE ENGLAND)
Thally garden and lake is located 25 kms from hosur 77 kms from krishnagiri. Thally village is fully surrounded by number of hill stations in Denkannikottai thaluk this place is located 1000ft above the sea level salubrious weather is remembering England climate therefore during the British regime onwards this place we call it as "Little England". This pleasant climate is yielding to cultivate vegetables, fruits, flowers to the formers. Tourist from hosur, Krishnagiri, Dharmapuri, Bangalore are frequently visiting this place to enjoy in this climate.
SHREE PARSHWA PADMAVATHE SHAKTIPEET TIRTH DHAM (Jain temple)
Jain dharma consists of 24 theerthankars, In these 24 theerthankars the 23rd theerthankar is considered to be swami parshwanathbhagwan. Today shaktipeet is the world's highest (365 ft height) Jain temple adorning images of the Tirthankar Arihanta Paramatmans. 6 km from Krishnagiri. Shree Parshwa Padmavti Nagar, Sadhanpalli, sundampatti post.
KATTUVEERA ANJANEYA TEMPLE
Kattuveera Anjaneya Temple is located at Krishnagiri in Tamil Nadu is said to be 2500 years old and this Anjaneya here ensures that the one wish which one pray with full devotion is said to come true, within 3 months. At the counter if one pays Rs.50/- a saffron bag with coconut, betel leaves and coconut is handed to us which has a number written on it and one card containing the same no. Pray for the fulfillment of one wise and along with a dakshina the saffron bag is tied and kept inside the sanctum of Anjaneya where the poojari does a small pooja and hands back to us.
The devotee has to complete 11 rounds of the temple chanting the mantra "sri Ram jai Ram Jai Jai Jai Ram" and once the 11 pradikshna is over then the saffron bag is kept along with the other devotees bags separately for 3 months. It is believed that the one wish which you want to be fulfilled gets fulfilled, and once the wish is fulfilled you are expected to return and claim the saffron bag from the temple. There is one natural rock formation Nandi which one cannot miss and shows the presence of shiva too here.
Rajaji Memorial -Thorapalli
In memory of the great leader Rajaji, the Tamil Nadu Government has converted the house in Thorapalli where Rajaji was born, as a memorial. It is located 10 Km from Hosur near Onnalvadi. Some of his belongings and a photo gallery depicting his various walks of life are displayed here.
Shree Parshwa Padmavathe Shaktipeet
Jain dharma consists of 24 theerthankars, In these 24 theerthankars the 23rd theerthankar is considered to be swami parshwanathbhagwan. Today shaktipeet is the world's highest (365 ft height) Jain temple adorning images of the Tirthankar Arihanta Paramatmans. 6km from Krishnagiri. Shree Parshwa Padmavti Nagar, Sadhanpalli, sundampatti post.
Hannuman Thirtham
This place is situated on the bank of pennaiyar at a distance of 10km from Uthangarai and traditionally associated with Theerthamalai. It is believed that Hanuman who was instructed by Lord Rama to get the water from the Ganges for his penance at Tirtamalai which he could not do it in time, So Rama was said to have done Asthrapryogam and got it. Disappointed at this, Hanuman was said to have thrown down the vessel in which he brought the holy water and this spilled water is believed to be the 'Hanumantirtham'. The water is considered sacred and during the Tamil month of Adi (July-August) people frequent this spot. Timing:6.30am to 1pm & 4.20 pm to 9pm.
Pettaraya Swamy Temple
Pettaraya Swamy temple Denkanikottai is located in Denkanikottai 25 kms from Hosur It is 14th century AD Temple main deity is Lord Vishnu car festival is main attraction of the temple for the month of Mar-Apr every year. Pettaraya Sway temple is one among the 108 Divya Dhesam.