Chennai Rail Museum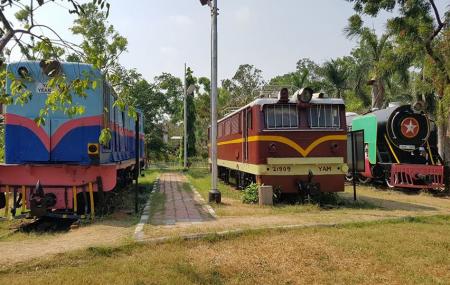 The Chennai Rail Museum is a railway museum in Chennai, Tamil Nadu, India. The museum opened on 16 April 2002 in the Furnishing Division of the Integral Coach Factory (ICF) near Perambur . The 6.25-acre (2.53 ha) museum has technical and heritage exhibits, with a sizable collection of steam engines from the British Raj. It also has vintage coaches (such as Ooty trains), which were endemic on Indian railways. Most of the older models were manufactured by the North British Locomotive Company, with some trains in the collection dating back more than a century. Toy-train rides are available, and a renovated indoor art gallery is open to the public. The museum is managed and maintained by the ICF.
Vivekanandar Illam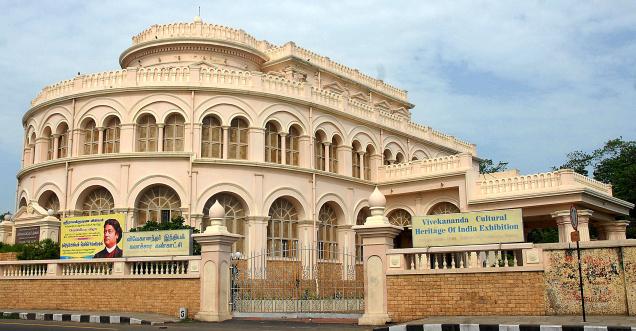 Vivekanandar Illam, earlier known as Ice House or Castle Kernan, is a historical building in Chennai, India. It was constructed in 1842 by Frederic Tudor. Indian Saint Swami Vivekananda stayed in the building when he visited Chennai in 1897 and was later renamed in his honor. It is currently maintained by Ramakrishna Math and houses an exhibition on the life of Vivekananda.
Gandhi Memorial Museum, Madurai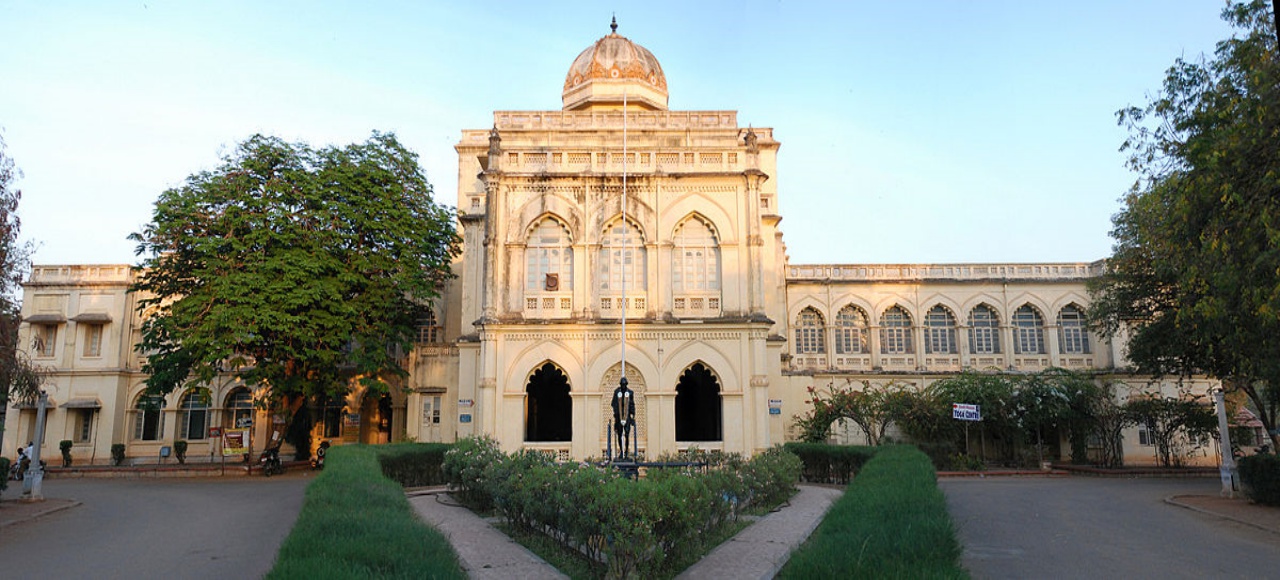 Gandhi Memorial Museum, established in 1959, is a memorial museum for Gandhi located in the city of Madurai in Tamil Nadu, India. Known as Gandhi Museum, it is now one of the five Gandhi Sanghralayas (Gandhi Museums) in the country. It includes a part of the blood-stained garment worn by Gandhi when he was assassinated by Nathuram Godse.
Gass Forest Museum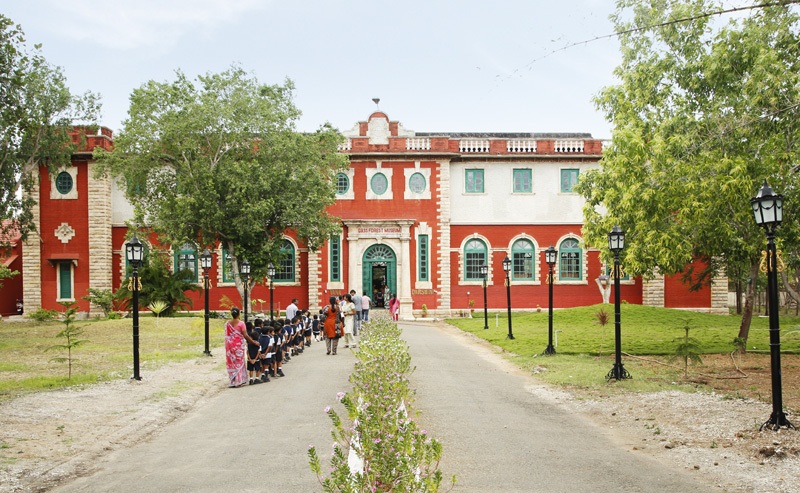 Gass Forest Museum is a government run natural history museum situated at Coimbatore, Tamil Nadu, South India. It is the first institution in India which houses exhibits related to forestry. This government run museum is located in the verdant Forest College Campus on Cowley Brown Road. This museum is a must visit for nature lovers. The forestry artefacts here include: timber, non-timber forest products, wood crafts, wildlife, entomology, mycology, geology, ethnology, arms, forest engineering and environment. The Museum has collections of every important timber species found in India. Remarkable among the exhibits is a 456-year-old cross section of teak with a girth of 5.7 m and an enormous 10.2 m high sandal tree weighing 1.75 tons.
Saraswathi Mahal Library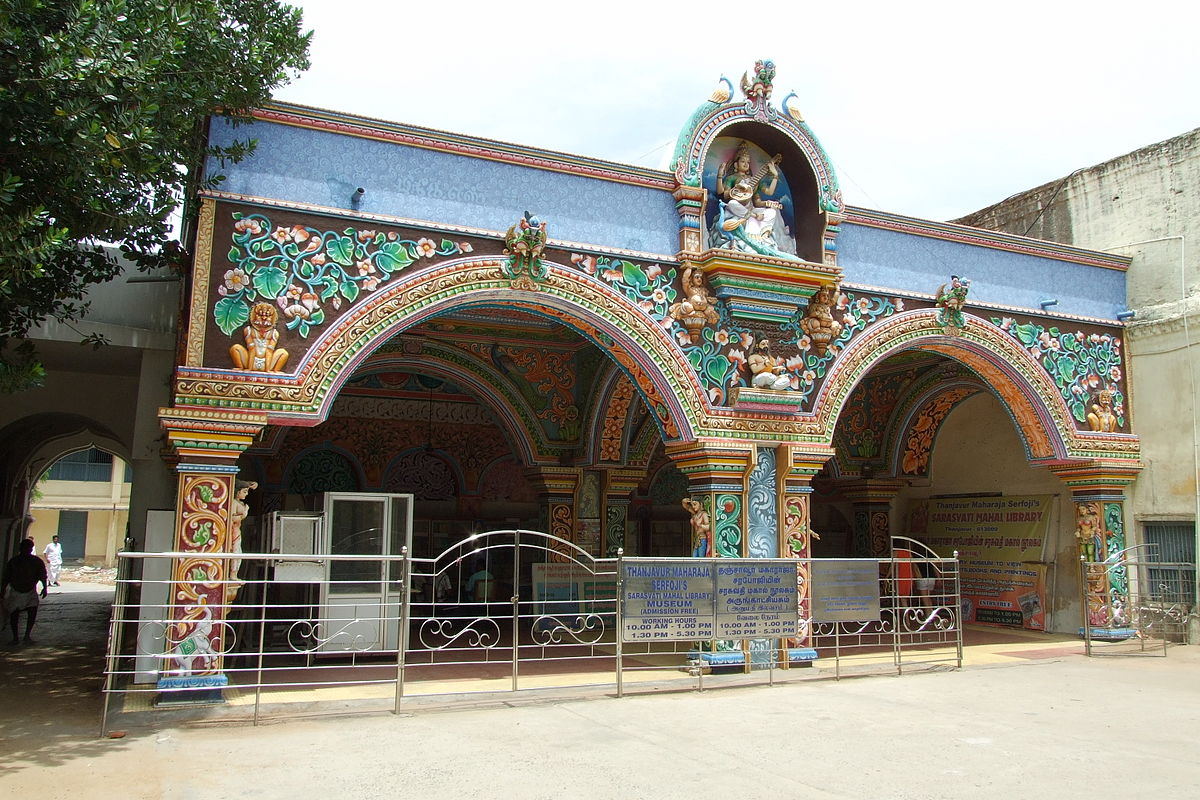 Saraswathi Mahal Library, also called Thanjavur Maharaja Serfojis Sarawswathi Mahal Library is a library located in Thanjavur (Tanjore), Tamil Nadu, India. It is one of the oldest libraries in Asia established during 16th century by Nayakas of Tanjavur and has on display a rare collection of Palm leaf manuscripts and paper written in Tamil and Sanskrit and a few other languages indigenous to India. The collection comprises well over 49,000 volumes, though only a tiny fraction of these are on display. The library has a complete catalog of holdings, which is being made available online. Some rare holdings can be viewed on site by prior arrangement.
Cuddalore Government Museum
The Government Museum, Manjakuppam, Cuddalore, Tamil Nadu, India, was established in the year 1989. This museum collection represents history, culture, flora and fauna of the district. Natural History specimens include South Indian Timbers, Fibres, Swan, Bear, Lizard and Snakes. Wood fossils and Ammonite fossils are also on display.
Government Museum, Chennai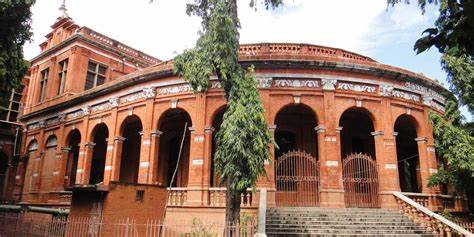 Also hailed as Madras Museum, Government Museum is positioned in Egmore, which is among the busiest spots of Chennai. It was established in 1851 and exhibits different varieties pertaining to geology, zoology and anthropology and botany. The museum has excellent sections showcasing the main south Indian times encompassing, Chaulkyas, Chola and Vijaynagar. There are separate sections for children also. Moreover, one can have a glimpse at the different collection of books from yesteryear at the well stocked library.
Government Museum, Karur
The Government Museum, Karur is located in Karur, Tamil Nadu. The Museum houses some of the collections of Roman coins, Chera, chola and pandya discovered during three excavations in 1973, 1977, and 1993, by the archaeological department of Tamil Nadu. The excavations uncovered many Roman coins, precious stones and other iron pieces. In the Amaravathi River bed gold and silver rings are seen.
Government Museum, Pudukkottai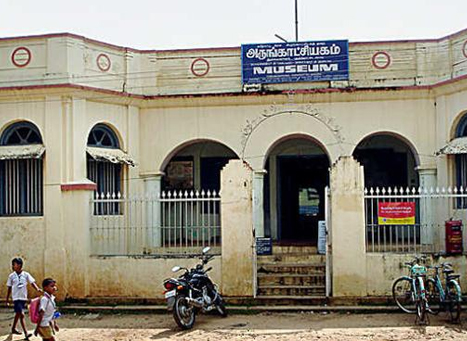 This Government Museum is a museum located in the town of Pudukkottai of Pudukkottai District. This is the second largest museum of Tamil Nadu after Government Museum, Chennai. The museum is divided into sections covering zoology, geology, paintings, anthropology, epigraphy. Rare ancient stone and Bronze sculptures are also found here.
Government Museum, Tiruchirappalli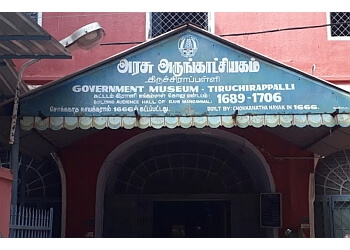 The Government Museum, Tiruchirappalli is a heritage centre at Tiruchirappalli, Tamil Nadu.It is situated at Rani Mangammal Mahal in Bharathidasansan town, near the super bazaar.The nearest landmark is the famous Rockfort temple.
Railway Heritage Centre, Tiruchirappalli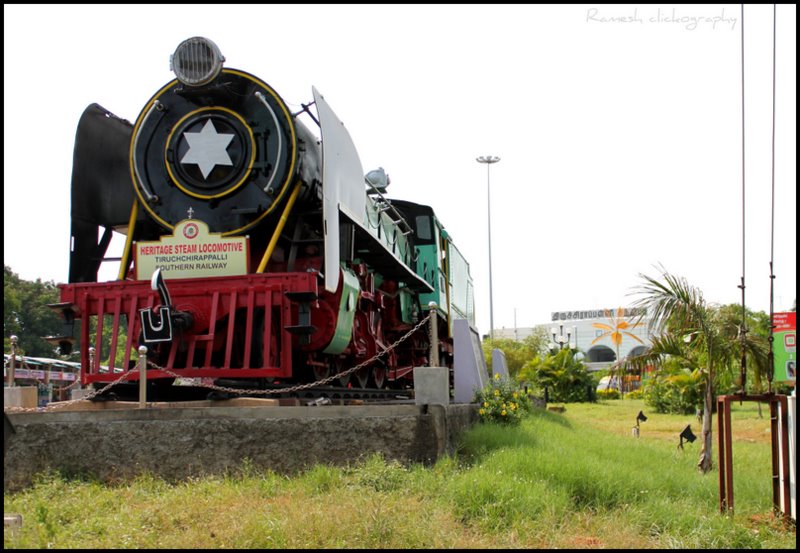 The Railway Heritage Centre is a railway museum–cum–heritage centre for rail exhibits at Tiruchirappalli, Tamil Nadu, India.
Mahakavi Bharathi Memorial Library
Mahakavi Bharathi Memorial Library is a Public Library located in Karungalpalayam, Erode, in the South Indian state of Tamil Nadu. It was named in memorandum of the Tamil patriotic poet Mahakavi Subramanya Bharathi. It is also known as Bharathiyar Memorial Library and commonly called as Karungalpalayam Library.
INS Vela (S40)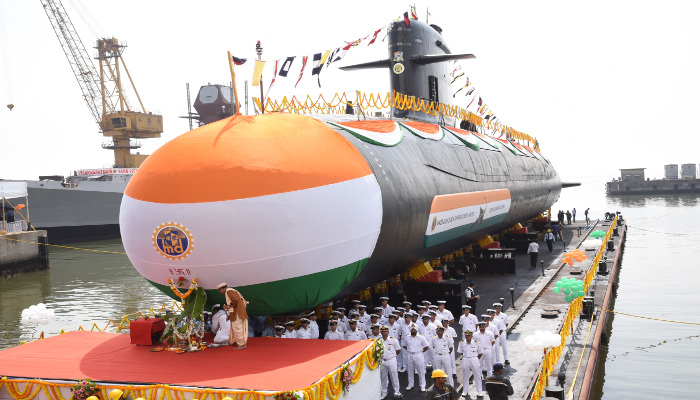 INS Vela (S40) was the lead ship of four diesel-electric Vela-class submarines of the Indian Navy. The submarine was commissioned on 31 August 1973 in Riga, Latvian SSR. Along with her sister ship Vagli, she spent almost 10 years undergoing a protracted refit by Hindustan Shipyard. After 37 years of service, the submarine was decommissioned on 25 June 2010. The submarine was claimed by the Eastern Naval Command to be the oldest operational submarine in the world at the time of her decommissioning.
Gedee Car Museum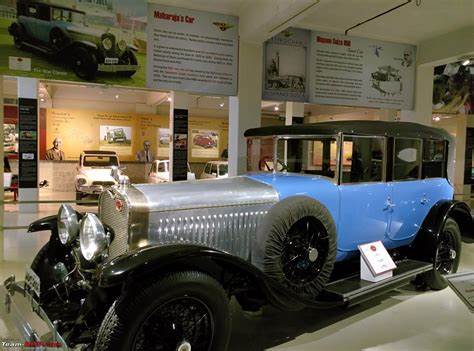 The car collection has been categorized into few sections. The unique car section has five cars which revolutionised and influenced automotive technology such as the Benz motorwagen(the first ever car in the world), Ford-T (The first mass produced car in the early 1990), The Volkswagen Beetle (first rear engine car), Hitler's people car, and the Morris Mini (the forerunner of today's cars)