Rameswaram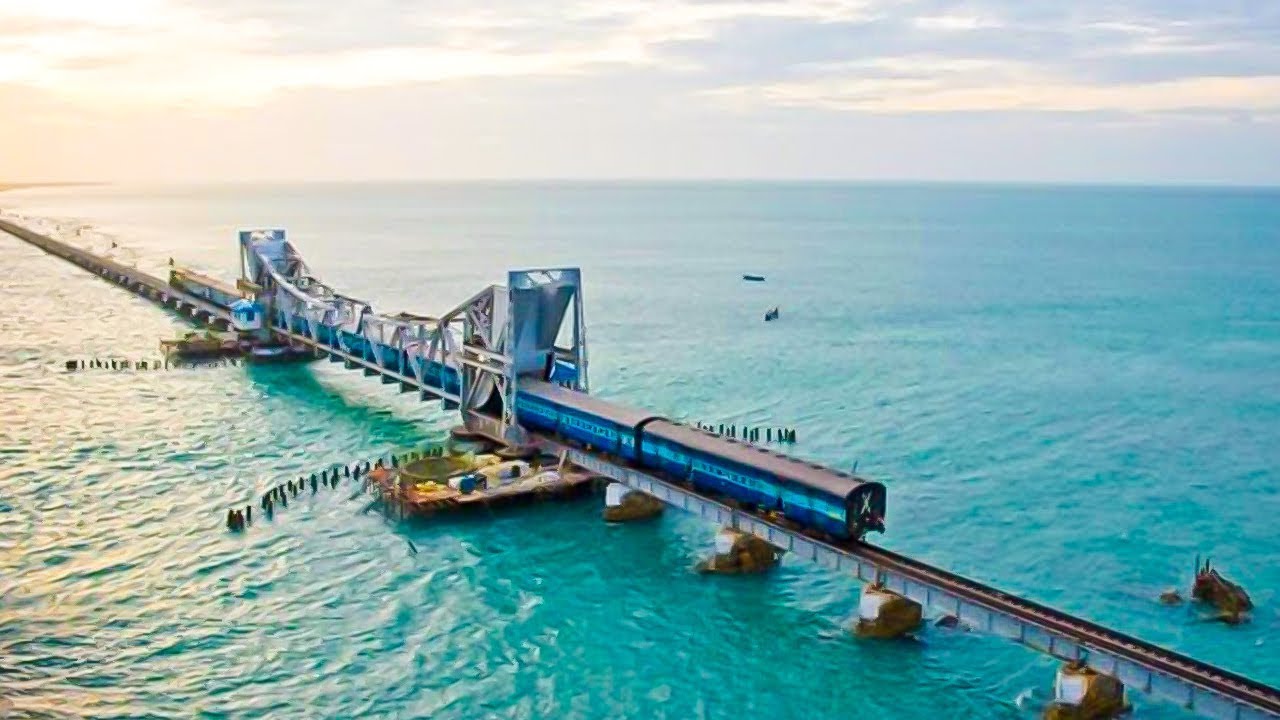 The Corridor of Faith
It is 570 Kms from the State Capital Chennai. A small Island and Major Pilgrim Centre in the Gulf of Mannar. It is connected to the mainland by Pamban Bridge. On his return from Ceylon after Ravana Yudhdham in Lanka, Sri Rama offered his repentance prayer to Lord Siva to absolve his sins that he had committed by Slaying Ravana. 22 Holy theertham [wells] are in the temple, It is believed that number of wells denotes 22 arrows in Rama's quiver. The temple has striking long corridors in its interior, running between huge colonnades on platforms above five feet high. Pilgrims visiting Rameswaram cannot miss the darshan of Ramanatha Swamy and bathing in all the 22 theerthams to absolve oneself from all sins. The three most revered nayanmars [saivite saints] Thirunavukkarasar, Sundarar and Gnanasambandar have glorified Ramanathasamy with their songs. Beautiful beaches at Olaikuda, Danushkodi and Pamban are other attractions apart from the religious point of view. Scuba diving and Migratory birds watching during winter are also a part of the entertainment schedule. Commercial Deep Sea fishing Sea Cucumber, Lobster and Conch collection are the main economic activities of Rameswaram.
The Ramanathaswamy temple is renowned for its magnificent corridors and massive sculptured pillars. The third corridor of Ramanathaswamy temple is the longest one in the world.
PLACE OF WORSHIP
Temple Ramanathaswamy Temple, Badrakaliamman Koil, Nambu Nayagi Amman Temple. Church St.Joseph Church - Verkodu, St.Santhiyagu Chruch -Olaikuda, St.Anthony CSI Church - karaiyur. Mosque Rameswaram Mosque, Abil Khapul Dharga ( Half - a - Kilometer from the railway station ).
SHOPPING
Shops and emporiums selling Handicrafts, Khadi Crafts are available near the temple zone. Shells, beads and Palm leaf articles are available plenty in the shops around the temple and the market area.
MUSEUMS
1. Archealogical Site Museum, Varthagan Street. 2.Gandhi Gallery, West car street 3. Central Marine Fisheries Research Institute, Bio-Zoological Marino exhibition,Mandapam 4. Aquariaum Opp: Central Bus Stand, Rameswaram, Ph: 91-4573-222811
Festivals
Festivals are celebrated in the Ramanathaswamy temple during the Thai Amavasai in January, Maasi Sivarathri in February-March, Adi Thirukalyanam in July-August, Ramalingam Prathishtai in May, Mahalaya Amavasai in September, and the Navarathri Festival in September-October. Pongal and Pilgrimage Tour Festivals are organised by the Tourism Department, Government of Tamil Nadu in the month of January every year.
How to reach Rameswaram
By Road: Options are many. From Government Run Transport Services to touch nearby places and other parts of the State. Local Transport of Autos/Taxis/Rickshaws and horse carts are also available. APSRTC operates services to and from TIRUPATI. By Rail: Connected to all major Cities in the State and neighbouring states too. By Air: Nearest Airport at Madurai - 175 Kms from here. Flights connect Chennai, Madurai, Coimbatore, Tiruchi, Thanjavur, Palghat and beyond.
Tourist Information
ourist office in Rameswaram Bus Terminus - Rameswaram Mobile :
04573 221371
Email :
info@tamilnadutours.net
Places of Interest
Sri Ramanathaswamy Temple
Sri Ramanatha Swamy and Parvathavarthini temple is located near the sea Shore on the eastern side of the island. It is well known for its architectural beauty of magnificent Prakaras or corridors with massive sculptured pillars on either side. This temple has undergone sea of changes from 12th century onwards, under the reign of different rulers.
ALAR family of Devakottai completed the imposing nine tier, 126 feet Eastern tower in the year 1904. They under took the renovation work of granite corridors, completed the same and performed the first Consecration ceremony in the year 1925. Subsequent Consecrations of the temple were performed in the years 1947, 1975, 2001 and 2007. The construction of The Sethupathy mandapam , located in front of the East Gopuram was completed in the year 1974 with the help of a huge personal contribution from Ramanatha sethupathi, a descendant of Ramanathapuram Rajas [Kings] . Internationally famous Third Corridor/ Court is almost 23 ft high, running East-West 690 feet; North-South 435 feet and the inner wing - running East-West 649 feet and North –South -395 feet. There are 1212 Pillars in these corridors. This gives an exotic, massive, elegant and Palatial Corridor view which stumps the tourists awestruck. This is the hall mark of the Unique Indian Temple Architecture of the yester years. The North and the South Gopurams [Towers] were raised with the blessings and assistance of Jagadguru Pujyasri Singeri Peetathipathy and Jagadguru Pujyasri Kanchi Kamakoti Peetathipathy Sankaracharya Swamijis. Special Pooja is performed to the Spatikalingam [ crystal lingam] installed by Adi Sankara in this temple. One Lingam brought by Hanuman from Kailash called Vishwalingam and other one installed by Sita called Ramalingam are the two Lingams now found in the Sanctum Sanctorum. As instructed by Lord Rama, it is the Vishwalingam which gets First Pooja attention every day till date. Mahasivarathri , Thirukkalyanam, Navarathri Festival - Dasera (Vijayadasami Day -September - October), Skanda Sashti (october - November), Aarudhra (December - January) are some of the important festivals of the temple. 22 Theertham [wells] found inside the Temple and 22 Theerthams outside the temple, named and called in the names of Hindu Gods are the special religious feature of the town. People from all corners of the Sub- Continent visit and bathe in water from these wells to get absolved of their sins and also to get relieved of the individual ill fates.
Agnitheertham
Sri Ramanathasamy temple faces the theertham on the eastern side. The shore is only about 100 mts from the temple. The sea is very calm and peaceful. Since it is considered sacred it is called Agni Theertham. Poojas and Rituals are performed to please the ancestors at Agni Theertham. Devotees of Lord Siva take a dip in the agni theertham to wash away their sins.
Gandamadana Parvatham
It is a hillock situated 3 kms away and it is the highest point in the island. One can see the imprint of Lord Rama's feet on a chakra here. The entire island of Rameswaram is visible from this point.
Sugreevar Temple/Theertham
It is situated on the way to Gandamadana Parvatham near the Doordarshan Kendra. Sugreeva is the elder brother of Vali,a mythical character in the Ramayanam.
Satchi Hanuman Temple
It is 3 kms from the main temple, on the way to the Gandamadana Parvatham. This temple Is the place where hanuman delivered the good news of finding Sita to Rama with Satchi [evidence] the Choodamani a jewel that belonged to Sita. Hence this temple is called by this name.
Badrakaliamman Temple
This is a temple for Devi Durga, around 2 kms from the main temple on the way to Gandamadana Parvatham.
The PANCHAMUGA [Five-Faced ] Hanuman Temple
It is located just 2 kms from the main temple, the deity of the hanuman is drawn with senthooram (Vermillion). Idol of Lord Ram, Sita and Hanuman brought from Danushkodi during the 1964 cyclone are placed there. The Floating Stone used to build the Sethu Bandhanam or the bridge between India and Lanka too can be found in this temple.
Jada Theertham
It is located 3.5 kms from Rameswaram. It is believed that, Rama on his return from Lanka after Ravana Vadham, washed his Jada [hair] in this theertham to purify him before proceeding to worship Ramalingeswarar. Hence this holy water body is called Jada Theertham.
Nambu Nayagiamman Temple
This temple is greatly venerated by the people of Ramnad District. It is situated 8 kms from the main temple in Rameswaram on the way to Dhanushkodi.
Kothandaramaswamy Temple
This temple is located at 12 kms from Ramewswaram. According to a popular belief, it is at this place, Vibhhishanan [brother of Ravanan] surrendered before Rama.
Villoondi Theertham
This Theertham is 7 kms from the main temple on the way to Pamban.
Annai Indira Gandhi Road Bridge [12 kms]
This is also called as the Pamban Bridge that connects the Rameswaram island with the main land. It is the longest sea bridge in India and its length is nearly 2.2 kms and stands as a fine example for Indian Architecture. The bridge was constructed with sufficient elevation. This bridge with a clearance of 45 mts, is being supported by 79 pillars out of which 64 pillars are erected in the sea. The islands near by and the parallel rail bridge below can be viewed from this bridge.
Kurusadai Island [23 kms]
Four Kms from Mandapam. This island can be seen from the the main land of Ramanathapuram in the Gulf of Mannar. It is a Marine Biosphere, a paradise for the Marine Biologists and Nature lovers. Abundance of Marine wealth here attracts researchers and Marine life scholars . Permission from the Fisheries is mandatory to visit this Island. Coral Reefs, Dolphins, Sea cows and Dugong can be seen in plenty off Kurusadai.
Ramalinga Vilasam Palace
This palace was built during the reign of Kizhavan Sethupathi (1674-1710 CE) the most popular among the Sethupathi Kings. This is currently taken up for renovation. It consists of a Durbar Hall and extensive dwelling or living area. The murals found here speaks of the living pattern of the Sethupathis. The palace houses a museum of the weapons used by the Sethupathis during various wars.
Dhanushkodi
It is strip of land one km wide and 18 km long on the eastern end of Ramesaram. This land piece is on in between the Indian Ocean and Bay of Bengal. These oceans were called as Ratnakaran and Mahodadhi. Their confluence looks like a bow and the strip of land looks like an arrow ready to be released. Hindus consider the Adi Sethu or the arrowhead as a sacred place to perform religious rites. It is exotic beach stretch with bird life. This was completely washed away by The 1964 cylone. Tourist enjoy surfing here.
Water Bird Sanctuary
There are around five hundred water tanks in Ramanathapuram District and most of them are the happy hunting grounds for water birds from October to January during the monsoon season. Migratory birds from as far as Europe and Australia come for breeding here. Arichamunal Bird Sanctuary at Danushkodi, the Kanjirankulam and Chittirankudi Sancturies on the mainland in Ramanathapuram are a paradise for bird watchers. October – January is the good period to visit these sanctuaries.
Devipattinam [70kms]
This is also called as Navabashanam . In this coastal village one can find the temple of Devi who killed Mahisashura in this spot. It is said that Rama calmed the sea at the coastal village to install nine stones representing the Navagrahas or the nine planets. The Hindus perform religious rites for ancestors here too.
Uththirakosa Mangai [72kms]
Temple dedicated to Siva was built by Achutappa Nayak (1529–1542]. The significance of this temple is that Lord Mangalanathar gave 'Pranavopadesham' ["OM" MANTRA] to his Consort Mangala Nayaki. Rare life-Size 5 ½ ft. tall statue of Natarajar made of Emerald called as Margatha Natarajar is covered with Sandal paste throughout the year and unveiled for just one day on Arudhra festival day in December-January and Thousands of pilgrim visit this temple to have darshan of Natarajar on this day The Saivite Saint Manickavasagar sang hymns in praise of the Lord.
Erawadi [80 kms]
The tomb of Sultan Ibrahim Syed Aulis[ who came from Arabia via Cannore] is about 800 years old. Apart from Indians irrespective of caste and religion, Pilgrims from Sri Lanka, Malaysia and Singapore throng this Dargah. Santhanakoodu festival is being held annually in honour of the Islamic Saint.
Uppur [85 kms]
It is called as Uppur Chathiram village. It is also called as Lavanapuram. "Lavanam" in sanskrit means Salt. The Vinayagar temple is called as Sri Veyil Ugantha Vinayagar Temple. When Sri Rama was on his way to Lanka to rescue Sita Devi is believed to have worshipped this Vinayagar to seek his blessings for victory in his efforts and then proceeded towards Sethukarai.
Ariyaman Beach
On the side of the Palk Bay in Ramanathapuram District. It is a much sought after tourist spot because the waters here are calm and the waves gentle. The beach is clean and fringed by casuarinas trees. The watch tower and Children Park are very popular. Water Scooters and Wind surfing are some adventurous water sports facilities available here, apart from the regular Aquarium and Museum.
Pamban Rail Scissors Bridge
This connects the mainland to the Rameswarm Island. This 2.06 Km long rail bridge was built with stones from a distance of 320 km and sand from 160 kms. The bridge was constructed on 145 stone pillars. A portion of the bridge opens up like a pair of scissors to let the ships pass under it. Hence it is also called as Scissors BRIDGE.On December 22, 1964 the devastating cyclone brought down the entire bridge and the Indian Engineers rebuilt the same precisely in 45 days and made it operational once again. This proved the superiority of Indian Engineers
Kanchirankulam [105 kms]
Kanchirankulam Bird Sanctuary which is adjacent to Chitrangudi Bird Sanctury, is a notable nesting site for several migratory species of Heron. Internationally it is called Chitrangudi and Kanjirankulam Bird Sanctury.
Tirupullani [64 kms]
It is yet another famous temple in Ramanathapuram District of Tamil Nadu and this is the 44th divya desam of Vishnu. Rama is lying on a bed of Darbha, fasting for Lord Varuna [rain God] to appear. Hence it is also called as Dharbasayanam.
Sethukarai (68kms)
This is just 5 Kms Sethu, where it is believed that Rama and his entourage built the famous Sethu Bridge to reach Lanka. Hence it is called Sethukarai. This is also known as Adam's bridge. There is a temple for Sethu bandhana Aanjaneya right on the sea shore. Rituals are performed too.
Mandapam [18 kms]
It is the gateway to Rameswaram Island. It has a quiet and peaceful beach characterised by natural coral reef. Seashore fountain, man-made coral reefs, artificial starfish, hillocks and games are some exotic entertainment options available here, to thrill both Children and Elders as well. Tourists enjoy Boating in this place.
Ramanathapuram [55 kms]
This was the head quarters of Sethupathi rulers of Ramanathapuram. It is now the District head quarters. The Ramlinga Vilasam Palace was the official palace of the Rulers rich with architectural excellence. The Samathi of the Philosopher Saint Thayumana Swamigal is also located here.