Ooty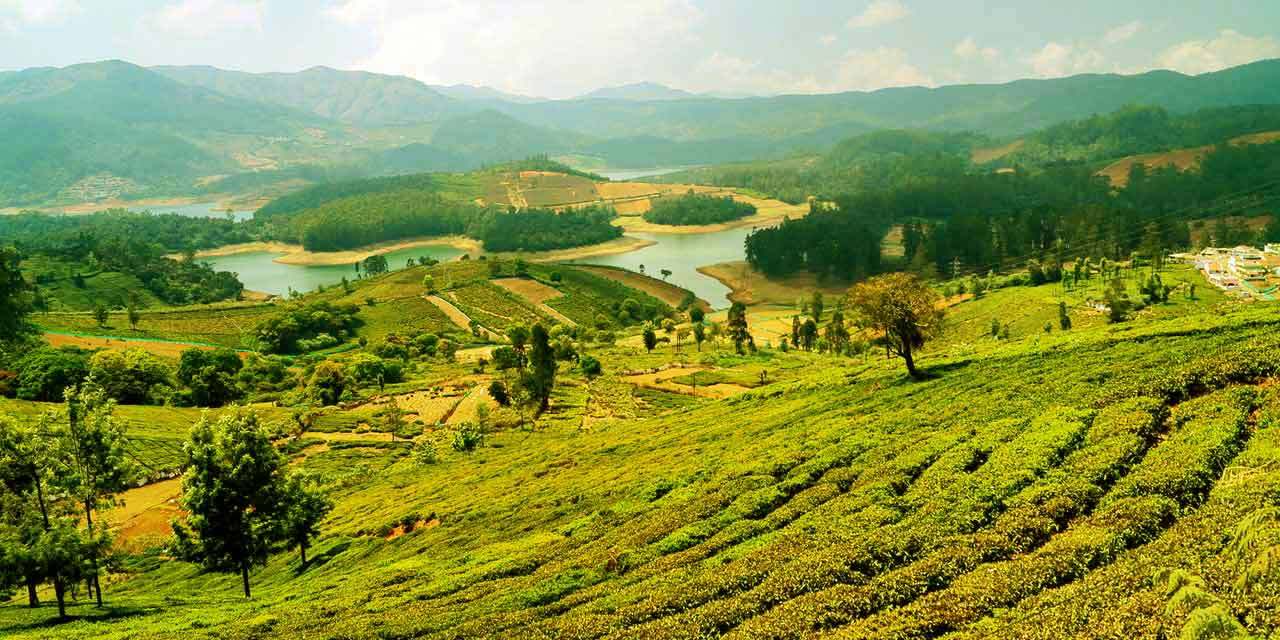 Queen of Hill Stations
This is located in the Western Ghats zone at an altitude of 2240 mtrs. It is the headquarters of the Nilgiri District, where the two mountain ranges meet. Udhagamandalam , popularly called as OOTY by the tourist, is the Queen of Hill Stations. Centuries ago this was also called as Oththai-Kal [single stone] Mandu [ Mund is a name of Toda Village]. The British started calling it as Ootacamund. Coffee and Tea Plantations and trees like Conifers, Eucalyptus, Pine and Wattle dot the hill side in Udhagamandalam and its environs. Summer temperature is maximum of 25 C and a minimum of 10 C . During the Winter it is minimum 5 C and a maximum of 21 C when it is slightly warmer. This area was inhibited by the tribals called TODA long before any body could venture into this region. Curiously enough, this slice of paradise remained unknown even during the periods of the great Southern Dynasties. It was the Britons who ventured into the riches of the regions during early 1800's. Development and modernization took after their arrival to Udhagamandalam. This was the Summer Capital of the Madras Presidency during the British Rule. Coonoor - 19Kms, Kothagiri - 31 Kms are the other smaller nearby hill stations.The Town population is 88,430(2011 census) and Nilgiri District population is 7,33,394(2011 census).
Activities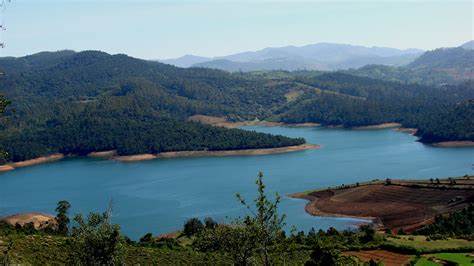 Fishing in the Nilgiris : Both fly fishing [where an artificial fly is attached] and Spin Fishing [angling technique where a spinning lure is attached to the Rod] provides a pleasant adventure for Fishing Lovers. Trout fishing [Fresh Water Fishing] facility is available at Avalanche lake[ created out of a Heavy Land Slide in early 1800's]. Permission from the Fisheries Department is required to go on fishing experience.
Snooker :
Is an in-door game imported from England before Indian Independence . This game of Snooker was first introduced in the Ooty Club at Nilgiris. Today, Coonoor Club, Gymkhana Club, the Lawley Institute and many Star Hotels too have Snooker Tables for their Guests. Apart from this, there are quite a number of Snooker Parlors in the town offering a peaceful in-door entertainment.
Golfing :
This brand of entertainment finds many takers among the tourists and locals. This is identified as sports and Social Identity for the Elites too. Ooty Golf Course is unique and playing on it is an enthralling experience. It is an 18 hole natural Golf Course located at a height of 1,400 ft and is spread over an area of 193 acres. Apart from Ooty Golf Club, there are few other private Golf Courses available in the nearby areas. Anyone who practices and plays here, can play on any turf in the world.
Horse Racing :
Is a very popular sport and the racing season is during the summer months of April, May and June. You can see the fancied thoroughbreds in action here. Many Industrialists have their stallions in the stable of this Race Club. This is a high land race course at an altitude of 2268 ft with a 2.4Km long race track in 55 acres land area, and located in the heart of the Udhagamandalam Town adjacent to the Railway station. Ooty Race Club's 125th year was celebrated in 2011-2012. It is one of the best race courses in India.
Trekking :
There are excellent opportunities for trekking in the Nilgiris with a country rising from 300 metres in the North and South to 2600 metres in the West. It is possible to enjoy some of the most magnificent sceneries in the world; observe Wildlife in its many forms; study a great variety of tropical plants and trees; in a wide range of usually favourable climatic conditions. Trekking area is divided as per the geographical regions with very different climatic conditions like the Western area with a temperate climate consists of montane wet temperate forests, the North and Eastern region with a tropical climate consists of dry deciduous broad leaved and scrub forest. Permission for trekking can to be obtained from the District Forest Officer[s] North and South Division and wildlife warden - Udhagamandalam.
What to See
Kodanadu viewpoint : A small village, 18km from Kotagiri on the eastern edges of Nilgiris hills, with an unexplored scenic beauty, exotic flora and fauna and enjoyable good weather. A view point structure at Kodanadu View point houses a telescope within. Kodanadu boasts of large Tea Plantations . Rangaswamy peak and isolated extraordinary rocky pillar called Rangasamy Pillar rising to a height of almost 400 feet can be viewed from here. Sheer like side of the pillar prevents climbing to the top. Bus services are available from Kodanadu. Popular trekking trails in and around this area are: Kotagiri - Kodanadu; Kotagiri - St. Catherine Falls and Kotagiri - Longwood Shola.
St. Catherine Waterfall
: It was once called as Geddhehaada Halla meaning Foot Hills river. It is a double-cascaded 250ft high waterfall located in Kotagiri, branching off at Aravenu on the Mettupalayam Road. This is named after the wife of Cockburn who is believed to have introduced the Coffee Plantations to Kotagiri. It is the second highest in the Nilgiri Mountains
Longwood Shola
: It is just 3 Km from Kotagiri. It is the source of pure sparkling water for the people living in Kotagiri Town and an integral part of the fragile Nilgiri eco-system. Preservation of this Shola Forestry becomes vital. Micro climatic conditions here contributes to making Kotagiri one of the ideal climatic locations in the world. The picturesque trekking path adds serenity to this Shola.
Gudalur
: It is located 51 km on the west of Udhagamandalam. According to 2011 census Gudalur has a population of 49,535. Koodal [meeting] + Ooru [town] turned out to be called as Gudaluru or Gudalur, Is a picturesque green valley town in Tamilnadu, a Tri point Gateway to the States of Tamil Nadu, Kerala and Karnataka . It is at equidistant point between Kerala and Karnataka towns. It is also 50 km from other nearby towns of Sulthan Bathery[sultan Battery], Gundalpet & Nilambur too. Regional Economy is largely dependant on Tea Industry. There is a rich presence of Flora and Fauna in this area. Hill Crops on the higher altitudes , Coconut and Rice in the lower valley are the highlight of the agricultural versatility of this region. Later in 1970's this was bifurcated into Gudalur and Pandalur Taluks.
Needle Rock :
Is about 8 km from Gudalur on the Gudalur-Ooty National Highway. It derives its name from its conical shape structure and it is also called a Soosi Malai / Oosi Malai (Oosi = Needle, Malai = Hill Rock). This view point gives you a 360 degree view. Breath taking Sunset view is possible on sky clear days. A panaromic view of Mudumalai Wild Life Sanctury is a visual treat from this point.
Frog Hill View Point
: It is 12 km drive from Gudulaur on the Gudalur –Udhagamandalam road. The hill, viewed from this point resembles like that of huge FROG sitting on its leg. Hence this view point is called as the Frog Hill View Point.
Santhanamalai Murugan Temple
: This abode of Lord Murugan is about 20km from Gudalur . This temple is visited by the devotees in large numbers to seek Lord's blessings. One passes through the lush green cardamom, clove, pepper, Tea and Coffee plantations on the way to the temple. It is Surrounded by green Valleys, gushing streams, rushing water falls and folding cascades.
Numbalakottah/Nambalakod
: It is situated 8 km north off Gudalur. This was also called as Umbarkadu during SANGAM age. Badagas call this place as "Kottebetta". Famous Beteraasami / Betterayasamy temple is situated here. The locals claim this temple to be over 1500 years old . The deity is worshiped as the Lord of the Hunt, because it was and is a dense forest zone . The temple is sacred both to the Todas and Mandadan settis. Nilambur Kovilakam – descendants of Samoothri Rajas of Nilambur- Kerala, is said to be maintaining this temple till now. Waynad, border town of Kerala can be viewed from here.
Nellakotta
: It is about 17 km from Gudalur , at an altitude of 2200 meters . Few important places surrounding Nellakotta are Mudumalai, Gudalur and Sreemadurai. It is said to have some ruins of historical Ummatur dynasty of yester years.
Nelliyalam
: It is situated at an altitude of about 2000 meters and a 20 km drive from Gudalur , in the Panthalur Taluk. Panthalur is the nearest town. Munnanad and Cherangode are the other notable surrounding villages.
Cherambadi
: It is 35 Km from Gudalur. The closest tourism destination to Cherambadi is Sulthan-Battery/Sultan Bathery. Other close by destinations include Kalpetta, Lakkidi and Vythri. Lying at an elevation of 2956 mts. makes cherambadi a high-altitude town. Kunnambetta, Pullencherry, Thiruvambadi are near by towns.
THE TEA
TEA is an every house hold beverage of our country. It is a Refresher and Stimulant from Camellia sinensis, an evergreen shrub native to Asia . The health effects of this shrub, Camellia Sinensis, have been subjected to many researches ever since its introduction about 4500 years ago in China. This herb was used to treat many diseases too.
Nilgiris District, is one of the important tea producing Districts in India. Commercial TEA Production started from 1853 in in Nilgiri District. 'NILGIRI TEA' finds a brand recognition in Indian as well in the markets of Neighbouring countries too. South Indian TEA has gained recognition in far and wide boundaries of the world. India is second only to China in TEA production. Nilgiris, Anamalais, other High Ranges of Tamil Nadu; Peermedu, Vandiperiyar and Waynad regions of Kerala; and Chicmagalur, Coorg and Hassan in Karnataka are some major Tea Growing regions of South India.
Tea and Tourism :
Are inseparable twins of Nilgiris District. With the initiatives of the Tourism Department, Government of Tamil Nadu along with Ministry of Tourism , Government of India, the Tea and Tourism Festival is being held annually. The tourism department arranges: Cultural Programs, visits to Tea Estates and Factories, other entertainment events to add colour to this annual Festival. Tea lovers around the globe converge in Nilgiris during the festival period. Certainly, this is an occasion that should not be missed.
Mountain Train
Nilgiri Mountain Railway was built by the British in 1908. Mountain Train is another show case of Heritage, connecting Udhagamndalam and Mettupalayam . The Journey is most Picturesque train ride that mesmerizes all age group of travelers. This train covers a distance of 26 km, travels through 208 serpentine curves, 16 tunnels, 250 bridges, waterfall hood, cliff edges and Tea estates. The uphill journey takes almost 4 hours. In the year 2005, UNESCO declared the Nilgiri Mountain Railway as an extension to the World Heritage Site of Darjeeling Himalayan Railway. Vintage Steam Locomotive is still relished as an exotic attraction to this train. Tourist Office
How to reach Ooty
By Road: Udhagamandalam is connected by road to several cities. By Rail: Udhagamandalam is on the Narrow Gauge Section of the Southern Railway connected to Mettupalayam. It is connected onward to Coimbatore from here. There onwards to other parts of Tamil Nadu and Other States too By Air: The nearest airport is Coimbatore (104kms)
Tourist Information
The Tourist Officer, Tourist office, Govt., of Tamil Nadu, Wenlock Road, Udhagamandalam- 643 001. Mobile :
94477-84477
Email :
info@ootyhotels.net
Places of Interest
Government Botanical Garden, Ooty
William Graham McIvor was the architect of this large garden. This garden on the lower slopes Doddabetta was laid out in 1848, in an area spreading to 22 hectares ascending the slopes on the hill at an elevation of 2400 – 2500 meter above sea level. The gardens were established by European residents for the purpose of supplying vegetables at a reasonable cost too.
The garden is divided into six different sections :
I.Lower Garden II.New Garden III. Italian garden IV. Conservatory V. Fountain terrace VI. Nurseries. Well maintained lush green lawns , exotic and rare species of flora are special features of the park: The Cork tree which is probably the only one of its kind in India; the paper bark tree, monkey puzzle tree, and a 20 million year old fossilized tree [presented by the Geological Survey of India, from the National Fossil Park, Tiruvakkarai, of South Arcot District, Tamil Nadu]; Italian style garden bordering a clear pool; a vast variety of flowering bushes and plants myriad hues [exotic and ornamental]; Fern house with vast range of ferns and orchids speaks about the gardens rich and exotic flora occupants. A Flower Show along with an exhibition of rare plant species is being held every year in the month of May at this Garden. This garden is maintained by Tamil Nadu Horticulture Department.
Rose Garden
This garden was established to commemorate the Centenary Flower Festival in 1995, at Vijayanagaram in Udhagamandalam in an area of 4 hectares, in five terrace set up. The Rose Garden is situated on the lower slopes of the Elk Hill on the North-Western side, facing the Udhagamandalam Town. It is about 1 Km from the Udhagamandalam Railway Junction and Bus Terminus, accessible with roads from both sides of the garden.
Initially, the Park which had 17256 rose plants from 1919 varieties, expanded to nearly 20,000 plants from 2241 varieties. This garden is maintained by the Tamil Nadu Horticulture Department. There is a view point in the park called Nila Madam, which gives the whole some view of the entire park.
Lake Park
Lake Park :Is located on the banks of Ooty lake, Opposite to the Railway station and very near to the Bus terminus. Funded by the Tourism Department, under the Hill Area Development Programme, reclaimed area of the lake was used to form an exotic garden in the year 1977. The park is illuminated during the dark hours, which adds more colour to it. A fibre glass dome was constructed in the year 1978.
Ooty Lake
The lake is the pride of the Blue Hills and centre of attraction. This artificial lake was formed by Mr.John Sullivan, the then Collector of Coimbatore in the year 1824. This is located in an area of 65 acres. Fishing was the major activity in this lake. In the year 1973, Tourism Development Corporation, Government of Tamilnadu , on behalf of the Tourism Department took possession of the lake for Boating Activity , which provides another thrilling entertainment for the tourists.
Deer Park
Located on the fringes of the Ooty Lake, in an area of 22 acres landscape, was inaugurated in the year 1986 and is being maintained by the Tamil Nadu Forest Department. It is one of the high altitude Animal Park in India. This offers a unique opportunity to observe and study the wild life in their natural habitat. 6 acres of the lake area has been used to develop a park and it is open to Public.
Government Museum
The Government Museum set up in 1989, is situated on the Ooty - Mysore Road. The exhibits of Tribal Reminiscence, District Ecological details and sculptural arts and crafts displays of Tamil Nadu are special attraction in this museum. The admission to this museum is free. The timings are between 10.00 am and 1.00 pm & between 2.00 pm and 5.00 pm. It is closed on Fridays, Second Saturdays and National Holidays.
Art Gallery : Lalith kala Academy
It is situated about 2 Kms from Udhagamandalam on the Mysore main road.
Doddabetta
This means a Big Mountain, is the highest peak located at 2634 meters in the Nilgiris. It is 10 Kms drive from Udhagamandalam Bus Terminus. It is at the meeting point of Western and Eastern Ghats and offer beautiful Vistas of the Nilgiri Hill ranges. It is surrounded by dense Sholas. The Telescope house set up by the Tourism Department helps the visitors to view the entire district from this point.
Pykara Lake And Water Falls
It is 21kms from udhagamandalam on Mysore Road Fenced Sholas, Toda settlement, undisturbed grassy meadows, good Wildlife habitat, The Pykara Dam, Waterfalls and Boat House are the big attraction to the visitors.
Kalhatty falls
It is 100 ft high water falls, located on Kalhatty Slopes and 13 Kms drive on the Udhagamandalam - Mysore Kalhatty Ghat Road. Panthers, Bisons, Wild Dogs, Spotted Deers, Sambar Deers and different varieties of Birds are found on the Kalhatty – Masinagudi slopes.
Wenlock Downs
Vast landscape of this area has the Gymkhana Club, the Government Sheep Farm and the Hindustan Photo Films Company and provides great pleasure for a long walk on quiet roads.
Western Catchment
It is 20 Kms from Parsons Valley. The rolling hills interspersed with temperate shoals together with the lush green carpet of vegetation, gushing streams and beautiful lake-like reservoirs surrounded by hills makes this place a paradise on the earth.
Glenmorgan
It is located at a distance of 17 Kms from Udhagamandalam, is ecologically dense forest zone. Power House Singara operated by the State Electricity Board is located nearby. The winch that transports the power house staff passes through the Sholas and wildlife habitats. Permission to enter this view point should be obtained from the Electricity Board.
Upper Bhavani
10 Kms from Korokundah and 20 Kms from Avalanche. Rich and undisturbed Wild Life habitat and the Setting of this area is amazingly tranquil and a quiet family getaway. Trekking is possible from Bangithapal via Sispara to the Silent Valley and permission to enter this zone, from the Forest Department is mandatory.
Avalanche
It is 28 Kms from Udhagamandalam. The thick foliate prevents the sunlight to penetrate which proves this as a highly dense forests area, abundant with a wide varieties of avifauna. This can certainly be called as the nature's paradise.
Elk Hill
It is at 500 feet from the town area and less than an hour's walk from the Charing Cross. In the earlier days there were large number of Sambars. The earliest arrival of inhabitants reported to have called these animals as 'Elks'. Hence this hill is called as ELK Hill.
The Mukurthi Peak & Mukurthi National Park
The Mukurthi Peak & Mukurthi National Park is 40 Kms ride from Udhagamandalam. The silent valley is located on the western side of this range of mountain. Nilgiri Tahr [earlier called as ibex or Nilgiri ibex] is found in reasonably large numbers here. This peak is compared to the peaks of Himalayan ranges in terms of the presence of Flora and Fauna unique to a geographical location
Kamaraj Sagar (Sandynullah Reservoir)
This reservoir can be reached via Kandal along the scenic ghat road through Hindustan Photo films on the Gudalur road. Apart from rich and natural landscape, Favourite pass time is Fishing in Kamaraj Sagar Dam, Upper Bhavani and Avalanche, where the waters are very rich with trout.
Mudumalai Wildlife Sanctuary
It is located at an elevation of 1140 mtrs at the border of tri point junction of the States of Kerala, Karnataka and Tamil Nadu. First of its kind to be set up in India and forms a part of Jawaharlal Nehru National Park. It's area is around 321 Sq.Kms. Tropical Evergreen Forest, moist Deciduous Forest, moist Teak Forest, dry Teak Forest and secondary Grassland Swamps are found here.
It is an exciting place to see animals like Tiger, Panther, Elephant, Gaur, Mouse deer, Sloth bear, Sambar, Spotted Deer, Barking Deer, Blackbuck, , Malabar Giant Squirrel, Flying Squirrel, Four-horned Antelope (Chowsingha), Wild Dog, Striped Hyena, Small Indian Civet , Wild Boar, Porcupine, Slender Lories and so on. Tigers are largely elusive but leopards on the move are frequently seen. Ombetta vayal – swampy area is mid way between upper Kargudi and Mudumalai Game Hut is a place to lookout for Elephant and Bison. The Sanctuary is well connected by National Highway. All buses plying from Mysore to Udhagamandalam stop at the Reception Centre at Theppakkadu. Theppakkadu Elephant Camp established in 1972 is a big attraction. It is also approachable from Udhagamandalam by two different routes: One is 36 Kms via Kalhatty with 36 hairpin bends through natural forests and the other is 67 Kms via Gudalur. Sanctuary can also be approached by road from Mysore 90kms. Nearest Railway Stations are Udhagamandalam 67 Kms and Mysore (90 Kms). For accommodation and more details about the Theppakkadu Camp, please Contact: Reception Range Officer, Mudumalai Wildlife Sanctuary on Phone No:0423-526235.
Coonoor
Situated at an altitude of 200 ft above the seal level and 17 Km froms Udhagamandalam, is the first of the popular Hill Stations. Coonoor is a small town with an equitable climate that has made it popular as a hill resort in its own right. The main attraction is the Sim's Park, a small well-maintained Botanical Garden that houses several varieties of plants found missing in the other Hill Stations. View points and picnic spots around Coonoor include Lambs Rock, Lady Canning's Seat, Dolphins Nose, St.Catherine Falls, Law's Falls, Ralliah Dam and Droog.
Sims Park
This garden was laid out in 1874 by Mr.J.D.Sim, the then Secretary to Government and Major Murray, acting Superintendent of the Nilgiris forests. Hence the park was name after J.D.Sim. Initially it was aimed as a pleasure resort for the residents and visitors. Later, the park has been transformed into an exotic Garden Park . The Park is spread over 12 hectares of undulated land and possesses a number of natural advantages at an elevation of around 1798 meters .
The park cum botanical Garden contains many species of trees and shrubs not found in Ooty. Annual Fruit and Vegetables show is held every year in the month of May. It attracts tourists in large numbers.The Pomological research station that is located near Sim's park conducts research on Horticulture and POMOLOGY. The Pasteur Institute, that produces anti-rabi vaccine, DTP, DY and IT, is also located, just across Sim's Park.
Dolphins Nose
Ideally visited in the morning, this view point is just about 12 Kms from Coonoor near Tiger Hill. This is located amidst dense Sholas, criss-crossed by winding road. You can get a beautiful view of the Catherene Falls from here.
At 5000 ft above seal level, is a view point that is located within a reserve forest about 8 km from the Coonoor bus stand. The rock is a cliff that drops down few hundred feet into the lush green jungle below. A phenomenal stretch of forests all the way to the Coimbatore plains can be viewed from here. The Trees become extremely colorful and beautiful between January and March. A Unique eco-system and wonderful Trekking Terrain into the wilderness lets you completely submit your self into the arms of nature. This is the home for Endemic species like the rare Nilgiris Marten [dog like arboreal animal] Nilgiris Black Buck, Mouse Deer, Nilgiris. Birds like the Nilgiris Pippet are a treat to watch for Bird lovers. The National park is closed between Mid-January to Mid-April. Apart from the above period, the national park can be visited any time during the year.
Lady Canning's Seat
Lady Canning's Seat is 9 Km drive from Coonoor. This place is named after Countess Charlotte Canning, wife of Viceroy Count Charles Canning. That is because, she was very fond of this area with numerous Tea Estates. It is perhaps the loveliest point in the heart of the woods. Lamb's rock, the Droog, the Lampton's Peak and even Mettupalayam is visible from here on clear sky days of the year.
Law's Falls
It is situated on the Coonoor River, on the 7th Km from Coonoor, cascading down from a height of nearly 200 feet. This is a beautiful watercourse and a popular tourist location. It is named after a British, Col. Law, who traced the water path and constructed the Coonoor Ghat Road. The landscape here is extremely rocky and wild. This is set inside the Coonoor forest range with vast stretches of undisturbed Sholas and a paradise for naturalists.
Katery Falls
This is located at the 10th Km on Coonoor –Mettupalyam road and 1 Km from Kendala Village. This is one of the highest falls of the Nilgiri and the third largest waterfalls in Nilgiris. Two reservoirs built one on top of another is located here and is also the site of the India's First, Katery Hydro Electric Plant.
Droog
15 Kms from Coonoor. The Peak stands at an elevation of 1918 meters and directly overlooks the plains. . The Droog is approachable only by a 3-km trek path covered with tea plantations. Locals call it as Pakasuran Malai, linking it to the mythical demon Bakasura. In Kannada language it is known as the 'Hulika Durg' named after the neighbouring village Hulikal or Tiger stone where a Badaga killed a man-eater. The Diaplated Droog Fort [just a wall remains there at present] was once a Military out-post of Tippu Sultan. One has to go up to Nonsuch Estate and then trek down 3Kms to reach the destination.
Kotagiri
It is 30 Kms east of Udhagamandalam and 19 Km Northeast of Coonoor, at 5885 feet above sea level with a healthy climate. It is the oldest and smallest of the three Nilgiri Hill Stations. Kotagiri is shielded by the Doddabeta ranges which receives much of its rain from the north west monsoon. Kotagiri Is one of the three popular hill stations in the Nilgiris and primarily a plantation county. The name Kotagiri means "Mountain of Kotas". Trekking and visiting the plantations/factories can be the only activity for the tourists in this region.