Mamallapuram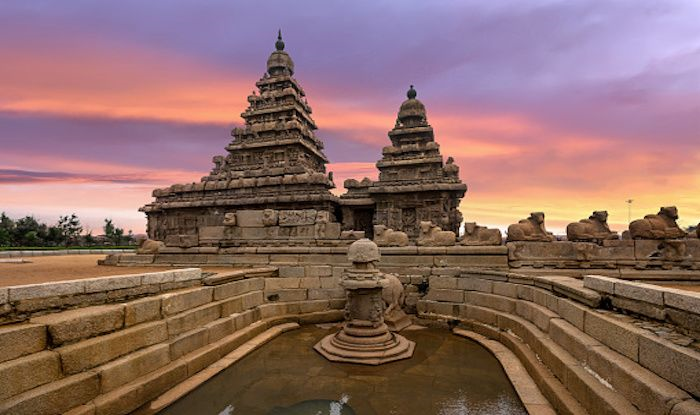 Poetry in Stone
Sthala Sayana Perumal temple also called as Thirukadalmallai temple, dedicated to Lord Vishnu is a Dravidian style architecture. It is one of the 108 Vaishnavite Divya Desam and located at Mamallapuram 60 Kms from the City of Chennai. Presiding deities are Sthala Sayana Perumal and Nilamangai Thayar. It is the birth place of Boothathazhvar, the second of the 12 Alwars of Vaishnavism. This temple is a part of the 32 monuments of Mahabalipuram, maintained by the Hindu Religious and Endowment Board of the Government of TamilNadu. Thirumangai Azhwar and Boothathazhvar sanctifies this temple in the Nalayira Divyaprabandam through their hymns. Thirumangai Azhwar considers the reclining form of Vishnu special as it is the only place where Lord Vishnu reclines on the ground instead of the customary Adiseshan and Tiruparkadal [ocean of milk].
Shrine of Lord Narasimha and Adivaraha are located near the sea shore. Lord is known as"Valvendai Gnanapiran". It is believed that there were originally seven temples here. Only one stood against the ferocious sea. 14th century Vijayanagara King Parankusan shifted the temple to the present location away from the shore to prevent the Sea assault and also formed Four Mada Veedhi [Streets] around the temple. The Ustavar [festival deity] is with a lotus bud in the hand, while the presiding deity displays the Gnana Mudra. The Festival Deity called 'Ulagu Uyya Nindra Piran" with his consorts; Valavendai Gnanapiran or Adivaraha and also Sri Rama from the Padavedu temple take procession to the sea for the Theertha Vari [Divine Bathing] during the Masi Makam festival. Boothathazhvar avatara festival is also an important festival of this temple. The legend goes thus : Rishi [Sage] Pundarika was once on a penance with 1008 Tamarai [Lotus] flowers to have darshan of Lord Vishnu in his customary recline posture on Adiseshan as Ksheerabdhi Nathan in Thiruparkadal [ Ocean of Milk]. He started the impossible task of emptying the water of the sea. Lord Vishnu appears as an old person and asks the sage for food to eat. Sage goes to fetch food for the old man keeping the Lotus Flowers in the custody of the old man. On his return he finds Lord Vishnu in recline posture, with the garland of the lotus he had entrusted to the old man, on the floor , in an unusual from instead of Adi Sesha Peetam. Since he stood there in that place he is called as the Sthala Sayana Perumal. Contact : 2743245 for details at Sthala Sayana Perumal temple.
Festivals
PONGAL ; It is also called as Harvest Festival is celebrated as Pongal Festival [Jan-Feb]. Three or Four days holidays are available. Locals from Chennai and surrounding areas visit Mamallpuram during this festival holiday period.
Dance Festival
: Mamallapuram Dance Festival during December - January attracts Exponents of Bharathanatyam, Kuchipudi, Kathakali, Mohini Attam, Oddissi and Kathak to converge and perform to the delight of International and Local Tourists as well.
Shopping
Government run Poompuhar sells a variety of Handicrafts.
How to reach Mamallapuram
By Road: Mamallapuram is well connected by road with rest of Tamil Nadu. State and private buses ply at regular and frequent intervals from places like Chennai, Pondicherry, Chengalpattu, Kanchipuram, to name a few. Road condition is good and the drive along the coast is quite pleasant. Depending on budget, passengers can avail AC or non AC buses. By Rail: Nearest train station to Mamallapuram is Chengalpattu Junction. It connects Chennai and various parts of Tamil Nadu by express and mail trains. On arrival at the station, one can hire a cab to travel a distance of around 29 km to reach Mamallapuram. By Air: Chennai Airport, 58 kms.
Tourist Information
Tourist Office in Mamallapuram Kancheepuram District, Mamallapuram - 603 104. Landline :
044-27442232
Places of Interest
Arjuna's Penance
It is a 27m x 9m World largest bas-relief. It has over 100 sculptures of Gods, Birds and Beasts and Saints. It is Popularly called as Arjunan Penance [Tapas]. It is believed to illustrate an instance from Mahabharata when Arjuna, one of the Pandavas, performed rigorous penance with a prayer to Lord Shiva's to obtain the Powerful and Divine Bow to destroy the Gauravas. The other name is the "Descent of the Ganges" It is also said in legends that King "Bhagiratha" standing on one leg posture Praying to the Lord to bring the River Ganges Down to earth to please the souls of his ancestors.
Shore Temple
It was built between 700–728 AD with granite Blocks. As it is on the shore overlooking Bay of Bengal it is called as the Shore Temples. It was built in Dravidian Style of Architecture. This was a busy port during the reign of Narasimhavarman II. This Shore Temple Complex has One Large and Two Small temples. It is one of the oldest structural excellence of the South India and has been classified as a UNESCO World Heritage Site.
Varaha Cave
It is also called as Adhivaraha Cava Temple. It is a rock-cut cave temple of the late 7th Century, which forms a part of the Village on Hilltop 2 kms from the Main Town. It is the finest testimony of the Viswakarma Sthapathis. The prominent sculpture in the cave is that of Lord Vishnu in the incarnated form of a Varaha Swamy [Boar] rescuing Bhudevi [Mother Earth] from Seas. Many mythical charecters have been sculptured on the temple walls and pillars.
Butter Ball
: A Huge Boulder called as the Butter Ball of Sri Krishna located near the Ganesha Ratha resting on a very narrow rock base. It is believed, as said by the legends that Neither the Kings nor the Elephants who tried to move this Boulder could move it even an inch from there.
Open Air Museum
This is a new and modern addition to the town of Mahabalipuram. But it reflects the heritage of the Sangam Era too. Exciting Stone Exhibits made like Stone Chain, Ornamental Wheels, shaped by over 200 sculptors are found here
Tiger Cave
It is 4 Kms from the main monument complex. It was built as an open-air theatre, where cultural programs believed to have been held during the Pallva Period. It has a serene and Calm atmosphere in spite of its nearness to the Sea.
Other Interesting Monuments
Ganesha Ratha, The Old Light House, Gopi's – Churn, Valyankuttai Ratham, Kodikal Mandapam are some of the other monuments that attracts the tourists.
Government College of Architecture and Sculpture
This college near Mamallapuram was established in the year 1957. Degree Courses were introduced in Traditional Architecture, Sculpture and Traditional Drawing. It also serves as a museum for showcasing Indian rock architecture. A Separate building for the Library and a huge Sculptural Studio for sculptors are attractive features of this College.
Cholamandalam Arts Village
This village was created in 1966 in an area of 10 acres. It is 35 Kms from Mamallapuram and 10 Kms from Adayar. The community was founded by K.C.S. Paniker of the Madras School of Arts along with his students and a few artists associated with the college. The `art-meets-craft' approach of artisans made the society to self sufficiency by 1970. Artists are exceptionally skilled. Gallery Speaks volumes of its strength and it is a Centre for Contemporary Arts too. It grew as one of the most important meeting places for international artists too. Presently it is one of the few artist-driven movement and one of the few artists' colonies to be on the "10 biggest art moments" in India. The open air Theatre Bharathi is being used for discussions and Conferences.
Tirupporur
It is 16 Kms from Mamallapuram. It is an ancient abode of Lord Murugan called as Kandaswami Temple. It is also known as Poriyur , Yuddapuri or Samarapuri. Legend says that after vanquishing Soorapadman at Tiruchendur, Lord Murugan destroyed the rest of the demons here at Tirupporur. Arunagirinatha glorified Tirupporur by saying all the four Vedas worship at Tirupporur. Devotees worship swayambhu murti of Murugan in the form of a palmyrah tree.
Thirukazhukkundram
It is 17 Kms from Mamallapuram. This town is famous for its Vedagiriswarar Temple Complex popularly known as Kazhugu Koil [Eagle Temple]. It has two Structures . One on top of the Hills and another at the Foot Hill. The large Temple atop the hill is dedicated to Lord Siva called as Vedagiriswarar. The Temple at the foothill that has Four Towers is dedicated to Parvathi called as Tirupura Sundari. It is believed that a conch is "discovered" in the Temple tank once in 12 years and thousands of Devotees throng this place to have a dip in that tank at that auspicious moment.