Mahamaham Festival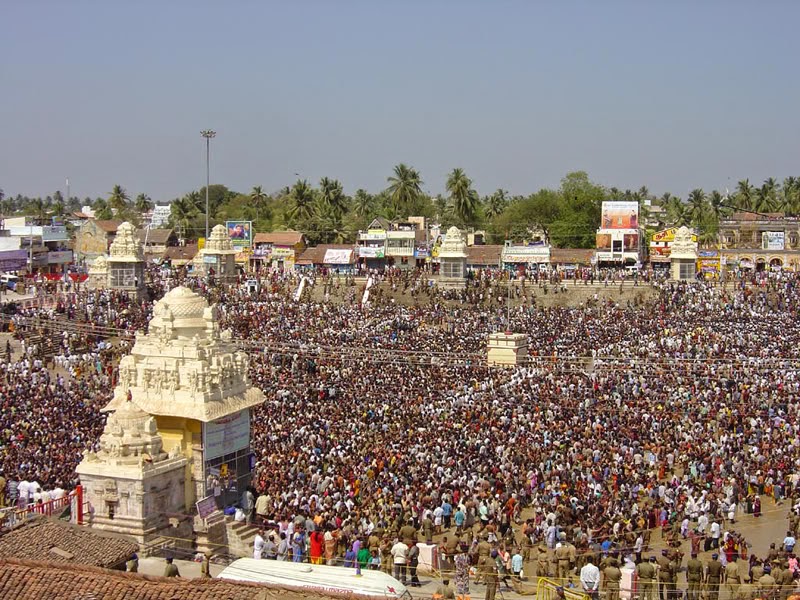 ABOUT MAHAMAHAM
Mahamaham is a Hindu Kumbh Mela festival celebrated every 12 years in a town called Kumbakonam in Tamil Nadu, India. Hindus consider taking a holy dip at the Mahamaham tank on the day of Mahamaham as sacred. The last Mahamaham was celebrated on March 6, 2004, with people from various places taking the holy dip in the Mahamaham tank.
The Masimaham or Mahamaham is an annual event that occurs in the Tamil month of Masi (February-March) in the star of Magam in Kumbakanom, which is an ancient, beautiful and holy place. This once in a 12 year gala event held from February 13-22nd of 2016. Vast crowds of more than forty six lakh pilgrims gathered at Kumbakonam had a dip in the tank, along with saints and philosophers.
What astrologers say
The festival is celebrated at an interval of around eleven to twelve years. The festival takes place at a particular time as determined by astrological position: during the full moon of the Tamil month of Maasi (February-March) when the conjunction of the moon with the lunar asterism (Magha Nakshatra) and when Jupiter is in the constellation of Leo. This Festival occurs when the sun is in the Zodiacal sign of Aquarius(Khumbha), Jupiter transits Leo(Simha) and the Moon is in conjunction with the constellation Maham. Generally all the these astronomical combination take place on a full moon day of the Tamil Month of Masi(Solar Kumbha Month) i.e. either in the latter half of February or in the first of March
What Lord Brahma said
People are washing their sins on the holy rivers like Ganges, Yamuna, Sarasvati River, Sarayu, Godavari River, Mahanadi River, Narmada River, Pavoshnl and Kaveri River. These rivers wanted to get rid of their sins and approached Lord Brahma. Lord Brahma advised these rivers if you meet together and take bath in Mahamaham would wash off all the sins. Hence, during the time of Mahamaham festival, it is also believed that taking bath in the holy stream of water from the famous rivers like Ganges, Yamuna, Sarasvati River, Sarayu, Godavari River, Mahanadi River, Narmada River, Pavoshnl and Kaveri River, which are mixed together in Mahamaham tank, would get rid of sins according to Hindu religion
So its written in Bhavishya Purana
By having a holy dip in Varanasi, one can be relieved of all sins committed in holy place sand whereas sins committed in Varanasi can be washed off by a holy dip in Mahamaham Tank. Sins committed in Kumbakonam can be washed off in Kumbakonam itself by a holy dip in Mahamaham Tank. Tamil Nadu Government made elaborate arrangements for the successful conduct of the Mahamaham. Tourism Department had put up Tourist Information Centres at Railway Station and Bus Stand to assist the tourists. A special booklet on Kumbakonam was also published and distributed to the Tourists.
How to reach Kumbakonam
By Road: This city is well connected to major cities and states. The major cities near Kumbakonam include Tiruchchirappalli at 78.6 km, Pondicherry at 116.1 km, Madurai at 179.9 km, Chennai at 255 km and Bangalore at 298.2 km. By Rail: Kumbakonam is connected by rail with almost all important cities and towns of south India. Regular express trains from places like Chennai, Coimbatore, Madurai and Tiruchirapalli ply to and from Kumbakonam. Passenger trains from nearby places like Thanjavur are also available. By Air: Tiruchirapalli Airport, situated around 91 km away is the nearest airport to Kumbakonam. Several domestic airlines connect Tiruchirapalli with other Indian cities on a daily basis. Travellers can board a flight till Tiruchirapalli and then hire a local vehicle to reach Kumbakonam.