Tamilnadu Beaches
Beaches are not just a long stretch of yellow or white sand layer dotting the coastline . It is a nature's gift with Glittering Sea, Roaring and Curving waves and cool breeze. It is a package of nature for human pleasure. Some of them are sun tanning beaches , some more are water sport adventure spots, many are cooling off sites on a hot and sultry weather. There is no need for Season or reason to go to beach. Age and denomination is no bar here. Tamil Nadu has a 1076 km coast line and it is the second largest coast line from Chennai on the Coromandel Coast. 57% of the coastline are Sandy Beaches. Some of the beaches have elaborate water sports activities and others are aligned with exotic attractions like Monuments, Fort, popular Temples and Churches. Beaches with Sunrise and Sunset view and unique spectacle of Sunset and Moonrise simultaneously on full moon days are also found in Tamil Nadu. Of late, health conscious people walk along the beach tracks for a morning or evening walk. These combinations makes the beaches even more appealing and unique. Altogether beach is one stop multipurpose pleasure location of a town for people .
Marina Beach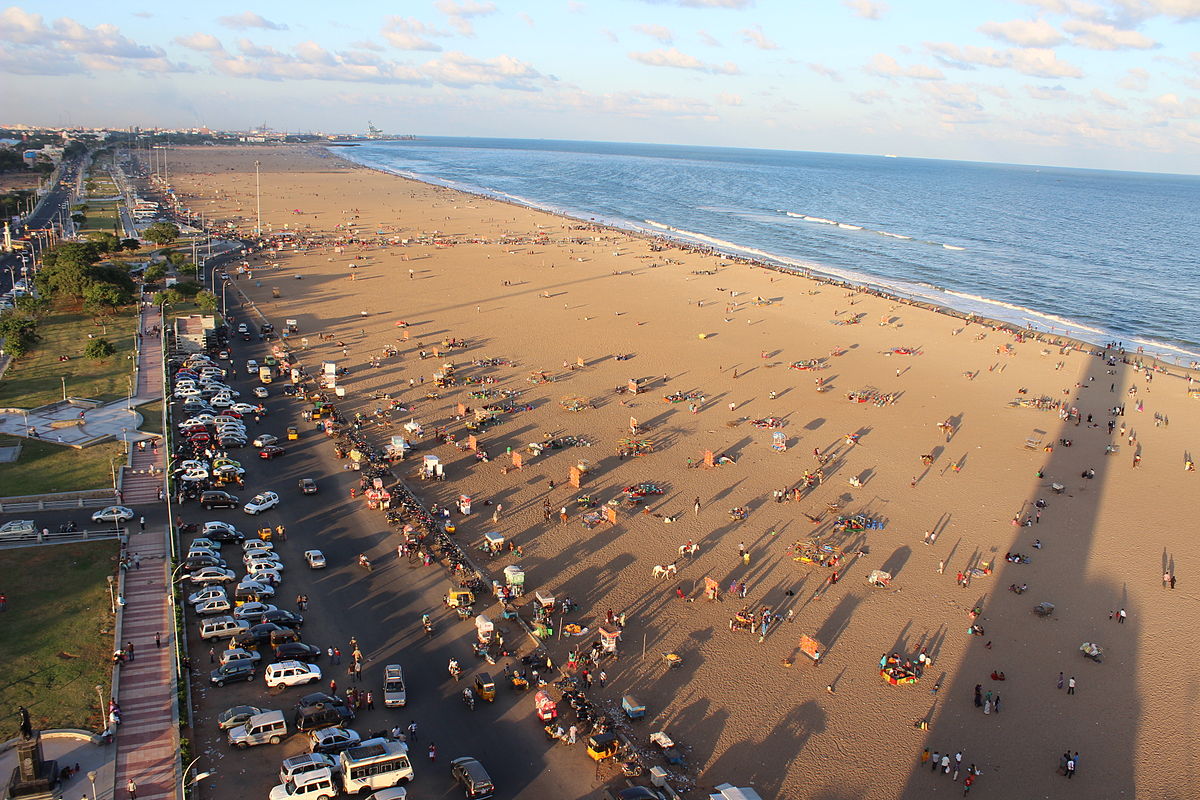 A beautiful and mesmerizing 13 km stretch of beach from Fort St.George to the north of Besant Nagar. This is the second longest of the beaches of the world. This was a stretch of mud, before the Madras Port was built. Personal interest of , M.E. Grant Duff , erstwhile British Governor of Madras [1881-86], captivated by its beauty, modified the stretch to form a promenade and it was named as Madras Marina. Activity here ranges from enjoying sun rise on clear days and the waves touching the feet; playing different beach games; walking along the beach track; mouth watering local delicacies of the eateries around; children and youngsters enjoying a pony ride and tasting the delicious and Marina's brand equity Sundal and Murukku. Almost all the evenings will find Marina crowded and heavily crowded on festival and weekly holidays.
Elliot Beach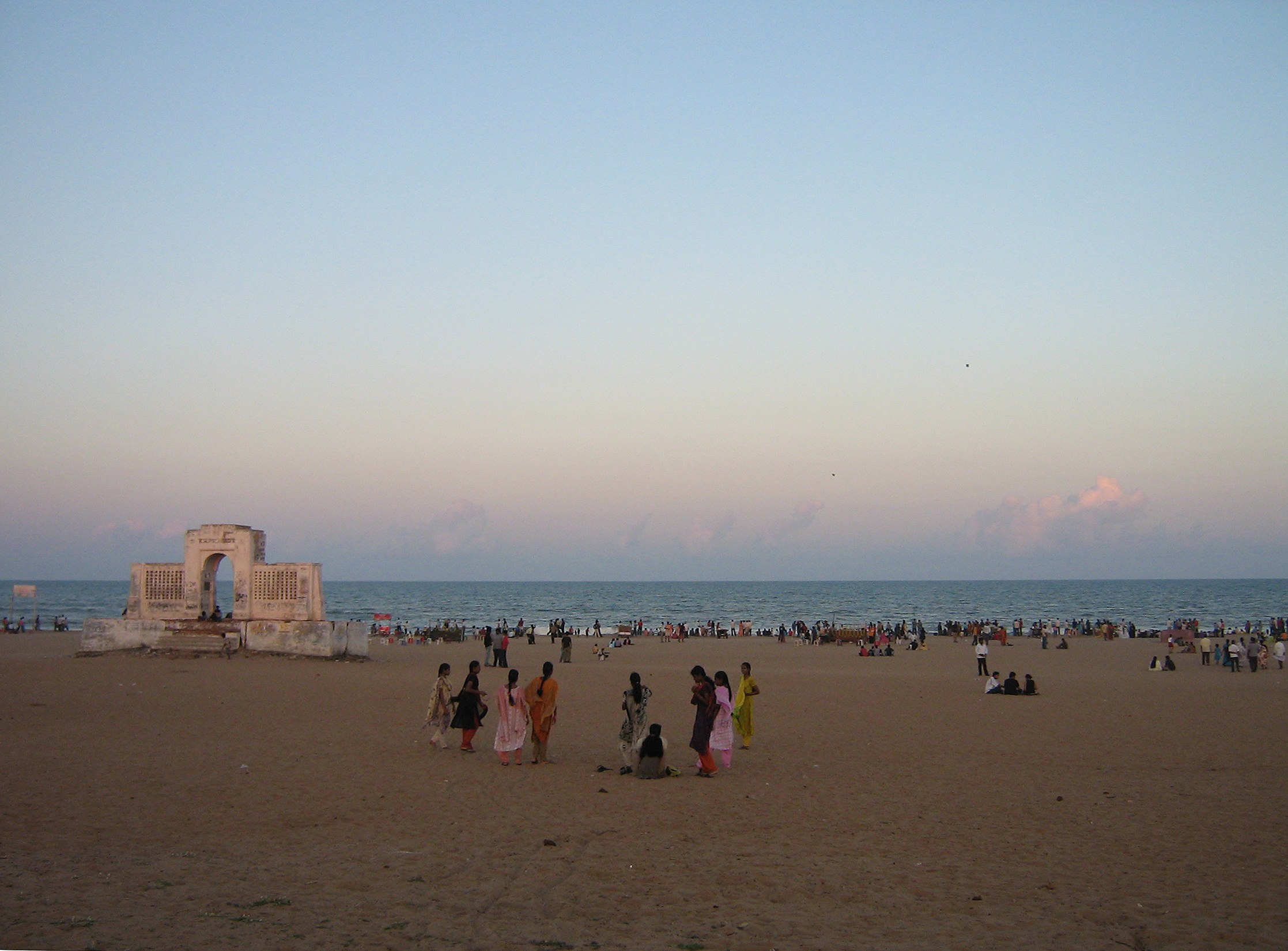 Elliot's beach is considered as a good and neat stretch of beach due the presence of Elite Society and the Government bureaucrat's residence. Velankanni Church, Ashta Lakshmi Temple and the Arupadai Veedu Temple just around one kilo meter radius brings more visitors to this beach, next to the Marina. The youth of the town find this as an exotic location to enjoy the evening hours. Covelong Beach : The shining sun, calm sea and shimmering white sand and lined up palm trees form a unique aura of cheerfulness and magnetism . This is also called as KOVALAM beach, along the Coromandel Coast now called as East Coast Road. This was originally a Fisherman's village located around 40 km from Chennai City. But it is currently a luxurious beach resort where national chain of hotels have their presence. There was a fort built by the Nawab of Carnatic, Saadat Ali.
Mamallapuram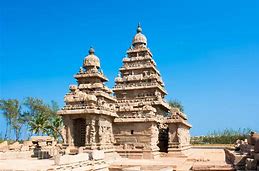 It is 60 Km south of Chennai City. Mamallapuram beach is a 20 km long stretch . This was originally a Pallav Dynasty's Port. This beach is visited by millions of tourists throughout the year. Again it is a paradise for the younger generation too. It is known especially for its Temples in the form of Chariots called rathas, mandapams (cave sanctuaries), huge open-air reliefs and the temple of Rivage. long and beautiful sea shore attracts millions of tourist throughout the year. Mahabalipuram was included in the World Heritage Monuments list of 1984 by UNESCO. Mamallapuram Dance Festival during December - January attracts Exponents of Bharathanatyam, Kuchipudi, Kathakali, Mohini Attam, Oddissi and Kathak dance styles. Dakshin –A heritage Centre on the way from Mahabalipuram to Chennai.
Kanyakumari Beach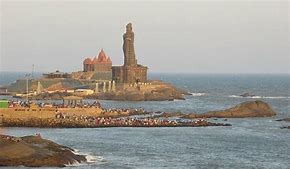 Many call it KOODAL meaning it is the Confluence of three oceans Bay of Bengal, Arabian Sea and Indian Ocean. Kanyakumari shore is popular world - wide, because it is the only places on earth, where you can see the Sun Rise and Sun Set from the ocean. It is the only place in India where one can enjoy the unique spectacle of Sunset and Moonrise simultaneously on full moon days. It is even more special and spectacular on Chitra Paurnami [full moon that occurs in Apr-May] when one can view both the sun and the moon facing each other on the same horizon, a rare sight of unique grandeur, which seems to happen by prior arrangement. This beach is visited not by the people from Tamil Nadu and Neighboring States alone, International tourists visiting South India have Kanyakumari on their itinerary too.
Poompuhar Beach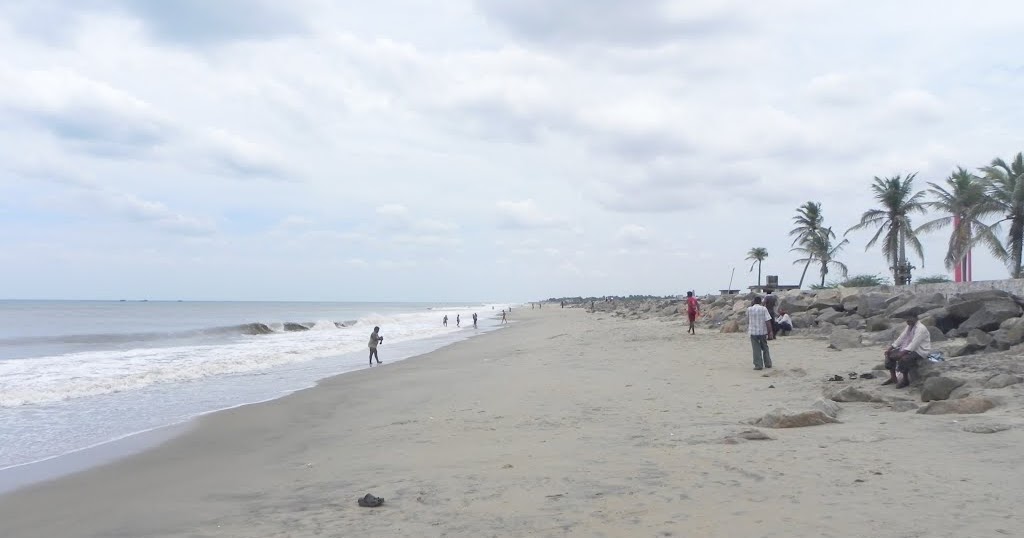 This was once a legendry port city called as ' Kaveripoom pattinam' or Puhar. The beach starts from the Kaveri river and it stretches around 3 km north side towards Neithavasal. GRANITE BOULDER WALL has been created on the shore to stop erosion. Chitra Pournami [Apr – May] is an important festival when people in large numbers gather in this beach to take a dip and celebrate. Holy dip at the mouth of Kaveri river is celebrated during new moon in the Tamil month of Thai/ Adi. A Seven storied Silapathigam Gallery exhibiting the Sangam and Post Sangam Era is located nearby.